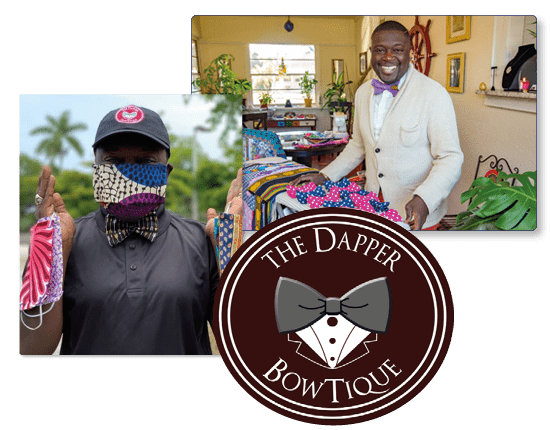 The Dapper Bowtique, LLC
Helping local communities in style
How a handcrafted bow tie designer from Florida put his sewing skills to good use. #HereForYou
Read more
Keeping COVID-19 at bay with stylish masks
Travis Ray, Owner of the Dapper Bowtique, LLC — an online bow tie and accessories brand from Bradenton, Florida — has been helping his local community for years. Hearing that surgical masks were in short supply in his city, Travis decided to pitch in by sewing hundreds of fabric masks.
Alongside supplying masks to a funeral home in Chicago, Travis partnered with Realize Bradenton, a non-profit that provides meals in the Bradenton community through the local farmer's market. Dapper Bowtique, LLC provided masks for all of their staff and volunteers while customers picked up online orders from their stall at the market.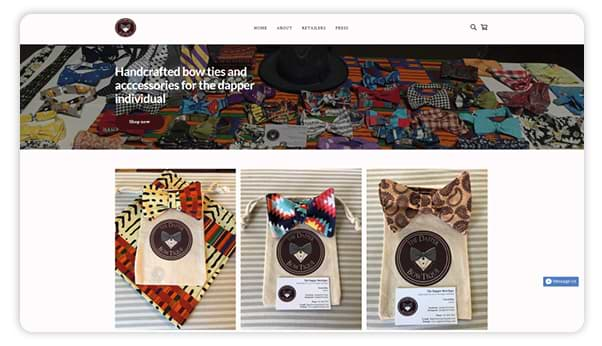 "It's been a great time to have my site up and connected to an IONOS domain."
Hosting his site on a domain from IONOS has meant potential customers have been able to find him easily online. "I have been able to use my domain on all my social media platforms and have garnered new customers."
Travis was also impressed by the helpful advice and support he received from the customer service team. "I enjoy having the domain. The calls I had with customer service were all very helpful. The team is top-notch, and I've learned a lot from the IONOS website."
Travis Ray
Owner, the Dapper Bowtique, LLC
"My domain works with all my social media platforms and it's helped me find new customers. It's been a great time to have my site up and connected to an IONOS domain."
Visit website
Spotlighting businesses that adapt
Many businesses have had to adapt to the current climate. We thought we'd reach out to see how our customers are dealing with the new normal.
Travis was ready to get involved. "I heard that your company was looking for stories from businesses who have had to alter their normal business practices due to COVID-19."
Customers like Travis, count on IONOS to provide them with hosting and cloud products that help get their businesses online and meet their changing business goals.
This story began with an IONOS domain
Start with a domain and graduate to hosting, servers and more. Great things begin with IONOS.
A partner for your domain
Build, protect and grow your brand with a memorable domain name that sets you apart from the crowd.
From .abogado to .zone, all domains from IONOS include free domain protection, a professional email address, and Wildcard SSL certificate.
Learn more
Domain Basics
Learn all about domains in our Digital Guide.
More customer stories
Our customers are #HereForYou. See how they've adapted:
Bringing Hope Counseling
Telemental health for those in need
Helping clients heal and find a brighter future through technology and creative thinking.
See the full story