Updating the Contact Details in Your IONOS Account
In this article, we'll show you how to quickly and easily change the contact details for your IONOS account, such as your address, telephone number, or email address.
Please Note
It is not possible to switch from a business customer to a private customer or vice versa.
All contracts/packages under the Customer ID will be rewritten with the new contact details.
To change the country saved in your address details, please Contact IONOS Customer Service.
Log in to your IONOS account.
Click

Menu

>

My Account

in the title bar.
Click on

View

in the

My Customer Data

tile.
The

My customer data

page is displayed.
To update your contact details, click on

Edit

in the Name, Address and/or Contact sections. In the Contact section, you also have the option of entering an additional e-mail address for receiving invoices and all payment-related information. If you store an additional e-mail address for receiving invoices in your customer data, a copy of your invoices and payment-relevant information will automatically be sent to this additional e-mail address. This gives you the option of having your invoices and payment-related information sent to two different e-mail addresses at the same time.

Due to the legal requirements of the current General Data Protection Regulation (DSGVO), we have changed the way we send invoices as of 01.08.2022. In order for you to receive your invoices by e-mail, we need your consent for sending invoices. If you have not yet given your consent, a corresponding note is listed in the Contact section. To give this consent, click on Give consent. After you have given your consent, the invoices will be sent to the e-mail address you have provided and, if applicable, to the additional e-mail address.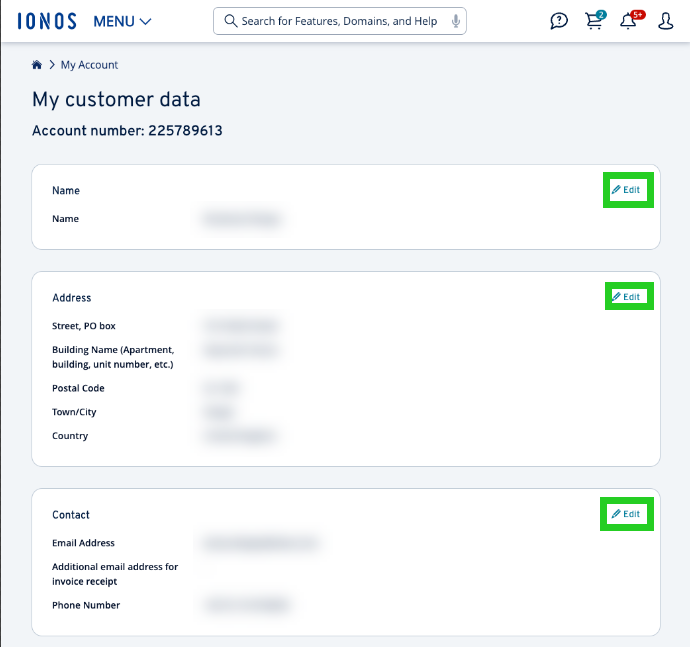 Update your contact details and click

Save

.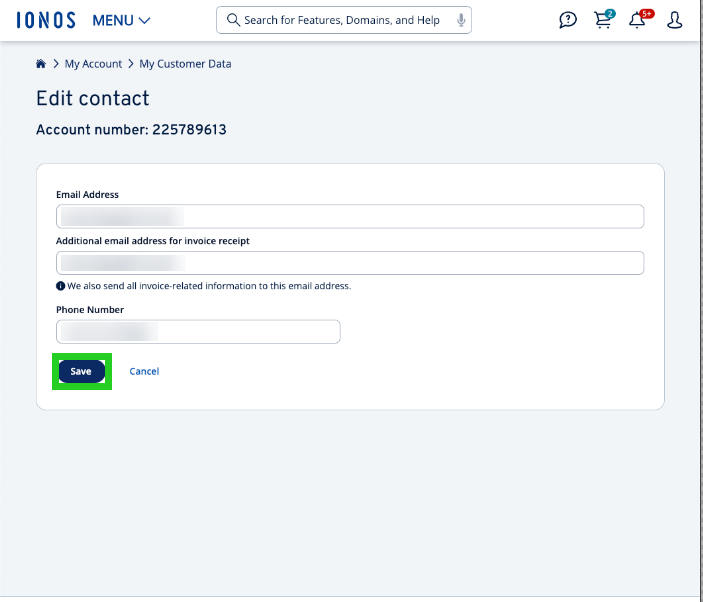 Impact on Domain Contact Data
Changing your account's contact details has no effect on your domain contact data, such as your domain owner/registrant (Reg-C) data. If applicable, you will need to change these domain details yourself in the domain settings.
For more information on how to do this, please see the following article:
Please Note
Make sure that you also notify the corresponding registries about these changes where it is necessary to do so. Some prominent examples include EURid (.eu domains) and NIC.AT (.at domains), which require this extra step.
For generic top-level domains (such as .com, .net, .org, as well as all new domain extensions like .berlin, .store, etc.), you must additionally update the domain contact details through the domain administration section of your IONOS account if the updated contact detail changes are also relevant to the domains' registrations.
Changing Contact Details in Case of the Death of the Account Owner
If the previous owner has passed away and you cannot change the contact details of the account and/or domains yourself, please Contact IONOS Customer Service.
Didn't find the help you need in this guide or need assistance with something else?
---