Jobs at IONOS
Watch your career take off
Got a passion for tech and helping local businesses succeed? We do. Join us and take your career to the next level.
Learn more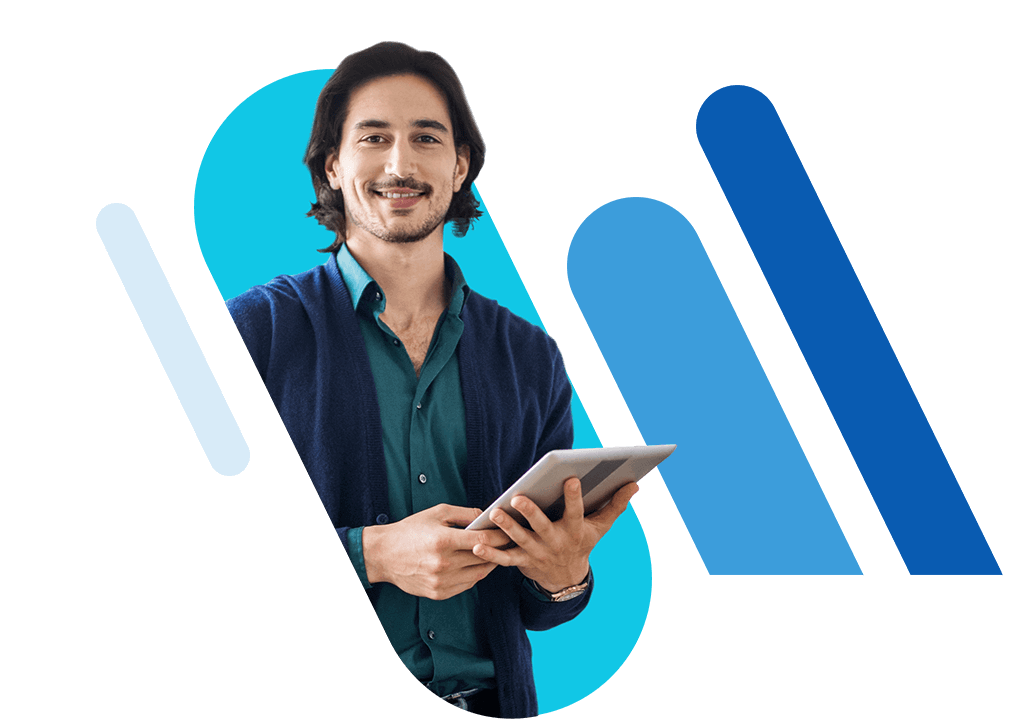 We make powerful technology work for business
Like tech, entrepreneurship, and working on a multinational team? You'll fit in well at IONOS.
Who we are
With over 8 million customer contracts, IONOS is one of the world's leading web hosting and cloud providers. Our products help businesses establish their web presence, grow their online reach, and scale their IT and cloud operations.
Who we're looking for
Enthusiastic people with a passion for troubleshooting, support, technology, and sales — who want to help creators, local businesses, organizations find more success online.
Sound like you?
We can't wait to hear from you! Browse our job openings and apply to join our growing team.
See open positions
Develop and grow with IONOS
We want to help you bring out your best — every day.
Learn well. Be well. Work well.
Tuition reimbursement
Ready to skill up? Study something job-related and we'll reimburse up to $5,250/year in tuition and fees.
Healthcare and insurance
Get full medical, dental, and vision with prescription coverage and choose the plan that works for you. We also offer a wellness incentive program.
Paid on-the-job training
Any on-the-job training you do is fully compensated. IONOS also offers in-house courses on unconscious bias, accessibility, and leadership development.
See open positions
Feel valued in and out of the office
Competitive salary + bonuses
You'll get a competitive wage, plus quarterly bonuses.
Hybrid working model
Save the commute and work from home a couple of days a week.
Generous paid time off
Take time off when you need it. You'll start with paid vacation, paid sick leave, and 16 paid holidays a year.
401K plan
Work for tomorrow, too. We match 50% of what you contribute up to 6% of your total monthly salary.
See open positions
What we love about working at IONOS
Work-life balance
I am approaching my tenth year with IONOS and the ability to work with colleagues internationally, easily balance my work and home life, the stellar benefits package and a warm, positive team environment helps keep work fun and offers the feeling of being valued as an employee.
Michelle Smith
Executive Solutions
Room to grow
I'm proud to be a part of a dynamic leadership team who are dedicated to learning and constant self improvement. This culture of development extends to our teammates, with a focus on our people and their growth. IONOS not only offers training, development and tuition reimbursement programs, but also provides competitive benefits packages. It's nice to be part of a company who puts stock in their employees' journey.
Matthew Paugh
Executive Solutions
Life-long learning
I enjoy working at IONOS for the knowledge gained. I'm receiving invaluable experience working hands on with servers, helping to solve issues with the support of friendly and knowledgeable coworkers. Every day I learn something new and I always look forward to what comes next.
David Hucks
Server Support
Perks to make you feel at home
Just a few more things that make the job a little sweeter.
Chance to travel internationally
Disability and life insurance
Flexible spending accounts
Free drinks and healthy snacks
Employee Assistance Program
Equal opportunity employer
We do not discriminate on the basis of any status protected by law.
Transparency in healthcare coverage
This link leads to the machine-readable files that are made available in response to the federal Transparency in Coverage Rule and includes negotiated service rates and out-of-network allowed amounts between health Plans and healthcare providers. The machine readable files are formatted to allow researchers, regulators, and application developers to more easily access and analyze data.