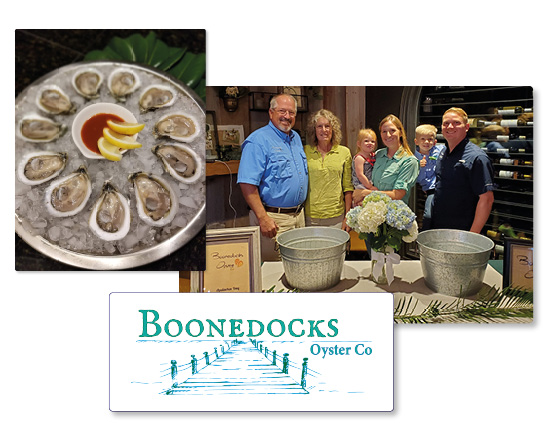 Boonedocks Oyster Company
The web. Their oyster.
Using MyWebsite Online Store, Garret Krueger and family turned raising oysters into a successful business with its sights set on national distribution.
Read more
From regional to national with their own website
Boonedocks Oyster Company started in 2016 when the Krueger family moved from Texas to Florida. Seeing an opportunity and noticing that the waters of the Apalachee Bay provide the conditions that oysters love, the family started an oyster farm. Their mission: to provide fresh, sustainable farm-raised oysters to customers in the local area.
"We started the farm with my wife Kelsey's parents, spending time wading through the permit process, learning about oyster aquaculture, and building our farm. In 2018 we celebrated our first 100,000 oysters."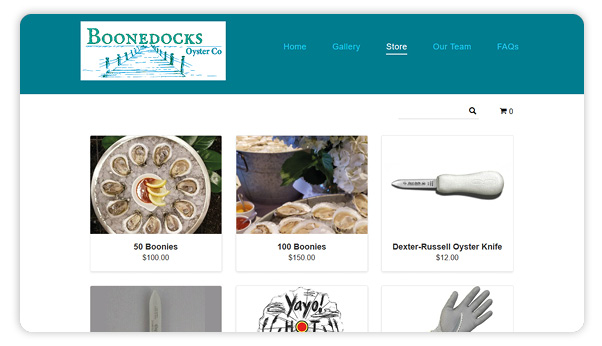 Tragedy struck and Boonedocks moved online
After the farm was devastated by Hurricane Michael in 2018, the family decided to move their business online building a website in the process. This enabled them to take advantage of online marketing and their business started to grow again.
"We made the move to start advertising online after this and really focused on telling more of our story through our website and social media pages."
Garret Krueger
Farm Manager, Boonedocks Oyster Co.
"I had worked with IONOS on another page before I built this one. I've always been pleased with the products. I would recommend their website builder to anyone starting out online."
Visit website
Online store success and a bright future ahead
With the website built and the business growing again, the Boonedocks Oyster Co. wants to capitalize on their initial online successes and expand their customer base. To do this, they'll rely on their online store and our online marketing tools to sell and share their story.
Although they're still working out the details, the next step is shipping nationally through the website they built themselves. Before you know it farm-fresh Apalachee Gulf oysters from the Boonedocks Oyster Co. will be coming to a doorstep near you.
Story brought to you by MyWebsite Online Store
Build your website or online store and meet your business and professional goals with IONOS.
Tell the world your story with MyWebsite
Our website builders allow anyone to share their story and build a launching pad for online success. All our MyWebsite products and packages have everything you need to get started including SSL, email, your own domain and more.
Isn't it time you told your story?
See products
Online marketing and SEO with the Digital Guide
Building your site is just the first step. Driving traffic and marketing your site comes next. Learn how: