Website Builder
Build your website, your way
Create a professional-looking website in minutes without any coding or skill.
See plans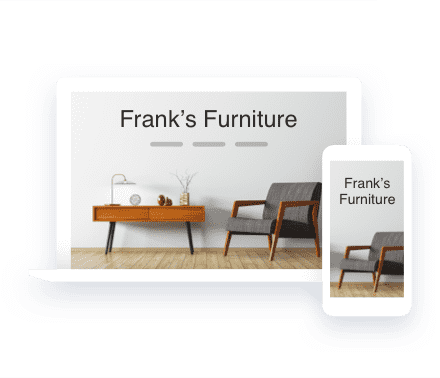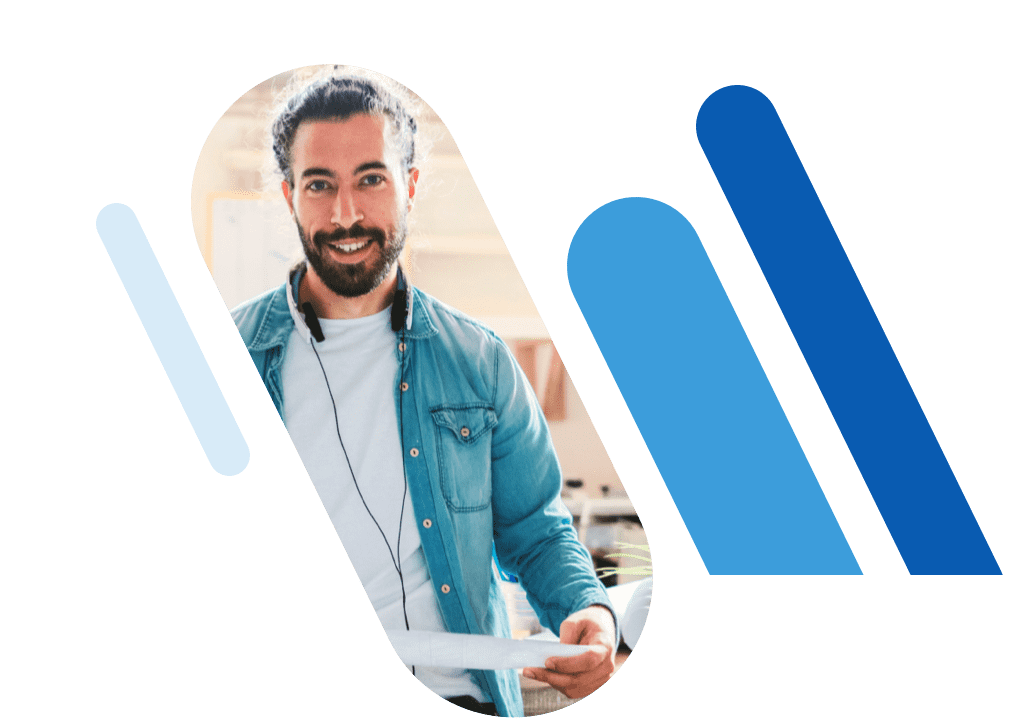 Create a website in three steps
Build something awesome for your business, your portfolio or yourself.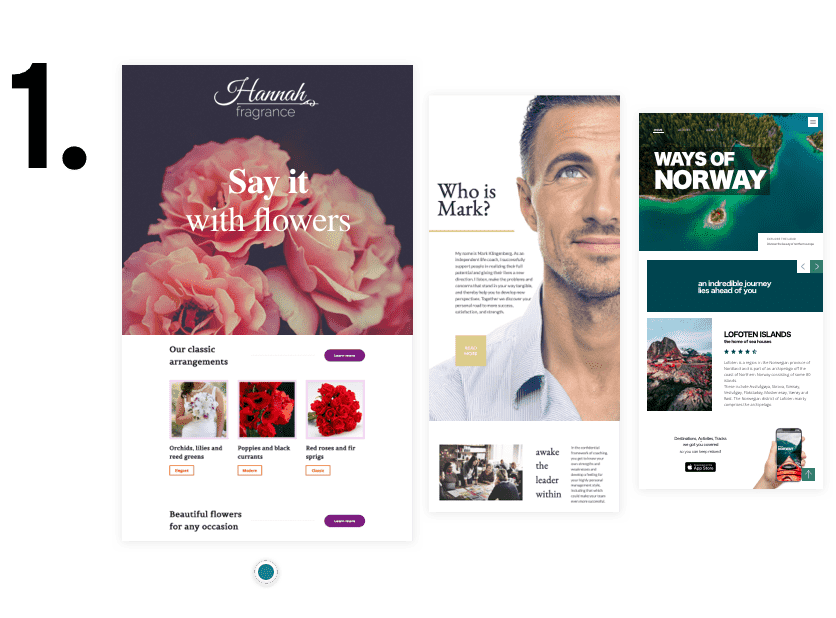 Choose a design
Make your website stand out with a template that's right for your industry or idea.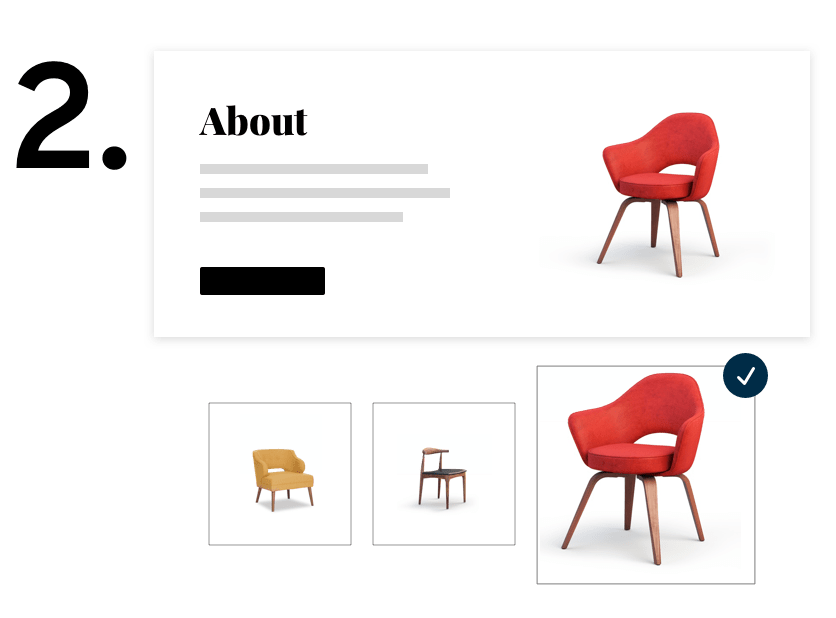 Add your content
Get it all just the way you like it. Customize the template, add text, and images.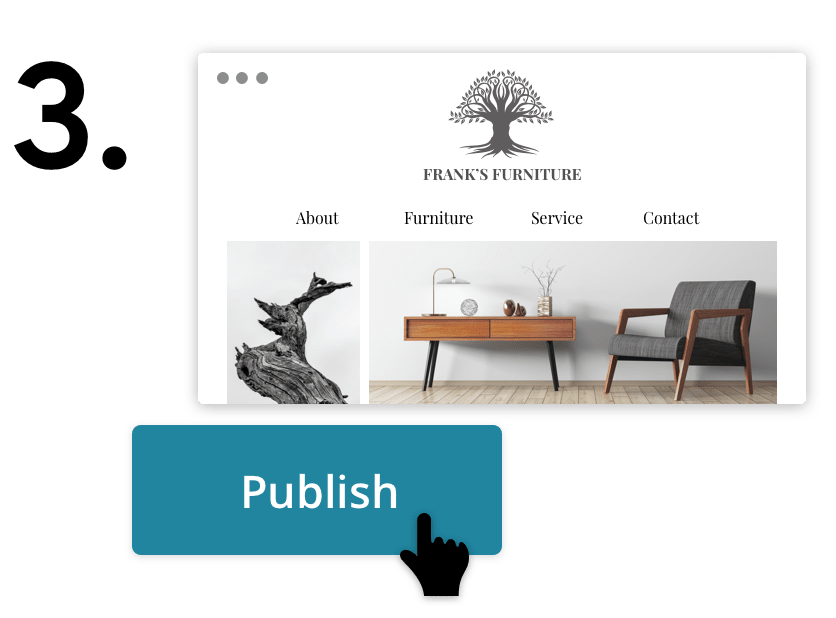 Publish your site
All set? Hit Publish and your site will be online on your own domain (web address).
Get started with a template
Choose a design that matches your industry or passion. Then, customize it to make it yours.
An industry-specific template is the perfect foundation for your website. Add your own text and images to turn your idea into a successful online presence.
See all designs
Get your ideas on a webpage
Start with designer templates, then add your own pictures and text to create your own website.
Text and images
Easy editing and design flexibility
Edit your images and text the way you want. Choose a font style you like and access over 17,000 free high-quality photos.
All templates are responsive. This means your website will adapt to look great on different devices like PCs, tablets and smartphones.
Search engine optimization
Get found on Google
See how your website is displayed on desktop, tablets and phones using the preview mode. Once you've added the finishing touches, it's time to publish.
Your website will be a big hit with search engines, as it's built for high visibility and fast loading. Plus, helpful tools make further search engine optimization easy.
More than just a website creator
MyWebsite has everything you need for your online presence.
Professional email
Wouldn't you rather promote your brand than someone else's? Communicate professionalism with yourname@yourdomain.com
Responsive design
No matter what device your visitors are using, mobile-responsive design means your website always displays flawlessly.
Easy analytics
Keep track of visitor numbers and other statistics with the analytics tool. Use the data to improve your website even more.
Built-in privacy tools
Privacy matters. Make your site transparent with a ready-made cookie banner and comply with strict privacy laws like the GDPR.
Grows with you
Thinking bigger? Great! Easily add marketing tools or an online store to your website at any time.
Website + Store
Start selling online
Add an online store to your website
Create a product or service listing, upload an image, then enter the title, description, and price. That's all it takes to start selling online.
Promoting your business and selling on social media is easy too — just sync your site with Facebook and Instagram.
Let your customers pay the way they want with different payment options, including PayPal, credit cards, and direct debit. You can also easily set up customized shipping and pickup with the built-in wizard.
Choose how you want to build your website
Starter
The intuitive editor for beginners who want to get online quickly:
MyWebsite Now
---
12

months
$
1
/month
then
$5
/month
12

months
$
1
/month
then
$12
/month
Build a stunning website fast without any experience

Free domain for 1 year Choose from these domain extensions: .us, .ca, .com, .net, .org, .info, .me, .biz, .online. Free domain offer must be redeemed on the initial purchase of a 12-month contract term.
Free professional email Create a professional email address based on your domain. For example: contact@my-domain.com. You can add more addresses at any time.
Easily customizable professional templates with pre-built sections, designs, and colors
Plus
A powerful editor for experienced developers, designers, and agencies:
MyWebsite Creator
---
12

months
$
5
/month
then
$10
/month
6

months
$
5
/month
then
$20
/month
Build a website with full design freedom

Free domain for 1 year Choose from these domain extensions: .us, .ca, .com, .net, .org, .info, .me, .biz, .online. Free domain offer must be redeemed on the initial purchase of a 12-month contract term.
Free professional email Create a professional email address based on your domain. For example: contact@my-domain.com. You can add more addresses at any time.
Customize professional templates with full design freedom. Edit HTML and CSS
Dynamic websites with video backgrounds and animations
Pro
Our most powerful editor, with dynamic personalization features:
MyWebsite Creator+
---
12

months
$
10
/month
then
$15
/month
6

months
$
25
/month
then
$35
/month
Build a website with full design freedom
Free domain for 1 year Choose from these domain extensions: .us, .ca, .com, .net, .org, .info, .me, .biz, .online. Free domain offer must be redeemed on the initial purchase of a 12-month contract term.
Free professional email Create a professional email address based on your domain. For example: contact@my-domain.com. You can add more addresses at any time.
Customize professional templates with full design freedom. Edit HTML and CSS
Dynamic websites with video backgrounds and animations
Targeted content delivery and personalization
State and local taxes will apply.
Click here
for our General Terms and Conditions.
Design Service S
Ideal for a straightforward website with minimal edits
---
Only
$
30
/month
Setup
$199
Continue
Website builder included Make changes to your website yourself once it's online.
Design consultation and a website with 3 custom pages

1 website edit per quarter Get one professional edit by the design team per quarter.
Design Service M
Everything you need for a medium-sized website with regular edits
---
Only
$
45
/month
Setup
$199
Continue
Website builder included Make changes to your website yourself once it's online.

Design consultation and a website with 5 custom pages

1 website edit per month Get one professional edit by the design team per month.
Reduced setup fee:
$199 instead of $299
Design Service L
The best choice for a large website and frequent edits
---
Only
$
60
/month
Setup
$199
Continue
Website builder included Make changes to your website yourself once it's online.

Design consultation and a website with 7 custom pages Order more pages at any time.
Unlimited website edits Our design team will edit your website as many times as you need. This is ideal if your content changes frequently.

Reduced setup fee:
$199 instead of $399

Integrated video with autoplay

HTML/CSS adjustments
(2 hours' worth of time) Website adaptations that require programming, as these can't be implemented using the website builder.

MyWebsite Design Service contract details
Minimum contract term
12 months / Contract renews for one month
Billing
Monthly
Cancellation
Cancel anytime after the minimum contract term.
Reduced setup fee
One-time payment of $199
Option
At the end of the minimum contract term, you can keep using the MyWebsite website builder, without the Design Service, for a small fee.
State and local taxes will apply.
Click here
for our General Terms and Conditions.
Individual support dedicated to you
Your personal consultant is here to help you if you need it.
One contact for all your questions
Your personal consultant is your single point of contact for all things website-related. Get in touch if you have a question, or just want some ideas for getting the best out of your new product. They're available for you via a direct phone line, email or chat.
Learn more
Why choose IONOS?
Partnership
We've partnered with millions of customers helping them get online and growing
25 years' experience

We bring reliability, state-of-the-art tech and over 25 years of experience helping businesses succeed online.

Support that really helps

Our award-winning support team is here whenever you need them, 24/7, all year.
Security
Your data is in safe hands — and always available when you need it.
US data centers

We operate our own ISO 27001 certified data centers to ensure the highest levels of performance and georedundancy.

Guaranteed uptime

Our servers have 99.99% uptime, so your website will be available when you and your customers need it. You'll get peak page loading times too.
Transparency
Fairness matters to us. So we keep our pricing and communication transparent.
30 days risk-free

Not satisfied or have the wrong product? Cancel online or by phone in the first 30 days for a full refund — guaranteed.

No surprises

You get what you see. And there's no fine print. Prices and offer terms are displayed on screen before you order.
Website building options for everyone
Find what works for you — do it yourself with our website builder, or let us do it for you.
Building websites with IONOS
FAQ – Frequently asked questions
The cost of your website largely depends on how you build it and the features you need. The more web design options and features you want, the more expensive your site will be. Depending on the plan and features you choose, you'll pay between $5 and $15 a month to build your site with a website builder. If you want to have your website custom made or your ecommerce website designed by a professional, you can expect to spend several hundred dollars.
A free website builder is software that allows you to create a free website with a free plan quickly online. These programs work in your browser, so you don't have to download additional software to your computer – you just have to log in and design your site. The best free website software out there are designed for you to create a simple website as quickly and easily as possible. Typical features include:
A WYSIWYG editor ("What You See Is What You Get"), which lets you work with a real image representation of your site.
Drag-and-drop tools and other step-by-step solutions, with ready-made text boxes and pre-designed images to help simplify the creation process.
No installation needed – the storage space is provided via an external database.
Simple, intuitive operation.
Free website creation and use.
If you are creating your internet presence the classic way – with a HTML editor and CSS – or relying on tools such as a Content Management System (CMS) or a website builder, the skills required will depend heavily on your previous knowledge and experience in website design.
Working with computer languages
HTML is a markup language used to create pages on the World Wide Web with information and various features. During the early days of the internet, HTML (Hypertext Markup Language) was a very important part of designing a website, and there was no other option but to write the HTML source code yourself in order to create your personal website.
Even today HTML is a fundamental element of the World Wide Web: it still has a large role to play in the core structure of a website and the written content of a site, and ultimately represents a large part of the final page that appears in the web browser. CSS (Cascading Style Sheets) is the standard language for creating a website.
CSS was first introduced in the middle of the 90's and is responsible for the presentation and design of the individual pages, including features such as layout, color, font and font size. Aside from HTML and CSS, another fundamental language of traditional web design is JavaScript. However, its application is mostly reserved for web designers as most computer languages are considered difficult to learn.
Content management systems and website builders
There are of course other options for website design that do not involve directly working with the source code of a site: for this purpose a Content Management System (CMS) or a site builder (also known as a website toolbox) can be used. Such software simplifies the structure and creation of a website with an easy-to-use interface that makes them suitable for web design beginners and allows the creation of a website to be done quickly and intuitively. However, such tools can at times be limited in terms of design options.
Aside from web design programs for beginners, there are various CMS that also meet professional requirements – most of these are CMS rather than website builders. Many of the well-known CMS offer a lot of freedom when designing a website, but for this you also require a certain degree of familiarization with the software. When working with a CMS the content is separated from the design, making it easier to manage. In practice, a pre-made template (a design template), which can be modified at a later point, is usually used for the design. With many CMS you can also take over the design completely, for which an external web editor is usually used.
Most of the creative possibilities are self-evident if you write the source code yourself and design your website through the use of programming languages. Nonetheless, many CMS offer an excellent variety in terms of web design. On the one hand, the CMS developers regularly update the applications and design features in keeping with modern web design. On the other hand, especially in terms of CMS, the community contributes greatly to the improvement of the tool by developing extensions, tools and templates (free or paid). It is recommend that total beginners to take advantage of the uncomplicated web builders as they are easy to use and, despite their limited functionality, are quite sufficient for the creation of many website types.
Beginners can also create an attractive website with IONOS – for this, no knowledge of HTML, CSS, or any programming language is required. Our developers have ensured that each phase of creating a website is made as easy as possible. With each one of our packages, we provide you with server capacity and your desired domain name. We offer hundreds of industry-related designs and images, all you need to do is select and create your website according to your preference. The appearance of the backend, the place where all alterations take place, largely corresponds to that of the frontend.
This allows you to keep an eye on how the end result looks when you design your web pages. All it takes is the click of a mouse to activate certain elements, and then move them into the desired position. Using a versatile editor allows you to easily write a text for your site – use it to adjust the font size and make other formatting adjustments such as underlining text. In addition to this, photos, videos and links can be easily integrated. Create your website with one of our MyWebsite packages – all of which do not require knowledge of computer languages like HTML or CSS. All you need to build a website with us is an idea, some time, and some willingness to have fun! Successful results can be seen in just a short period of time.
Hosting
Free site builders enable you to create simple ease-of-use websites even without any previous knowledge. The downside is that these free site builders rarely offer hosting services as standard and it is quite expensive to add hosting to the package or to enlist the help of an external web hosting provider. The few free site builders that do offer hosting often do so at the expense of some full-features or with extra restrictions. Others offer hosting in exchange for placing ads on your site, which barely generate any revenue.
Templates
Templates are especially helpful for beginners who want a professional looking website, but don't much about programming or designing a website. This may sound great at first, but there are several drawbacks when it comes to free ones. Since the template is fixed, there's little flexibility if you want to change anything. There may also be other websites using the exact same template, making it difficult to stand out from the crowd.
Email
Many companies prefer their employees to have uniform email addresses, usually containing the company name for extra professionalism. However, free domain-specific email addresses aren't possible with free website builders and some don't even offer them for a fee. You may need to use a plugin, add an email function, or use an external service.
Yes! People assume that it costs a lot of money to build a website, but that's simply not true. Our website builder was particularly created to help small business creating their own website fast and without previous knowledge. IONOS makes it easy and affordable. Here's how the process works:
Step 1: Pick plan and domain
If you already own a domain, transfer it. If you don't have one yet, we'll help you find one. IONOS hosting plans, which include a website builder, offer extremely competitive pricing for budget-conscious business owners.
Step 2: Create your website using our website builder
Using our setup wizard, choose from one of our hundreds of website templates, which include web pages designed for many different industries. All of our templates are mobile-friendly, which means your customers can visit your site using their smartphones and tablets. Can you really get all of this from a website? Yes, you can.
Step 3: Use Web apps for a customized visitor experience
Using our Web apps, you can integrate social media, images you've stored in the cloud, and even online payments into your website. Let customers book appointments, track orders, watch YouTube videos, read content, and much, much more.
Bottom line: You don't have to spend a lot of money to create a beautiful, feature-rich, and surprisingly affordable website. It's not about how much you spend on a website - it's about how well it works for you and your customers.
Yes! You can handle the transfer a couple of different ways. Transfer the site yourself, backed by IONOS's tech support team, or let our professional web team take it to the next level.
Do-it-yourself
If you've already built a website for your online business, we make it as easy as 1-2-3 to transfer your site to IONOS. You are able to test our homepage builder for yourself for 30 days with a money-back-guarantee.
Pick your plan.
Browse through our plans and choose the one that fits your business. The website builder plans differs in the number of pages which you can create, the number of selectable designs and a few other features. Pick the contract term and payment schedule that works best for your business.
Move your website to IONOS.
We make it easy to move your content to our servers and to fit it into one of our free website builder templates. If you need support during the move, we're available 24/7.
Transfer your domain.
Transfer your existing domain to us, and terminate your old contract. Your website is reborn, hosted by IONOS.
If you'd prefer a custom design to one of our templates, let a IONOS professional website creator transform your existing website into a knockout showcase for your business. After creating your unique website design, the IONOS team will:
Optimize your website so that search engines can find it
Your website always gets the attention it deserves when you choose a custom web design.
No. With our website builder, you don't need any previous experience with HTML or HTML5 code, CSS, PHP, JavaScript, jQuery or any other programming language in order to build your website. In fact, our developers have created the website builder in an effort to guide you through the process of the creation of your website in a simple step-by-step approach. Web designs and images are available for more than 200 industries – allowing you to make your own website suitable for your specific requirements.
To simplify the administration of our website builder technology, the backend view largely corresponds to the frontend view – meaning there are no complicated menus or navigations and you can always see what your changes will look like. A versatile text editor is included that allows you to easily edit font size and deal with other formatting tasks whilst images, video and links can also be integrated easily. Professional website building has never been so simple. By the way, when you make your own mobile-optimized website using our website builder, the resulting site will be consistent with W3C standards.
When you build your website with our website builder, you can expect unparalleled safety and security. Your website will be safe for visitors and your data and software will be secured against hackers and other types of data loss. What's more, when you use our website builder, you will also be safe from viruses, malware and other threats.
Our high-performance data centers are subject to German data-protection standards which are among the strictest in the world. In addition to this, your website data is secured using geo-redundant servers, to ensure maximum protection. When transmitting data through our fiber optic connections, we ensure multiple security measures through encryption and the data is passed through an external firewall.
Of course, when you are building a website you will automatically think of the legal requirements found on professional websites. IONOS can provide the necessary legal texts that deal with this issue. Finally, should you have any further questions or issues regarding security or legal operation, our experts are on hand 24/7 through telephone or email.
In recent years, creating a blog or a website has become more accessible with various software, platforms and organizations. Traditionally, websites are used for more static content such as business and contact information as well as more detailed features like online stores, reservation portals or contact forms. Blogs on the other hand are used for more topical or changing content such as news and updates and perhaps photo or video content.
Users opt for both a website and a blog because they provide both individuals and businesses with a complete digital presence. While a website acts as a reliable and informative reference point, a blog provides content directly to your customers and allows you to regularly update them on business developments. A blog not only keeps customers and consumers in the loop, but it also increases your website traffic and therefore your services or products.
Blogs also provide a social and interactive aspect; they allow you to comment and follow other blogs and create a supportive and connected digital community. For social media also, blogs provide more shareable content and engage users, encourage social interaction, and therefore add value to your website. Aside from maintaining and fostering healthy relationships with your customers, a business blog will improve a company's Google ranking and provide visible benefits all around.
Yes! IONOS offers valuable tools for lead nurturing and generating repeat business. Here's how we help our customers build relationships with their customers:
Step 1: Build website
Create a website with our website builder and host it with IONOS. Use IONOS Site Analytics tools to learn more about your customers. Do customers find your site using Google, or do you get a lot of referrals from Facebook? Which of your web pages are most popular? Where do your customers live? With IONOS, you'll learn the answers to these questions and more.
Step 2: Find and nurture leads
Create content for your customers, including blog posts, downloadable e-books, and more.
Step 3: Make the initial sale
Our Web Apps let customers book their first appointments or make their first online purchases from your business.
Step 4: Maintain the relationship
Keep customers coming back by sending them coupons and notifications about new products or services. Connect with them on social media. Offer a section on your website featuring the latest industry news and trends. With IONOS, you're always providing value and staying connected with your customers.
Yes! IONOS isn't just in the business of offering free websites and affordable hosting. We offer several different options for attracting new customers to your site.
Get traffic from Google with search engine optimization (SEO)
Along with our website builder, IONOS offers a set of tools. They're easy enough for beginners to use but powerful enough for SEO experts. In addition to optimizing your site when you first build it, you'll get notifications about your search engine ranking. Our SEO tools provide ongoing analysis of your site's text and structure to improve your Google rankings.
Attract visitors from social networks
Whether you're active on Facebook, Twitter, Google Currents, Instagram, LinkedIn, or other social networks, our web apps connect your social media accounts to your business website. If you own a restaurant, register your business with Foursquare so that guests can check in and find each other.
Take advantage of local search
IONOS can register local companies with Google My Business so that you're easy to find on Google Maps, Search, and Google Currents. You'll be able to display the same address, phone number, hours of operation, and more across all of Google's services.
Couldn't find what you were looking for?
Check out these other great products.
Live Chat
Chat with one of our IONOS experts.