Website redesign
Redesign your website for a brand new look
Improve your site with our website redesign service that's included as part of the IONOS MyWebsite Design Service.
When and why a web redesign service is necessary
Impress new visitors with an updated website
From cars and homes to even our hairstyles, it never hurts to give something an update. A website redesign is essential for a variety of reasons and is one of the best ways to improve your brand image and user experience. The website redesign service from IONOS is there to boost your site and ensure that it looks and runs better than ever.
So, why and when is a website revision important?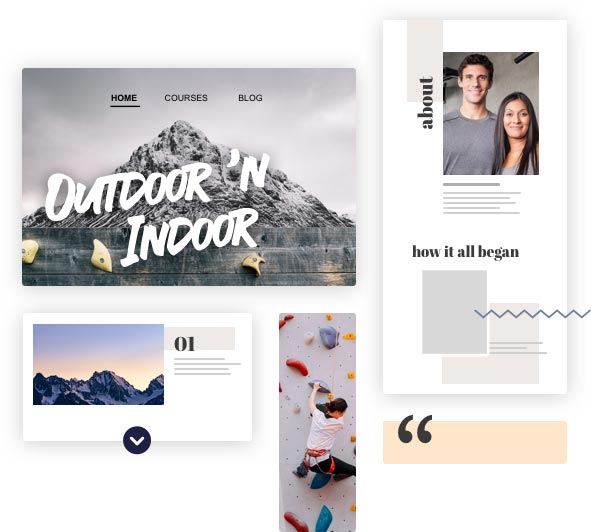 Outdated and non-responsive websites
Like many things in life, website designs can definitely appear out-of-date and not meet the current expectations of the typical user. Another thing to take into consideration is users now browse websites and social media platforms on many different types of devices, including laptops, desktop computers, tablets, and smartphones. It's therefore important to make sure your website is responsive, looks great and performs well on any device.
A low or decreasing search engine ranking
While it's true that Google's algorithm changes can impact your website's search engine rankings, it can also be because of broken site links, bad security, server issues, poor site navigation, duplicate content, and even competition from other websites. A web redesign service helps fix these issues and breathe new life into an older website.
Slow loading times and high bounce rates
Nowadays, page speed doesn't just negatively impact rankings, but the overall UX (user experience) as well. Bounce rates are high when a website doesn't load as quickly as the user would like, with some reports suggesting that if a site doesn't load content after three seconds, then the user will go elsewhere.
Hitting the wrong crowd and disappearing leads
If your current web design isn't reaching your target market and you are getting visits but no clicks or purchases for an online shop, then the website redesign service may well be the answer. It can be frustrating for a site owner to have visits not turn into something meaningful, but a new strategy for your web design can help to alleviate these problems.
Your business is growing and the brand image is being revamped
It can often happen that a business grows quicker than expected, in which case an older website layout won't be good enough to handle the increase in traffic. Revamping your brand needs to coincide with a website overhaul, but if you don't know where to start, the experts at IONOS have the skills and know-how needed to successfully redesign your site.
Your current web design is too time-consuming and cumbersome
Any business owner knows that time is money. This means a site design that makes it difficult to upload content will end up costing you time that could be spent elsewhere. A new design with updated fonts, colors, and images will make things easier and in the end will benefit you and your visitors.
What does our website redesign service include?
Discover the full range of features
Just like the same options you can find with the MyWebsite Design Service offered by IONOS, there are heaps of great features available in our website redesign service. Adaption of your website so it's responsive when viewed on PCs, tablets, and smartphones, a free lifetime domain, upgraded security with an SSL certificate, email accounts for your domain, social media and business widgets, and new and modern web design templates.
Our services include consultation, design, image and text adaptions, and advice on search engine optimization. There's even the option for your website to be multilingual in order to attract customers from different locations. Your website will be instantly updated by our expert team to a professional, dynamic look that helps you stand out from the crowd.
MyWebsite Design Service
You build your business while we create your website.
Save up to $200 on the reduced setup fee.
Design Service S
Ideal for a straightforward website with minimal edits
---
Only
$
30
/month
Setup
$199
Continue
Website builder included Make changes to your website yourself once it's online.
Design consultation and a website with 3 custom pages

1 website edit per quarter Get one professional edit by the design team per quarter.
Design Service M
Everything you need for a medium-sized website with regular edits
---
Only
$
45
/month
Setup
$199
Continue
Website builder included Make changes to your website yourself once it's online.

Design consultation and a website with 5 custom pages

1 website edit per month Get one professional edit by the design team per month.
Reduced setup fee:
$199 instead of $299
Design Service L
The best choice for a large website and frequent edits
---
Only
$
60
/month
Setup
$199
Continue
Website builder included Make changes to your website yourself once it's online.

Design consultation and a website with 7 custom pages Order more pages at any time.
Unlimited website edits Our design team will edit your website as many times as you need. This is ideal if your content changes frequently.

Reduced setup fee:
$199 instead of $399

Integrated video with autoplay

HTML/CSS adjustments
(2 hours' worth of time) Website adaptations that require programming, as these can't be implemented using the website builder.

State and local taxes will apply.
Click here
for our General Terms and Conditions.
No time like the present to redesign your existing website
Contact us to start redesigning your website now
If you feel like the time is right to update your site and use the IONOS website redesign service, then don't hesitate to get in touch. From company websites to blogs and online shops, we're happy to work with you on a redesign that meets your expectations and goals. Become an IONOS customer today and benefit from our industry experience and numerous website overhauls. Of course, the proof is always in the design, so feel free to explore some of our
website redesign examples
that look fantastic on any device.
Website Redesign Service
Put simply, features of a website become old and outdated over time. From the design to the coding, it's necessary to refresh and update everything with a redesign. It's not just the look and feel of the website that gets modernized, but also the user experience that can lead to more traffic, more browsing time, increased leads, and an improved conversion rate.
Most web experts agree that it's best to use a website redesign service roughly every three years in order to keep up with industry trends and customer expectations. If you've noticed a change in your website statistics over the last few years, for example, if visits and clicks are down, then a website overhaul is a good idea to help your site get up-to-date and profitable once again. Fortunately, regular website updates are part of the IONOS My Website Design Service, so your site will rarely need a large-scale redesign.
The difference between a website redesign and a refresh mostly comes down to how many changes are being made and the scale of them. A redesign means that the coding and the look of the site will be a major transformation. If your site is being rebranded, then the pages are usually reconstructed to integrate new components, functionality, and even an updated CMS (content management system). A refresh, on the other hand, often means minor edits such as new images, color scheme, typography, and smaller UX changes to the page template. Both of these options are still part of the IONOS website redesign service and will make a positive impact on the user experience of your customers.
Couldn't find what you were looking for?
Check out these other great options.