Using a Custom Domain for Sending Newsletters in the Email Marketing Tool
To send email newsletters with your own sender address, DNS adjustments to the desired sender domain are required. This article explains how to make them.
Requirements
You have a domain with which you are able to manage its DNS records.
Connecting a Domain in Email Marketing
Log in to your IONOS account.
Click

Menu > Online Marketing > Email Marketing > Open

.
In the Your Account section of the overview page, select

Change Domain

. The

Change sendout domain

window opens.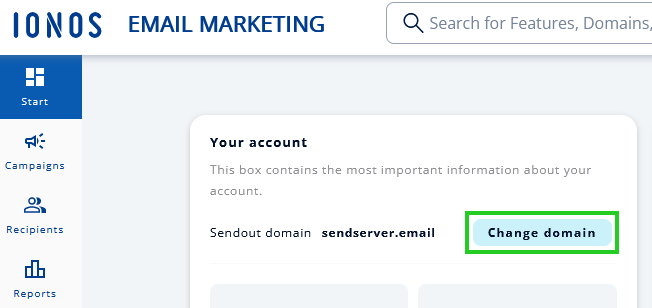 Enter the subdomain and domain name and finish your entry with

Change domain

. The domain and subdomain will be checked automatically.
If your domain is already set up correctly and the process was successful, you will see the message "New domain is configured correctly and domain change is now in processing." You can now click

Close

.
Alternatively, if you are using an IONOS domain that can be set up automatically, click the

To domain hoster IONOS...

button to link the domain.
In certain other cases, you may need to encounter an error that your DNS records are not set up properly. If so, you will need to establish a manual domain connection by following the steps in the section below.
Once the DNS settings have been created, simply follow the steps above again to change your domain.
Please Note
In order to complete the steps below, you will need to create a subdomain to use for sending the newsletters. You can find out how to create a subdomain in this article.
If a domain cannot be connected automatically, change the DNS settings manually. Please note that the following instructions were created with IONOS as the provider. If you manage your DNS with another provider, please see their instructions for editing DNS records.
Log in to your IONOS account.
Click

Menu > Domain & SSL

in the title bar. An overview of your domains is displayed,
In the Actions column, click the

gear icon

and select

DNS

in the row of the domain you need to manage.
Click on the

Add record

button and select

NS

.
In the

Hostname

field, enter the subdomain you will use to send newsletters, such as newsletter.example.com. The subdomain component, in this example "newsletter", can be anything you choose.
In the

Points to

field, enter the following value: ns0.isprit2.de
In the

TTL

field, keep the default value of 1 hour.
Save your entries. The DNS settings will open again.
Perform steps 4 through 8 of this guide a second time. However, for the

Points to

field, use the entry ns1.isprit2.de. The other values remain the same.
Please Note
Due to the decentralized structure of the domain name system (DNS), it can take up to 48 hours before your entries can be used for sending newsletters.
---