American SMBs lag behind European counterparts in digitalization, according to IONOS SMB digitalization and resilience survey
According to the annual IONOS survey of small and midsize business (SMB) professionals, American SMBs are last in almost all the digitalization statements presented.
July 12, 2023
IONOS, a leading digitalization partner for small and midsize businesses, today announced the results of its annual survey of 4,800 American and European small and midsize business (SMB) professionals regarding digitalization, economic and cybersecurity resilience. American SMBs are last in almost all the digitalization statements presented in the survey.
Digitalization is important for all, but American SMBs lag European SMBs
One of the most striking findings of the survey is a sharp decline in digitalization initiatives among American SMBs. For example, American SMBs' use of a company-specific website (www.companyname …) declined 21% from 65% in 2022 to 44% in 2023. American SMBs' use of email addresses including a company-specific domain (… @companyname …) declined 16% from 60% in 2022 to 44% in 2023. These declines possibly indicate that the focus on digitalization due to the pandemic has waned along with the pandemic itself and its sheltering and social distancing aspects. 
The survey specifies that digitalization includes, among other aspects, a company website, online office solutions, an online shop, virtual meetings and online marketing and communication. However, the highest percentage of American SMBs reported having an email address with the company's domain name (44%) and having a website (44%), with lower utilization of the other aspects of digitalization included in the survey. 
The results also indicate that, while European and American SMBs consider the main benefits of digitalization to be winning new customers, ease of discovery, increasing revenue and creating a modern image, American SMBs lag slightly in their estimation of its importance. Although SMBs in Spain (88%), Germany (81%), the U.K, (79%) and France (80%) are all around the 80% mark in their estimation of the importance of digitalization, 75% of American SMBs share that view. It's unusual for SMBs to have no digitalization initiatives in place; across all countries, less than 8% of all companies claimed to work completely without digitalization.
"Those who don't firmly anchor their business strategy in digitalization will have a hard time surviving in the market," said Achim Weiss, CEO of IONOS. "Of course, expertise must first be developed, and resources invested, which isn't always easy for SMBs. However, the gains they realize from digitalization, including improved visibility, growth, new business models and greater resilience to crises, far outweigh the initial outlay."
The barriers to digitalization
The explanation for the sharp decline of company-specific websites and email addresses among American SMBs also may be the current economic uncertainty and lack of skills to implement digitalization initiatives. American SMBs note that costs (60%), lack of time (56%), lack of know-how (52%) and inflation (50%) are major barriers to digitalization. Lack of interest in digitalization doubled among American SMBs from 25% in 2022 to 51% in 2023.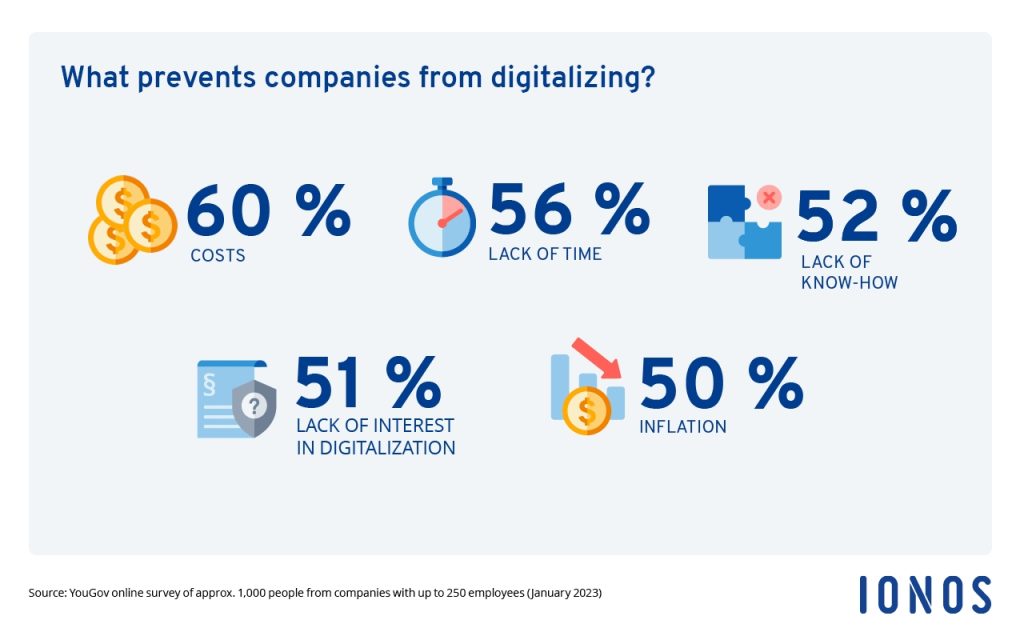 Economic uncertainty is influencing investments in digitalization among American SMBs. Thirty percent report they postponed digitalization expenses that are not absolutely necessary, in response to the current economic situation, energy crisis and geopolitical threats. Twenty-four percent of American SMBs, the largest value in the survey, plan to invest less heavily in digitalization due to the current economic situation. 
American SMBs gauge overall business risk and cybersecurity
Another important section of the survey focuses on overall business risk. The deepest concerns regarding business risk among American SMBs include a declining economy and threat of a recession (46%) and a shortage of skilled workers (44%).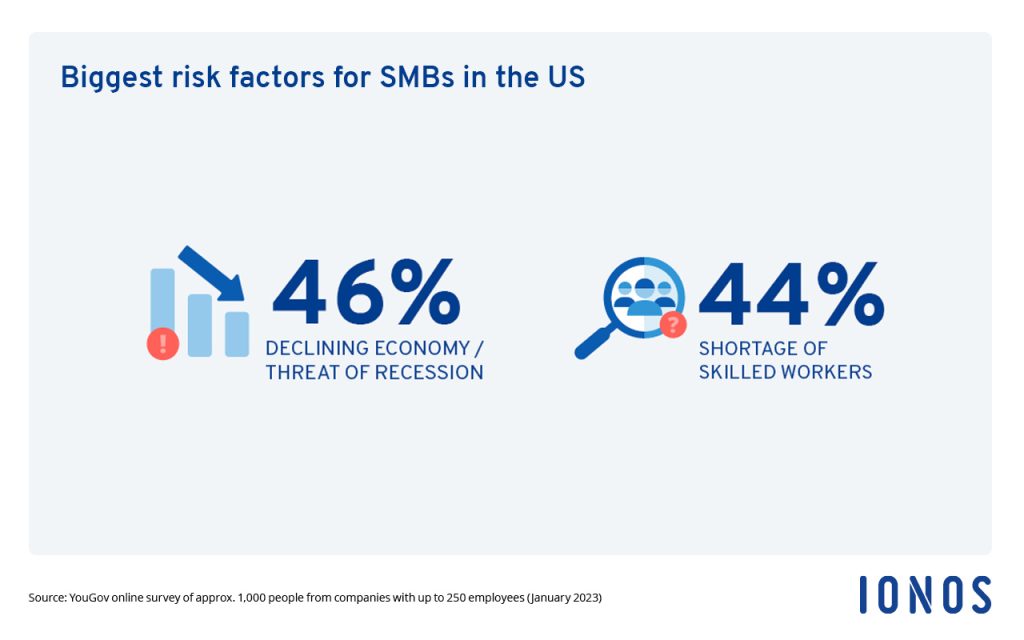 Other common business risks, including IT security and cybercrime, are less of a concern among American SMBs. Sixty-seven percent report they are well-positioned regarding IT security and cybercrime, while no more than half of the European respondents feel well equipped in those areas. In France, the number drops to 33%. The most common protective measures that American SMBs implement include regular password updates and high password security (36%) and choosing cloud and hosting solution providers experienced in cybersecurity and maintaining critical infrastructure (33%).
Methodology
YouGov, an international research data and analytics group, conducted the survey of 4,800 respondents from American and European SMBs on behalf of IONOS in January 2023 (USA 1,000; UK 1,004; Germany 1,005; Spain 1,004; France 801 respondents).