IONOS launches AI-supported Email Marketing solution for digital customer acquisition
The email marketing tool helps SMEs communicate successfully with their customers. It requires no previous experience in email marketing and enables the creation of newsletter texts using artificial intelligence (AI).
PHILADELPHIA — July 17, 2023
Building and maintaining a customer base is essential for business success. With its new Email Marketing product, IONOS offers a powerful solution that helps small and medium-sized enterprises (SMEs) to contact their customers effectively and regularly. No previous experience in email marketing is required and newsletter texts can now be created with the help of artificial intelligence (AI).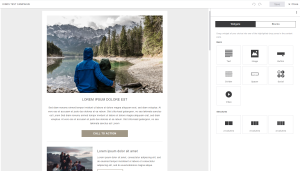 The new Email Marketing service is specifically tailored to the needs of startups, small businesses and self-employed entrepreneurs who want to regularly provide their customer base with news, offers and promotions. Thanks to an extensive library of over 50 professionally designed templates, creating newsletters takes very little time. The templates are suitable for various industries. The layouts can be easily customized according to your own ideas in the intuitive drag-and-drop editor. For the creation of newsletter content, users can also get support from artificial intelligence (AI). With the preview function, newsletters can be checked and adjusted before they are sent. After sending, the success of the email campaign can be measured with key figures such as opening, click, bounce and spam rates.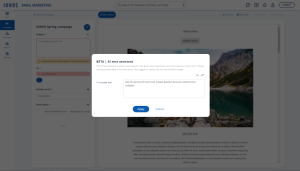 Email Marketing with the highest data protection standard
New address data can be added manually to the contact list or collected via the company's own contact form on its website. The handling of customer data is GDPR-compliant and protected at the highest level by rule-compliant double opt-in emails. In addition, data protection and data security are guaranteed by exclusive storage in German data centers.
The four Email Marketing pricing options differ in the number of e-mails that can be sent per month and can be easily adapted to current needs. The promotional package Email Marketing Plus, which allows up to 10,000 e-mails to be sent per month, is available for $5 per month for the first six months; after that it costs $15 per month. The E-Mail Marketing Starter plan includes 2,500 e-mails per month for $7 a month for the first six months ($10 a month from the seventh month). As the customer base grows, packages with up to 60,000 e-mails per month can be booked in the premium plan. This is available for $25 per month in the first six months, and costs $40 per month thereafter. 
Further information can be found here: https://ionos.com/marketing/email-marketing