Domain Name Registration
Hit the competition for six with a great domain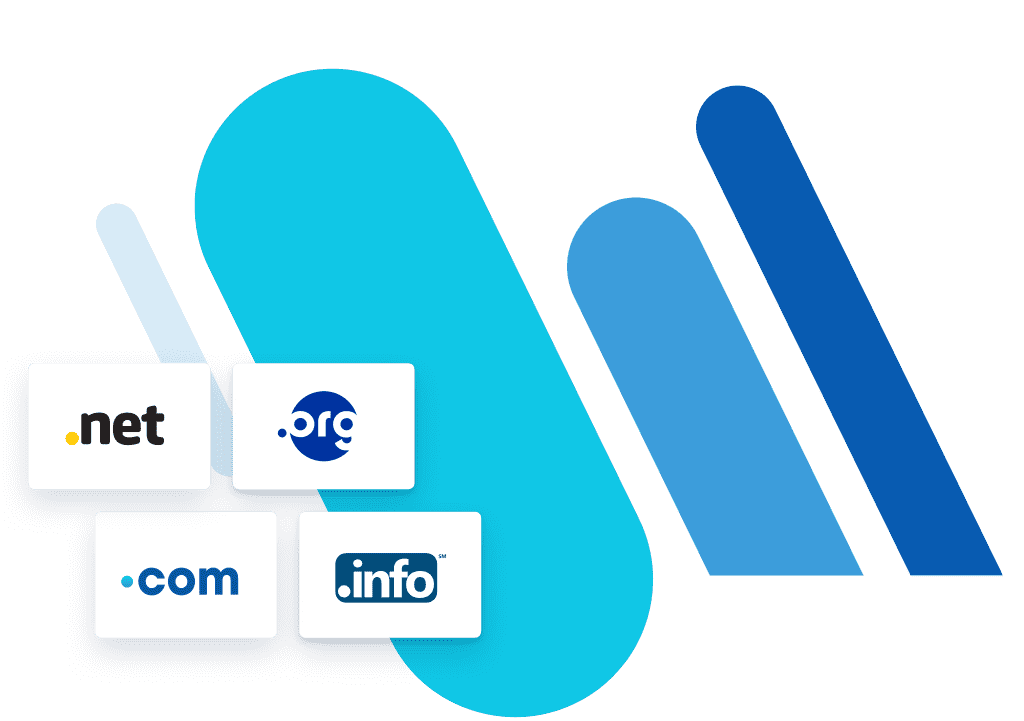 Domains as original as your ideas
Our most popular domains are now cheaper than ever.
.tech - The ideal domain to showcase your technology.
1st year
$
3
.
50
/year
then
$70
/year
Simple steps for online success
From standing out amongst the competition to creating a professional identity and connecting with your customers - it all starts with a domain.
Register a domain
Use our domain checker to find the ideal domain extension for your name, business or game-changing idea. The domain can also be connected to your social media accounts or use it to forward visitors to somewhere else, like your LinkedIn account or Facebook profile.
Create an email address
Once you've registered your domain, it's time to set up the included professional email address. This will help you stand out from the crowd with an ending that matches your personal domain choice, such as myname@mybusiness.in.
Build a web presence
Why not take your online presence to the next level with a stunning website or online shop. Our website builders and online shops range from editors designed to get you online quickly or more complex solutions for those looking for more creative freedom.
Why registering a domain is vital for business
Protect your brand, idea and business
By registering the matching domain or similar keywords, you can prevent others from hijacking or using your identity for their own benefit. With IONOS you can register a domain for up to 5 years and thanks to a redemption period, you don't have to be worried about your domain being automatically registered by someone else when your contract ends.
Invest in the future
Take the time to find the right domain for your business or idea. It's worth considering the future and think further ahead if your business begins to grow. You'll be thankful you had the foresight of safeguarding your company or registering a domain in an area that took off.
If you are looking to transfer your domain, please click here.
Join the .in crowd
A domain for all of India
.in is a country-specific extension that symbolises India's uniqueness. If you're a business catering to a local or regional audience, let your visitors know by registering a domain that proves you're one of them.
The .in domain can also be a great alternative option to other top-level domains (TLDs) if your first option has already been registered.
The world's most recognisable domain
The .com domain ending is the global go-to when looking to get online. It's establishment at the top of domain lists ensures credibility and trust for any business that chooses to use it.
Despite it's popularity, it remains cheap and there are plenty of affordable options still available.
Register your .in or .com domain
More than just a domain name
Register your domain with IONOS and benefit from our comprehensive features.
Email
A professional email address (for example: me@mycompany.in) connected to your domain with 2 GB of mailbox space to start. Upgrade any time for more space.
Security
For reliable protection of your website visitors and to increase your Google ranking, one Wildcard SSL certificate is included per contract.
10,000 subdomains
Up to 10,000 subdomains to customise and structure your website, for example: news.mycompany.in.
Easy setup
One-click activation makes it easy to connect your domain with email, hosting or social media profiles.
Domain lock
The domain transfer lock ensures your domain cannot be transferred by unauthorised third parties.
24/7 customer support
Our professional, knowledgeable support team is always available for help and advice, 24/7.
Domain names
FAQ – Frequently asked questions
Subdomains play a part in the way that the internet is organized. They are part of the overall domain name of a website's address, and are hierarchical. For example, the name "order.example.com" has three parts, each separated by a period. The first part is ".com", the second is "example" and the third part is "order". The third part is a subdomain of the second part, and the second part is a subdomain of the first. It's a bit like a Matryoshka doll. For more on how domains are structured, see the topic "What should you know about domains?".
Subdomains are useful for dividing your website into different categories. Here is a quick overview of some of the possible categories and advantages:
Target geographical areas, or language groups.
For example, if your website is in English and Spanish, a subdomain may be used to indicate that this section of your website will be in Spanish, and not English – instead of just domainname.com, es.domainname.com is used. Product-oriented sectionIf your website offers a variety of different services or products, you can create a subdomain for each one, for example: smartphone.domainname.com, or blog.domainname.com.
Gated content
Having a separate subdomain for logins or account pages on your website is a useful way of organizing your site, both for your clients as well as for yourself.
Better tracking
By using a subdomain, you'll be able to track the success of your website more specifically, by being able to see which exact area is doing well and where there's room for improvement.
Importance for SEO
Subdomains are quite a useful tool for SEO, and although subdirectory and subdomain optimization is not as significant for successful SEO as it was a few years ago, it's still worth doing. For example, you can insert keywords into your subdomain URL where they don't make sense in your main one. Furthermore, you can build up your website's authority in a smaller, niche market because subdomains are seen as their own entity. This will help boost the authority of your main domain too. It's helpful to have the option for several subdomains, because several subdomains also increase your chances of being visible in search engine results. IONOS offers 10,000 free subdomains with any domain name registration — a good number to get your website kicked off!
It depends on where you have registered your domain — if you're still researching, it's worth knowing that not every domain registrar will offer this service – sometimes not at all, and sometimes for an extra fee. IONOS offers this service for free, and so if you register a domain, or even a few, with IONOS, you'll have access to a free email account under the same name. For example, if your domain name is mycompany.com, having a customized email address such as myname@mycompany.com is a great way to show your professionalism and give the impression of a well-established, well-organized business.
You can set up your IONOS email address quickly and easily by visiting the IONOS control panel and selecting "create new email user." It's also possible to upgrade your mailbox features here in case you need more than the 2GB complimentary email storage.
It's easy for you to move your domains to IONOS, and you can start enjoying the benefits of our affordable hosting services right away. It's clear that you won't want to lose your unique domain name, or the hard work you've already put into your website — that's why we make every domain name registration or transfer hassle free. Start by selecting a hosting package from our website that best matches your needs, then enter your existing domain name into the domain checker.
At this point, you'll be informed that your domain already exists; simply select "transfer" and then enter the authentication code you'll receive from your former provider.
Make sure you have created backups of all your site's files, plus any databases or email accounts with your former domain provider before you initiate the transfer. This data will not transfer automatically with the domain. You should also copy your previous DNS settings and subdomains with that domain. There's no rush — as an existing IONOS customer you can easily transfer your domain from another provider at any time.
Additional advice
With Net4India going insolvent, all domains under their management need to be transferred to another provider. Simply visit this page and follow the steps.
Couldn't find what you're looking for?
Check out these other great products.