Cloud Servers
Scalable computing with every instance
Live scaling, load balancing, unmetered bandwidth

Leading server platform availability

US-based, ISO-certified data centers
See instances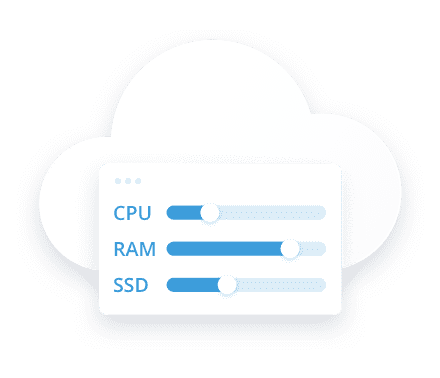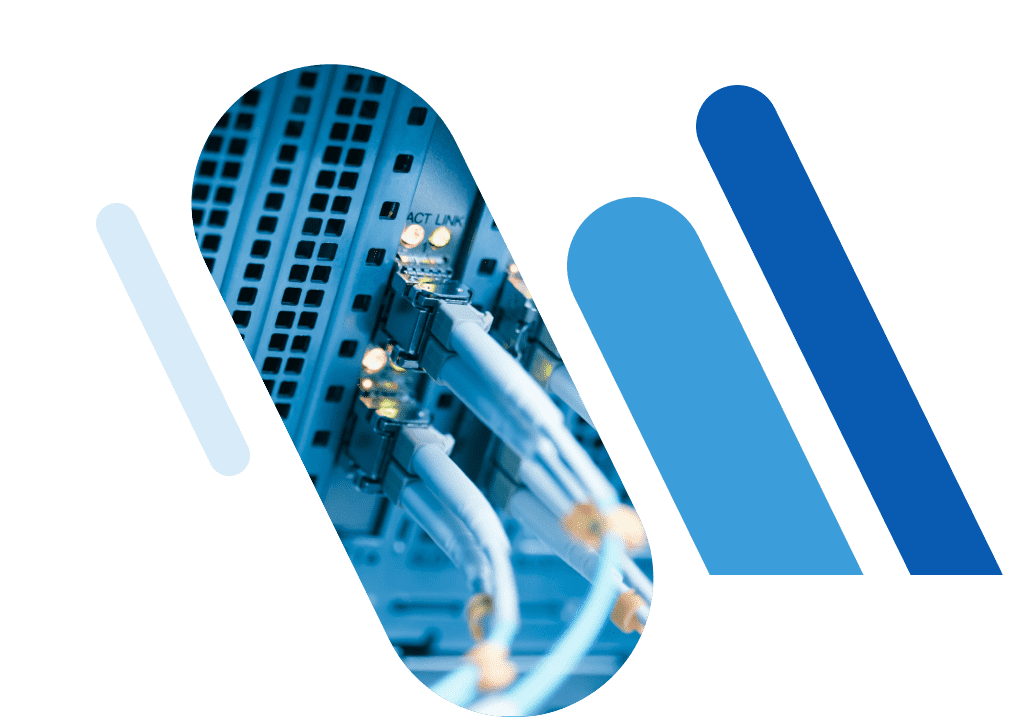 All Cloud Server instances include
Build your custom cloud with our Cloud Server
Tired of overage fees? Pay for what you need, when you need it with a Cloud Server.
Powerful computing made easy
Our cloud servers feature Intel
®
Xeon
®
processors, SSD SAN, and full VMware virtualization. Admin is easy with our intuitive cloud panel, but you'll also get full root access and a
fully documented REST API
.
Industry-leading availability
We guarantee industry-leading uptimes of 99.998% and cutting-edge server-side security based on the ISO 27001 standard.
Live scalability for any demand
Business going well? Scale to meet demand without any operative interruption. Add bare metal, more resources, storage, or virtual servers when you need them, delete them when you don't.
Affordable by design
You pay only for the time your instance is active. Any additional features or storage you add are billed to the minute.
A cloud server platform you can count on
Join thousands of agencies, developers, and web professionals who've built their cloud with IONOS.
99.998%
Platform availability
Spin up your first Cloud Server instance
We bill by the minute up to the maximum rate below. Add or reconfigure in the cloud panel anytime.
Start with
New customers get a credit of up to $100 applied to their first month's bill. This credit only applies to those paid infrastructure solutions and components purchasable in the cloud panel. These may include any Dedicated or Cloud Server, Block Storage, additional IP addresses, etc. All license fees for optional add-ons, like Windows or Microsoft SQL, are excluded. The credit is valid for 1 month and any unused credit expires following the first invoice.
for your first month.
Or build your own Cloud Server with FLEX
Start with the base configuration and add vCores, RAM, and SSD anytime for more flexibility.
Starting at
$
0
.
0160
/hour
max.
$11.52
/month
All Cloud Server features
Pay-as-you-go

When a server is deleted, the package price will be calculated to the minute. Billing is monthly, at the end of the billing period.
No minimum contract period
Choice of data center location
United States, United Kingdom, Germany, Spain
United States, United Kingdom, Germany, Spain
Interactive invoice

Full billing transparency: access and predict your costs as an aggregate or per-minute amount, based on your use.
Inclusive
Multiple servers

Add additional servers as needed in your cloud panel.
Inclusive
Scalable servers

Increase the capacity of your server/project without shutting it down.
Expandable during operation
Expandable during operation
VMware virtualization
Inclusive
Load balancer

Distribute data/request rates across multiple servers.
Inclusive
SSD SAN systems

All virtual machines are installed on storage networks. SAN keeps your data available, even if a storage node fails.
Inclusive
Block storage (optional)

Expand the storage capacity of your cloud servers. IONOS Block Storage is based on state-of-the-art SSD SAN systems.
100 GB for $7.20/month (billed per minute)
100 GB for $7.20/month (billed per minute)
Shared memory (optional)

Set up shared memory to let your servers exchange information via NFS or CIFS protocals.
100 GB for $7.20/month (billed per minute)
100 GB for $7.20/month (billed per minute)
Unlimited traffic
Inclusive
Bandwidth
External connection per server up to 400 Mbit/s.
10 Gbit/s internal network connection
External connection per server up to 400 Mbit/s.
10 Gbit/s internal network connection
Wildcard SSL certificate

The Wildcard SSL certificate enables the encrypted exchange of customer data based on the latest security standards.
Inclusive
High-performance data centers
Firewall management

Network security system for configuration-based control of data traffic. Firewall rules are configured in the cloud panel and can be applied to single or multiple servers.
Inclusive
IPS/IDS

IPS and IDS are the first line of defence in our security network to prevent unauthorized access.
Inclusive
SIEM

Our SIEM software constantly monitors and analyses security alerts, guaranteeing users high availability and secure products.
Inclusive
Backup (optional)

Reliable backup solution from Acronis for the protection of your data.
Server snapshot

Create momentary snapshots to record the state of a virtual machine. You can restore the system to a previous state when necessary.
Inclusive
Images (optional)

Create manual or automatic server clones and use them to set up new servers later on.
100 GB for $7.20/month (billed per minute)
100 GB for $7.20/month (billed per minute)
Server logs

Detailed information on all actions performed in the cloud panel.
Inclusive
SSH keys

Create and manage your SSH keys or add your own keys for secure access to your Linux server.
Inclusive
Private networks

Set up a private network (VLAN), which gives you an additional private interface that you manage yourself.
Inclusive
VPN SSL

Establish a secure SSL connection between a local PC and your cloud server network.
Inclusive
KVM console

Use the KVM console to always have direct access to your server.
Inclusive
Linux standard
Ubuntu 20.04, Ubuntu 18.04
CentOS 8, CentOS 7
Debian 10, Debian 9
OpenSuse Leap 15
Ubuntu 20.04, Ubuntu 18.04
CentOS 8, CentOS 7
Debian 10, Debian 9
OpenSuse Leap 15
Windows optional
Windows Server® 2019 – $10/vCore/month
Windows Server® 2022 – $10/vCore/month

Windows Server® 2019 – $10/vCore/month
Windows Server® 2022 – $10/vCore/month

Cloud panel

Central administration program for easy management of all server functions.
Inclusive
REST API

Use the APIs and SDKs provided in our community for software-controlled management of all your resources in the cloud panel.
Full root access

Complete control over your systems, services, and network.
Inclusive
Administration tool Plesk Obsidian

Add Plesk Obsidian (unlimited users, resalable, unlimited domains) for an additional fee.
Control panel

Access to your customer data with convenient configuration and contract management.
Inclusive
Monitoring

Stay up to date with server performance and set up warnings when self-defined threshold values are reached.
Inclusive
Additional users and roles

Create additional users and grant different access for additional security checks.
Inclusive
Encrypted remote access

Encrypt access to your servers. With SSH for Linux. RDP for Windows.
Inclusive
Image import

Import your images and ISOs to the cloud panel.
100 GB for $7.20/month (billed per minute)
100 GB for $7.20/month (billed per minute)
SSH key management

Manage your different SSH keys in the cloud panel and install them automatically when creating new servers.
Inclusive
Pre-installed applications

1-click installation provides you with apps from various categories (CMS, eCommerce, e-learning, etc.)
WordPress, Drupal™, Magento, PrestaShop, Shopware, and lots more
WordPress, Drupal™, Magento, PrestaShop, Shopware, and lots more
Database support
e.g. MS SQL, MariaDB, My SQL, and more
e.g. MS SQL, MariaDB, My SQL, and more
Microsoft databases (optional)
Software for database administration included on request. Only with Windows.
MS SQL Express 2022 - free
MS SQL 2022 - web license for $28/month per 4 CPUs
MS SQL 2022 - standard license for $380/month per 4 CPUs
Software for database administration included on request. Only with Windows.
MS SQL Express 2022 - free
MS SQL 2022 - web license for $28/month per 4 CPUs
MS SQL 2022 - standard license for $380/month per 4 CPUs
Unlimited number of inboxes

You can create an unlimited number of email addresses in the IONOS mail system.
Inclusive
2 GB storage capacity per inbox
Inclusive
Webmail 2.0

Convenient access to email using any browser.
Inclusive
Anti-spam

Automatic server-level spam filter.
Inclusive
Anti-phishing

Protection against fake websites.
Inclusive
One IPv4 address per server included
Inclusive
Additional IPv4 addresses (optional)

Add additional public IPv4 addresses to your servers.
One IPv6/64 network included
Inclusive
Subdomains

Add up to 10,000 subdomains via our DNS server, unlimited via Plesk.
Inclusive
Unlimited external domains

Integration of external domains from other providers.
Inclusive
DNS management

Individual configuration of the DNS records (e.g. for external domains or you own mail and DNS server systems).
Inclusive
Supported operating systems and software
Set up your server with a range of operating systems, Linux distributions, and database management systems.
How to set up your cloud infrastructure
Our cloud servers provide scalable computing power through virtual machines, allowing you to create your virtual infrastructure effortlessly.
Choose a pre-configured server or create your own by configuring the resources you need. Add advanced options like additional block storage, a load balancer, and even secure your data with cloud backups.
Check out how it works and build your own cloud infrastructure today!
Optional on-demand features
Add these affordable features to your server when you need them in the cloud panel.
Secure backups
Our industry-leading backup feature encrypts and stores your data at a physically separate data center. Backups can be scheduled at any time you choose.
Shared memory
Shared memory allows you to use additional disk space for all servers in your infrastructure that share access to the same data. Both the shared memory and servers have to be hosted in the same data center.
Block storage
Using block storage you can expand the storage capacity of a specific SSD-based cloud server, which can be individually defined and adjusted during operation. Shared storage and the server must be hosted in the same data center.
Dedicated servers
You can integrate your own dedicated servers into your cloud server infrastructure. These can be either existing dedicated servers or any IONOS Dedicated Server.
More IP addresses
Order additional IP addresses and assign them to a specific server. You can add an IPv4 address for only $5/month.
Import images
Add any number of images to your servers using your IONOS Cloud Panel to secure them for the long term. There is no minimum contract. Cancel anytime.
Secure and sustainable server network
We build our data centers to meet the security and climate challenges of tomorrow.
Certified US data centers
Select a data center in the USA, UK or Europe — all with top reliability and security standards, as confirmed by our ISO 27001 certification.
Two-factor authentication
Add an extra layer of security with 2FA. A login code is sent to your smartphone, denying access to anyone without your username, password and unlocked mobile device.
Firewall, SIEM and IDS/IPS
Rely on strong defenses for your projects. Our central firewall, as well as the latest SIEM and IDS/IPS technologies, protect your cloud servers from attack.
Sustainable cloud servers
All our data centers and your cloud server run on clean, renewable energy.
Learn more
Cloud server pricing that scales and stays fair
Get ongoing cost estimates and develop with predictable, capped pricing.
Pay-as-you-go billing
Pay only for what you need, billed to the nearest minute. You can also configure your CPU vCores, RAM and SSD storage on a per-minute cost basis.
Interactive billing
Easy-to-navigate invoices provide clear cost summaries and estimates, allowing you to plan and manage your spending more efficiently.
Start or stop at any time
Deploy, shut down, or adjust the resources of your cloud servers at any time. And there's no minimum contract term or any upfront costs.
Flexible and ideal for any workload
From cloud computing to apps to software development, develop your way with an IONOS Cloud Server.
Cloud computing
Set up multiple cloud servers to build your own cloud computing platform. Scale memory and cores as you need them to meet variable workloads.
Smartphone apps
We now offer a solution for mobile app operation that adjusts in response to changing access rates and can be automatically configured via API, while at the same time guaranteeing maximum availability.
eCommerce servers
React flexibly to traffic/demand fluctuations and cut costs using load balancing to distribute load between one or more front- and back-end servers.
Educational and institutional use
Deliver entire courses, individual units or sessions depending on need. Suited for on-demand and flexible data retrieval or for more user- and resource-intensive live training that includes audio and video.
Software development / Devops
Develop software on a flexible and highly available system that you can adapt to your needs with on-demand resources. Import your own images and clone existing projects to customize them.
IT infrastructure
By outsourcing your IT infrastructure to the cloud, you can operate core services such as intranet and email applications centrally while making them available to employees across multiple locations in a networked environment.
Cloud servers
FAQ – Frequently asked questions
With the IONOS Cloud Server, you only pay for the resources you actually use. This pay-as-you-go (PAYG) rate means that your usage is calculated to the minute. As soon as you delete your server instance, the costs stop being calculated. Since there is no minimum contract period, you have full control. As soon as you stop using the server and delete it, you will be billed proportionally and to the minute.
With IONOS, you can set up your cloud server in a very customized way. The high scalability also has an effect on the pay-as-you-go model. The costs depend on how many resources you have configured as well as which ones. For example, if you need less RAM or hard disk space than originally planned, you can reduce the capacities during operation and therefore cut down on the cost.
To stop the costs completely, you have to delete the cloud server. Turning off the server is not enough because the resources remain reserved for you, which means you'll still be charged for them. However, an exception is the Cloud Server FLEX package, which generates significantly lower charges if stopped. With this option, you only get charged for the hard disk space when the machine is switched off – RAM and CPU are not charged for.
A cloud server is a virtual server that provides you with a complete, web-based IT infrastructure, including computing power, storage space and network technology. You don't need your own physical server hardware, known as a bare metal server, which you would have to purchase, configure, update and maintain at high cost. If you rent a Cloud Server, you have all the resources you need to carry out your private or corporate web projects. You can easily process, exchange, secure and manage data either web-based or location-independent. You can also run various data-supported applications over the web and make them available to other users. Server resources that you are not currently using will be available to other users. Thanks to the shared structures, Cloud Servers are particularly cost-effective.
In contrast to VPS (virtual private servers), where you can only use the server resources to a precisely defined extent, cloud servers are characterized by their scalability. If your requirements change, you can adapt the allocated server resources at any time and in real time. Billing is based on the resources you use, meaning you only pay for what you actually use. There is no predetermined monthly price.
As a cloud server provider, IONOS also offers you numerous additional features that are frequently required in high-performance cloud environments. Features such as load balancing and full root access (access to your server's configuration files) as well as shared storage, add-on block storage and much more are all included.
Another option is a dedicated server. In this top tier of server hosting, all server resources are available exclusively to you, so you don't have to share them with anyone. However, this variant is more expensive. It is best to check in advance exactly which scope of services you really need. Our skilled support team will be happy to answer your questions.
The data security of all our products and services is a top priority for IONOS. Of course, this also applies to all cloud server hosting packages. With us, you'll benefit not only from encrypted data transmission, but also from encrypted storage and data backups. Our digital and physical security infrastructure protects your data comprehensively. Our data centers, modern high-performance servers, and georedundant structures play their part, as do our central firewall and the latest SIEM and IDS/IPS technologies, which protect our security network from unwanted access.
You can set up your cloud server in just a few, easy steps — even without prior administrator knowledge. Select the United States as the server location.
Using network protocols such as SSH (Secure Shell), you can establish encrypted network connections with remote devices. Via SSL VPN — i.e., via web-based, virtual private networks — you can set up secure access to certain services of your network if required. This means those authorized can, for example, access company applications and shared resources in an SSL-encrypted and location-independent manner. SSL VPN partners don't even need to connect to the corporate network.
Renting and setting up a cloud server is worthwhile for anyone who wants a powerful IT infrastructure at a reasonable price. This also offers an ideal basis for a wide range of web projects. Possible use cases might be: a private or a company website, as high-performance infrastructure for web developers, or even as a high-performance gaming server.
Are you setting up a startup and still unsure of the daily requirements on the IT infrastructure? With our cloud servers, you can flexibly balance the necessary resources at any time and only pay for what you use.
Does your business change its demands on the IT infrastructure seasonally, on a daily basis or when campaigns and promotions are running? With our scalable cloud servers, it's easy to change in real time to suit your business.
Do you work on larger projects where you use servers for different purposes? For example, as a front-end server with load balancer in connection with database servers that you control from third-party software via API? Great! Because our cloud server solutions can easily reproduce scenarios like these. You'll also benefit from unlimited traffic and high availability.
If you rent a cloud server from IONOS, you can set it up yourself in just a few minutes. Programming skills are not required. We will guide you step-by-step through the process:
First, determine the desired server size.
Then choose an operating system for your cloud server (Windows or Linux).
Then select the location of the data center.
Shortly after purchase, you'll receive your pre-configured server ready for operation.
The deployment time for a Linux image is about 55 seconds. Your cloud server is then fully available to use.
Yes, our cloud packages are ideal for small and medium-sized businesses. Simply select the right package for your needs based on the server resources you require. These typically differ in CPU (processor power), RAM (memory) and storage space. Fast solid state disks (SSDs) with short access times are available in every package for data transfer and storage. Whenever you need more resources, you can customize them in real time to meet your needs.
For larger organizations that need even more performance and server resources, we recommend the Compute Engine.
Our Cloud Servers support the popular and widely used MySQL and MariaDB relational database management systems. We also offer MS SQL Express, MS SQL with web license and MS SQL with standard license.
Yes, you can back up your data to your Cloud Server. A backup client is available as well as an additional, separate backup storage on which you can back up the data of your cloud server externally at any time — encrypted and in a physically separate data center. This enables you to back up your data multiple times.
However, a cloud server is much more than "just" traditional cloud storage, because it encompasses more than just the rentable storage space in the cloud. If you rent a cloud server, you also have a complete server infrastructure with scalable computing power and can not only store your data, but also process it extensively.
Perhaps you don't actually need these server features, but just want to create a secure and practical online backup for your data? We can offer you this service in the form of our Cloud Backup package.
Couldn't find what you were looking for?
Check out these other great server options.
Live Chat
Chat with one of our IONOS experts.