Email Marketing
Send emails. Build relationships.
Email marketing is 40 times more likely to win a new customer and 6 times more likely to get a click-through than a social media post.
See packages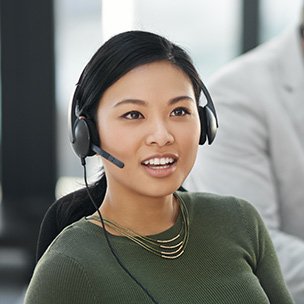 Personal Consultant
Lucy S. | Email Marketer
Support matters at IONOS
"Questions about choosing your target audience? I can help!"
Backed by our standard 24-7 support team, your Personal Consultant is your single point of contact for email marketing and more. This service is free for our customers.
Successful email marketing with IONOS
Easy setup and reach
Delivered to the masses
While email is an incredibly popular marketing method, a lot of emails can end up as spam. Rely on our experts at IONOS to ensure that your marketing emails get to your customers' inboxes as intended.
A small investment goes a long way
Email marketing lets you reach more customers, and thanks to the low entry barrier, it's a very low-risk investment that could boost your sales in a big way.
Email sign-up
Easily design a registration form and integrate it on your website. Your customers have the option to subscribe to your emails, and later opt out if they want.
Create and send
Designed to be mobile: Create emails that look great on all devices because every template is responsive, ensuring your content adapts to every screen size.
Get personal: Opening rates are 29% higher for personalized emails. Every Email Marketing package enables you to address customers by name, increasing the likelihood of your email being read.
Monitor and Optimize
Monitoring
Monitor your campaigns in real time with our clear graphical representations. See how many people opened your emails, when and how many clicked your link.
A/B tests for successful campaigns
Optimize your marketing by testing different strategies with A/B testing. You create several variations of your emails by changing the subject line, greeting or offer. You then send as many variants as you like to a small selection of different customers. After a short time, you can see which variant achieves higher opening and click-through rates. You will get better results sending the winning variant to your customers.
Your email campaign in three simple steps
Manage contacts
IONOS Email Marketing helps you import any existing contacts and put a registration form on your website so users can sign up for your emails. Advanced functions include choosing to email only a segment of your audience, like people who live in a specific location.
Create and send emails
Choose one of our stunning templates, then simply drag and drop content in our editor. Once your emails are ready to send, you can get them to your customers quickly and with the confidence that our solution is designed to keep your emails out of the spam folder.
Automate your marketing
Schedule email dispatch when certain conditions are met. For example, welcome emails can be sent automatically, or with a scheduled delay. Automation takes a lot of the pressure away so you can focus on forging and maintaining customer relationships.
Package overview
Master your email campaigns by creating and sending professional emails with our simple editor.
State and local taxes will apply.
Click here
for our General Terms and Conditions.
Your personal consultant
Helpful advice from a single point of contact. Exclusively for you. Experience customer service on a whole new plane. All this and more, free.
Learn more
Customers love IONOS Email Marketing because it's a more direct and targeted way of reaching and winning over new customers.
Email Marketing Software
FAQ – Frequently asked questions
With our all-in-one email marketing software, you can establish direct contact with your customers and address them both personally and appropriately. All customer contacts can be managed from one central location and you can choose from a host of different design templates (email templates) to design personalized email campaigns or newsletters. These can be tailored, for example, to target groups, customer status or season. The respective email design can be adjusted in no time at all.
With a IONOS email marketing campaign, customers can enjoy total design freedom in addition to responsive web design, allowing your emails to be optimally displayed on every end device. This way, you can reach your target group on their preferred device no matter where they are located. If necessary, you can set up marketing automation, which sends out emails that you have created in advance. Whether a personalized email newsletter or a campaign for the entire customer base, the time-saving aspect of email automation is one of the obvious benefits of the intelligent, reliable email tool – including a personalized address for each contact.
Whether you run your business online or locally, advertising is an important element of sales. Email marketing is a direct communication channel and is therefore one of the most efficient methods of addressing (potential) customers in a targeted and personal way. By creating a mailing service, you can easily target a specific audience and reach numerous customers in one go.
You can activate existing customers via email marketing by simply reminding them of you and your offers. For example, share news about goods, services and trends or inform your customers about special promotions. This way, prospective customers will also become familiar with your offer or with the respective news that you are promoting with the current email campaign.
In contrast to banner advertising, personalized emails are an accepted form of marketing: a newsletter is sent out to an email list with the customer's consent and only read if the content sparks interest. This means that all your email campaigns must be customized and both visually and contextually appealing so that they attract attention and do not end up unread or deleted.
Marketing knowledge can of course improve the chances of success of your email marketing campaign. However, the most important thing is that you know your target group well, i.e., what tone to use and with what content you can best reach and inspire them.
With our mailing software, you will always have a detailed view of the success of your campaigns. Extensive tracking and analysis functions provide important information on opens and click-through rates, including geographical data. You can see in real time who opens your emails, when they open them, on which device they view them on, and whether or not they click on a call to action. This way, you gain valuable insights into which areas you can optimize your campaign. With the IONOS email marketing tool, you can easily compare current successes with the results of previous campaigns.
No. The email editor and user interface are so intuitive that you do not need any previous knowledge. Simply select the appropriate design template and tap on it. You can easily insert entire text boxes by using the drag and drop function – the same method can be used with images, videos, buttons, etc. It is possible to move elements of the design template to suit your taste. In no time at all, you can write visually appealing, personalized emails and create entire email campaigns using a modular system. Detailed step-by-step instructions are just a click away at all times.
Thanks to responsive registration forms (double opt-in), which you simply embed on your website as a widget or integrate as a popup, your contact list grows automatically and you gain valuable leads for your email marketing campaigns. You do not require any programming knowledge for this either. The email tool will synchronize the prospective customers with your email list automatically. It is just as easy to import existing contact lists into the email tool (for example as CSV, TXT, or XLS files).
Above all, you should bear in mind the legal conditions of email marketing. Since these change frequently depending on technical capabilities, you should always make an effort to stay up to date. This is the basis for creating and sending email marketing campaigns to both new and existing customers. Otherwise, you run the risk of partaking in unauthorized advertising.
Two general rules always apply:
The advertising must be desired by the recipient. Only that what is desired and meets a need is positively received and results in customer loyalty.
The recipient must approve the sending of the advertisement in advance according to the double opt-in process. Everything else is considered spam, so make sure that the basis for your email marketing campaign is correct and that your efforts do not end up caught in the spam filter.
Start with a snappy subject and content that will arouse curiosity and prompt them to read further. Address your target group directly and make sure to use the right tone. Consider carefully whether your text should sound more formal or if a relaxed approach is more appropriate. Always bear in mind the age of your target group.
Write short, concise sentences and put yourself in your readers' shoes. What kind of newsletter would you personally like to see in your mailbox? Practical tips, helpful information or news on discounts or special offers are more valuable than flat advertising slogans. Offer your customers a newsletter with added value – either with interesting information about your products or individualized offers.
Harness the power of appealing images. Make sure your text has a clear layout and space it out with paragraphs and subheadings so that the eyes can focus on the important information easily. In this respect, good newsletter content is similar to good website content.
Email marketing is an effective way of addressing both new and existing customers. However, be careful not to contact your target audience too often. Limit it to when you have relevant news to share. The right level also depends largely on your business model. However, a daily newsletter is not recommended in any case.
Couldn't find what you were looking for?
Check out these other great options.
Contact us
We are here – drop us a line if you have any questions or concerns.
1-484-254-5555
We're here whenever you need us, 24 hours a day, 7 days a week.
Live Chat
Chat with one of our IONOS experts.