IONOS hosting solutions at a glance
Discover our products below and find the right solution for your needs.
VPS Hosting
Virtual servers for peak demands
Secure dedicated resources with VMware virtualization and 100% lighting fast SSD SAN storage.
Product advisor
Not sure which product you need?
We'd be happy to help. Answer a few questions to get a personalized recommendation.
Why host with IONOS?
Environmental and social responsibility is a core value at IONOS. We're talking about corporate digital responsibility here, and as Europe's biggest hosting provider it goes without saying that we have a key role to play.
Stefan Mink, Head of TechOps Hosting at IONOS
Learn more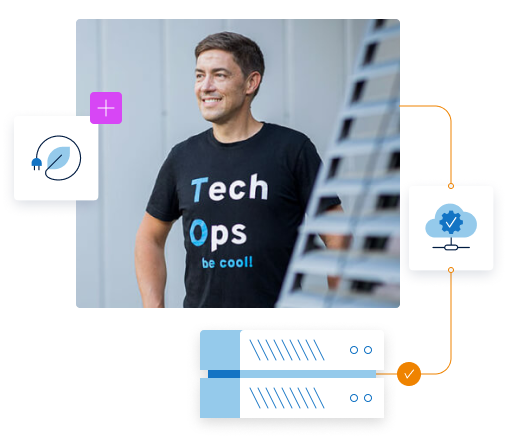 Find the right hosting solution with IONOS
Use case
Benefits
IONOS Product
Trimmed for performance

Free, pre-installed Joomla!
Easy dynamic content management
Comprehensive security features

Joomla! Hosting
For designers and developers

1-click Drupal installation
Your desired CMS with included SSL certificate
PHP 8.2 with JIT compiler and SSD web space

Drupal Hosting
Flexible e-commerce solution

Strong software base for your Magento store
Advanced servers for speed and high traffic
Secure IONOS data centers

Magento Hosting
Deploy websites and apps via GitHub

Automate deployment and go live faster
Supports PHP projects, static pages, and single page apps
Easy staging with preview URLs

Deploy Now
Powerful hosting for Windows developers

Windows Server 2022
ASP.NET 4.8, .NET 6.0
Updated security features

Windows Hosting
High-performance websites using prerendering

Developer-friendly CI/CD workflows and Git tools
Reduce resource requirements and scale more cost-effectively
Convenience for customers and editors with a headless CMS

Jamstack
Three reasons to host with IONOS
226.85 tons of CO₂ saved
In 2021, we saved more than 226 tons of CO₂ through responsible reuse and recycling of old servers and equipment.
100% Green energy
IONOS data centers in Europe and our largest in the US are all powered by 100% renewable energy.
Certified by experts
Our energy management systems are certified to ISO 50001 standards and are regularly checked by sustainability experts.
Reliability and security, you can trust
How we safeguard your data and projects.
Georedundant
By mirroring data in different data centers, we can ensure that even if one suffers an outage, your project remains live and uninterrupted.
Uninterruptible
A battery-supported uninterruptible power supply secures our data centers, ensuring your project remains accessible even in a power outage.
Generator-protected
All our data centers also have backup generators, so your project will stay online even during extended power outages.
Live Chat
Chat with one of our IONOS experts.