Cloud Backup
Back up and protect your business IT
Safeguard it all with automatic back­ups, easy recovery, ransomware, and antivirus protection.
See plans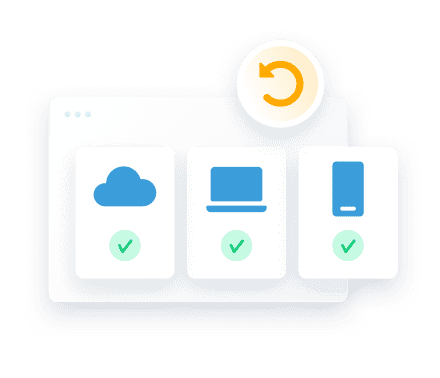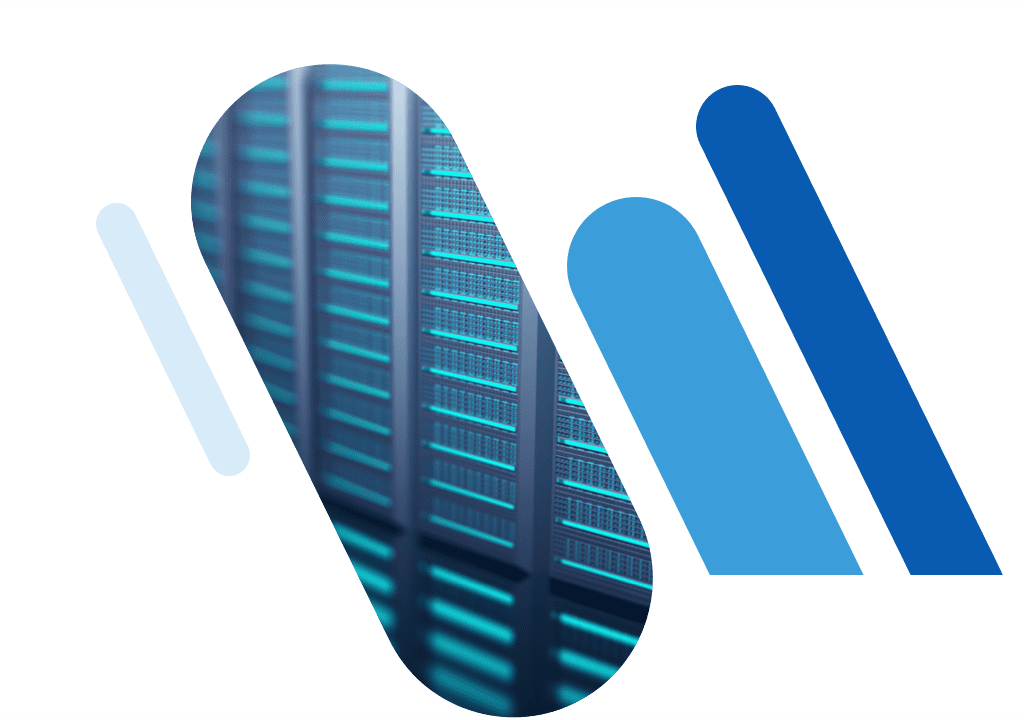 Make disaster recovery a thing of the past
Use a cloud-based backup solution to keep your business running smoothly.
Server backups: maximum data security
Multiple possibilities
Full image backups ensure you have everything backed up in one place. Incremental backups let you safeguard all the important changes since your last full backup.
Versioning gives you full revision control so you can have everything up and running again quickly if something happens.
Supported devices and applications
Everything important for your business can be protected with Cloud Backup. Of course, smartphones, tablets and laptops are a must for protecting your day-to-day operations.
Your infrastructure is critical, so virtual machines (VMs), servers, ESXi, Hyper-V and Virtuozzo hosts are all supported. So are SQL Server, Exchange Server and Active Directory. Cloud Backup works with both physical and virtual servers.
Set it up and forget it
Unattended agent installation
Cloud Backup needs to establish a connection with the server you want to protect. This happens using a piece of software, or agent, that you install on your server. The agent confirms the data source for the backup console, ensuring your data gets backed up properly.
Download the backup agent from the Cloud Panel, copy it to your server, then execute it. It's as simple as that. You can also provision a server after purchasing Cloud Backup and have the agent installed on the server during setup.
Granular scheduling
You get full control over the number and types of backups created, when and how often they are made, how long they are stored and how compressed they are. The only surprise is how easy it is to do all of this without maintaining physical backups all the time.
Protection from malware and downtime
Keep cybercriminals out
Cloud Backup includes ransomware protection to detect potential threats and prevent attacks before they happen.
You can also use Cloud Backup to carry out regular virus scans on your systems. If suspicious files are found, they're immediately quarantined. Wrong file? You can reverse any changes using the service cache.
Recover lost data
Mistakes happen. When they do, Cloud Backup lets you restore your files from backup copies anytime on any hardware you choose. This way you minimize downtime and maintain system productivity.
The technical stuff
So you're interested, but you want to see some of the finer details before you make your decision?
Encryption
Protect your backups so only you have the key with at-source AES 256 encryption and personal passwords. SSL ciphers are also used to secure the data transfer.
Logs
A further level of protection is the activity log, so you know no matter how many users have admin access, you will always be able to see who was doing what.
Data compression
Make the most of your backup storage by compressing data at the backup source. You can choose to compress your data a little, a lot, or not at all depending on your needs.
Back up your business
Get 5,000 GB in free data security or up to $325 in
All Cloud Backup plans include a credit of up to $325 to start, which will be added to the first month's bill. Any unused credit expires after 30 days and is only valid for use with Cloud Backup. It cannot be used with other IONOS products (e.g., Domains).
Cloud Backup

---
Pay less for a set amount, then Flex pricing applies.
Cloud Backup Flex
---
Continue
Stay flexible by paying per GB.
State and local taxes will apply.
Click here
for our General Terms and Conditions.
Your personal consultant
Helpful advice from a single point of contact. Exclusively for you. Experience customer service on a whole new plane. All this and more, free.
Learn more
Why go with IONOS?
Integrated solutions
Cloud Backup is fully integrated into our portfolio, meaning you can provision servers with the backup client already installed, and operate everything within the Cloud Panel directly.
World-class protection
Information security is of the utmost importance. All of our data centers in the US and Europe meet the strictest standards for data security, so you know your data is safe.
Personal consultant
A server expert is just a phone call away. Your personal consultant is your single point of contact for any questions or problems you might have. This service is completely free.
Couldn't find what you were looking for?
Check out these other great options.
Cloud Backup
FAQ – Frequently asked questions
With our Cloud Backup solution, you can create both full and incremental backups as well as full image backups, file copies and disk copies.
With an incremental backup, your data is compared to establish what has changed since the last backup. Only this data is then saved and overwrites the older versions of the corresponding data. The data that wasn't changed is still be saved.
A full backup, on the other hand, does not assess whether data has changed since the last backup. In other words, all the data is completely backed up.
An incremental backup is advantageous in that only data that's been changed needs to be backed up. Unchanged data is skipped since there is already a backup for it. This means that the entire database does not have to be backed up every time minor changes are made.
With cloud storage, only data of various types is stored. In principle, this is the same as saving important Word documents, media files, etc. on an external hard disk. Unlike an external hard drive, which you have to carry with you to access the data stored on it, the cloud can be accessed wherever you are via the internet.
In addition, using the cloud for backups means that it's not only files that can be backed up, but also complete system statuses in different versions. This means it's possible to reset a server to a previously secured system status at any time after there's been a security issue or an IT system malfunction. This allows you to quickly restore to a secure and stable operating state.
Yes. With the console you can set up the backup function in a few simple steps. You'll get an overview of your backup plans and can choose whether you want to back up your entire computer, individual drives, folders, files, or system statuses. You can also schedule your backups and set up convenient monthly, weekly, daily or even hourly backups. You can also select to have them encrypted. All activities are stored in a log and can therefore be tracked at any time.
The best kind of backup for your purposes depends on your needs, such as how you work and which processes you want or need to map. When you use Cloud Backup, you aren't limited to just one backup type, but are free to change and combine options.
For many users, performing a full back up once a week is more than enough. Others prefer to carry out incremental backups on a weekly basis. A software development company or users with high data volumes often need to create daily backups and have every backup from the past few weeks and months available in full so that old systems or development statuses can be quickly restored at any time.
No. The time it takes for the information to reach its destination depends on which data center location (US or EU) you choose and from which location you transfer the data to the backup server. Nevertheless, there's no need to worry about any noticeable latency (delays in the signal run times) in your IT infrastructure during data transmission, intermediate storage or data packet testing. It will, of course, take a little longer if you're located in the US and create a 100-gigabyte backup in a European data center instead of a US data center. Still, your IT infrastructure will continue to work latency-free.
Local backups such as those on external hard drives or desktop PCs are at higher risk of being lost, damaged or even destroyed by accidents or environmental factors. By taking advantage of cloud backup based on georedundant structures and state-of-the-art technology, you can virtually eliminate risks like these and ensure that your data is sustainably protected.
Another advantage: Cloud backup is not only for data backup and recovery. Unlike local, physical storage media, your data is always available in the cloud. As long as there is an internet connection, you can conveniently access your data no matter where you are. It's both location-independent and unlimited.
With Cloud Backup, you can choose between our ISO-certified data centers in the United States and Europe.
MyDefender
Back up your personal devices
Protect your most important data with automatic backups. All your files are stored in our highly secure data centers, giving you one less thing to worry about.
See MyDefender
Live Chat
Chat with one of our IONOS experts.