eCommerce Website Builder
Build an online store that grows with you
Sell and market your craft with our intuitive online store builder.
See plans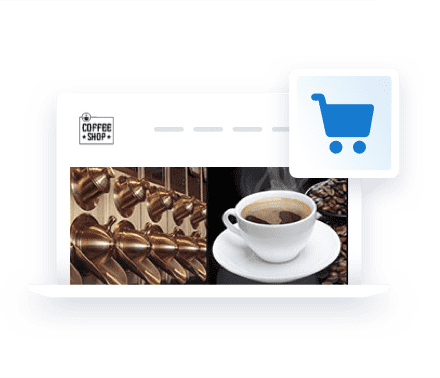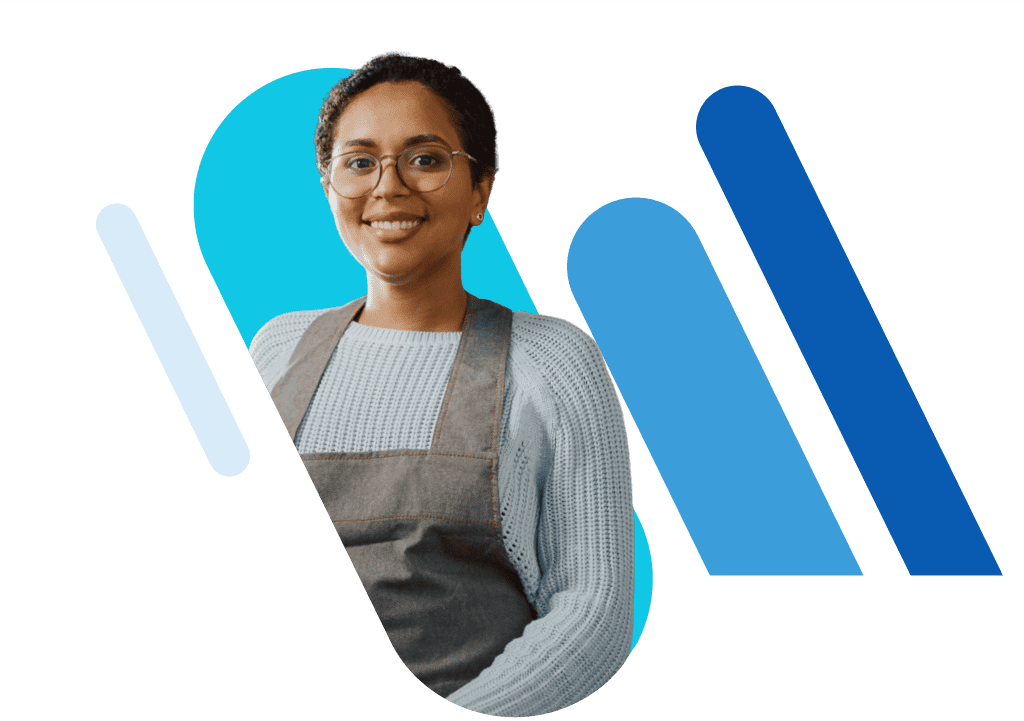 Launch your own ecommerce website and store
Set up shop
Build your mobile-optimized eCommerce website, list your products or services, and connect your free domain name.
Make sales
Convert your website visitors with coupons, promotions, and more. Manage it all with mobile-friendly admin.
Expand your reach
Go next level by linking and selling on social media and other online marketplaces.
Sell anything, anywhere with our website builder
One store does it all
No matter what you offer offline, our online store builder can help you sell it online. Build your eCommerce website with IONOS and easily sell:
Products

Services

E-goods and digital products
Whether you offer yoga pants, yoga classes, or both, you can do it all with the website builder built for scalable eCommerce.
Cross-platform eCommerce
Looking to grow beyond your eCommerce website? We've got you. Sell on the world's most popular social networks and online marketplaces, including:
Facebook

Instagram

Google Shopping

Amazon (via Codisto) and more
Create a store that drives traffic
Pick out your favorite template, then drag and drop the components you need to intuitively customize your website. All templates:
Are mobile responsive
Need no coding
Are easy to edit
Simply add images and text, choose your font style and size. Engage your visitors with videos, widgets and more. Before you know it, your visitors will be back for more.
AI powered
Automatic text generation
Unleash your creativity with our AI text generator and produce fresh unique website content in seconds, saving you time and energy.
Everything you need to master eCommerce
Create your site
A domain and email

Choose your own domain name, reach out with business email, and secure all your transactions with SSL — it's all possible without paying extra.

Payment options

Offer a range of payment methods, including credit cards, PayPal, direct debit, and more.

Shipping wizard

Your customers can decide how they want to receive their goods. Set up real-time rates for USPS, UPS, FedEx, Canada Post, and more.
Manage your store
Mobile app

Stay on top of things on the go. With the IONOS eCommerce App, you can manage orders, payments, and even add new products.

Promos and coupons

Need a sales bump? Win over more customers with seasonal campaigns, special offers, and coupons.

Track sales

Built-in metrics show you how your shop is doing. Create customized reports for easier analysis.
Marketing
Social selling

More customers are buying on social media than ever. Link your store to your Instagram and Facebook profiles and expand your reach.

Cart and checkout options

Cross sell or upsell on individual website pages. And use abandoned cart recovery to help keep sales from getting away.

Search engine optimization

Easily customizable SEO fields can improve your Google ranking and help potential customers find what they're looking to buy.
Get organized the easy way
Your online store is part of your Presence Suite, your central dashboard for everything you need for success. Get helpful tips, suggestions, and next steps.
Outpace your competition
Automated competitor monitoring
Stay one step ahead with MyWebsite Now's integrated monitoring tool. You can easily track your competitors' social media and Google activity, so you always know what's going on.
Choose your online store plan
30-day money-back guarantee
Help creating your eCommerce website
Your personal consultant
Tailored advice and tips
Your personal consultant is here to help you build your online store. Call them directly, chat or email them for support, eCommerce tips, or helpful step-by-step guidance.
How-to guides and videos
Don't feel like chatting? Head to the
IONOS Help Center
. You'll find information on everything from web design and SEO to store management and marketing.
What do you want to do with your online store?
Other ways to sell online
eCommerce website builder
FAQ – Frequently asked questions.
An ecommerce website is a fantastic option for professional sellers and small businesses who want to gain new customers online and extend their reach. Unlike a few years ago when eCommerce website builders required some programming knowledge, today's more beginner-friendly site builders are so simple and cost-effective to set up that anyone can start selling online without any prior experience. Small businesses can sell anything from rare collector's items to custom-made T-shirts with an ecommerce store. Luckily, it's quick and easy with IONOS.
No matter your business, eCommerce website builders like MyWebsite Online Store, essentially do all the hard work for you and no programming, coding, or sophisticated technical know-how is needed. You can choose a design template, drag-and-drop to customize it, upload product images and descriptions, and start reaching potential customers right away. After setting up the site builder, you have the freedom over how you choose to run things and you'll even save on the transaction fees that the other major eCommerce platforms charge.
For professionals and beginners alike, creating a mobile-friendly online store with an eCommerce website builder is the best way to sell products and/or services to customers online. You can also sell online through social media platforms like Facebook and Instagram. Learn how to sell on social using the Social Buy Button and start your own online business catering to your followers.
Although an attractive website and intuitive navigation are important when it comes to building your online store, the way you present your products or services should always be the main focus of your website. This means you should use high-quality images with good lighting to present your products in a positive light. Interesting and engaging product descriptions are also helpful for motivating potential customers to purchase from your eCommerce website. For example, if you sell packs of items such as napkins or plates, then state exactly how many the customer will receive in the description. Our website builder makes running your new online business that much easier.
Furthermore, it helps to have an easy-to-read and memorable URL, a simple and logical page structure, and attention-grabbing headlines to make your online store stands out from the crowd. In general, don't forget to develop a clear website structure with informative descriptions and sharp images that showcase exactly what your products are all about. Images with good titles and descriptions are also important for search engine optimization (SEO), and adding meaningful keywords to help shoppers find your store via Google and other search engines can lead to more sales. Our eCommerce website builder makes SEO by providing you with editable SEO fields.
Depending on the plan you choose, there are many website builder tools from IONOS that help you with advanced SEO. Make sure you check out our checklist for creating a professional online store for more tips on how to make your ecommerce website look and work it's best.
You can purchase the entry-level eCommerce website builder plan for the price of a movie ticket, while the highest plan costs the equivalent of a nice dinner out. That's not a lot to pay in either case, and with the IONOS eCommerce website builder, you'll never have to pay any additional transaction fees.
Depending on the number of products in you want to sell in your online store, you can be online from anywhere between a few hours to a full day. If you have any prior experience with website builders or other eCommerce platforms, you'll make quick work of your online store launch.
Adding as many payment methods as possible is incredibly beneficial and can often sway a customer towards purchasing from your ecommerce store. In addition to classic options like PayPal and credit/debit cards, there are several newer methods to choose from depending on your location and market. You can also set up payment gateways that'll work with a variety of banks and online payment providers. There are also other payment methods like direct debit, invoicing options, and even Stripe and Bitcoin. PayPal Express Checkout is a popular option for customers who want to purchase quickly without entering all their personal information. No matter which methods you offer, choosing an eCommerce website builder from IONOS means we won't charge you extra for transaction fees.
Help build customer trust by providing convenient and flexible payment methods when setting up a store with an ecommerce website builder. It's worth bearing in mind that it's not entirely necessary to set up all payment options when you first use an online store builder, as you can add other methods later down the line. Some options are immediately available with your own business bank account, while others require you to create a separate account with the specific payment gateway provider.
The easiest way to connect your retail location with your eCommerce store is with Online Store Expert. This store builder plan allows you to connect your store to the Square point-of-sale (POS) system, where you can manage online and offline inventory with the help of the Square POS App.
Of course. With Online Store Expert, you can define different customer groups and set different pricing categories for each group. You can also sell on other big eCommerce platforms and marketplaces like eBay, Amazon (via Codisto), etc.
No, if you're looking for a free plan, you won't find one at IONOS. If you'd like a free trial of our online store builder, you can take advantage of our 30-day money-back guarantee. Cancel your online store plan for any reason in the first 30 days, and we'll give you a full refund — no questions asked!
How to sell more on Facebook
Facebook is the perfect platform for boosting sales and learning about your target market. Get started or skill up with this free guide.
How to sell on social media
Social media has huge potential for driving sales. Find out how to boost customer engagement, build relationships and win new customers in this free guide.
How to start selling online
Thinking about launching your own online store? Set yourself up for success with our handy checklist. It covers designing, launching and maintaining your store.
Couldn't find what you're looking for?
Check out our other great eCommerce products and tools.
Live Chat
Chat with one of our IONOS experts.