Your vision.
Custom Website Design
Made to shine online.
Building a website has never been easier.
Our skilled team of designers will create a stunning and responsive website for your business at a fixed price.
See plan
The easiest way to create a website without neglecting your business
Sit back and let the experts do what they do best.
Giving your story a platform
Building a website on your own can be time consuming. There's no need for your day to day business to suffer while you're trying to figure out what goes where. Instead, team up with our designers and copywriters who will deliver the exact site you had in mind leaving you to concentrate on your business.
We'll help you tell your tale through logos, images and compelling copy. Once we're done, you'll have a beautiful, fully responsive website that's ready to go.
Take your business to the next level and be found doing so
Your new website is the perfect communication tool for your business. Our Google experts and talented copywriters take care of your website's content and optimize your site so that it's visible on Google.
Keep your content fresh. Easy click 'n build editor for content updates.
Make changes on your site easily with no extra costs. Need to update your contact details or have special deals to promote? Even after your site has been created you will have access to an easy-to-use website builder where you can make any changes that you see fit. If you have any questions about your website, our expert support team is always there to help.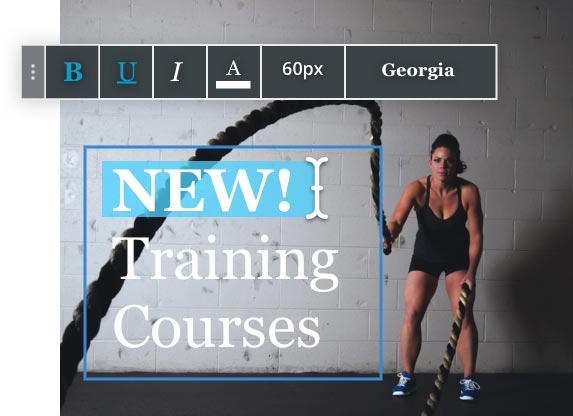 Get the website you've always wanted
Getting your business online is as easy as 1-2-3:
1. Let's talk about your vision
Tell us about your business and ideas. Once you decide to purchase the service, one of our customer service reps will contact you within 48 hours. We'll take a back seat while we listen and learn about what you want for your site and once you're happy for us to jump in, we'll work together to find the right strategy to bring you online.
2. We build your individual website
Our team will create up to five pages (e.g. a homepage, company profile, product page, team page, etc), however more pages are available on request. If you've got your own logo, content or images that you would like integrated, then send them through. If you need a logo and images, we'd be more than happy to help you design and create captivating content.
It's important that your copy is understandable and persuasive. Our team of copywriters will write SEO friendly content for high visibility on Google and other search engines.
3. Celebrate your new website
Once you're happy and have given us the ok, your new website will go online immediately. It's important that you keep your website fresh and adapt the content from time to time. Our website builder allows you to make changes to your site (all of the content is fully adaptable) by yourself at any stage via your computer or smartphone.
Benefits of the IONOS MyWebsite Design Service
A dedicated team of web designers and copywriters who listen to your ideas.
An SSL encrypted website which protects your site from online threats.
Designs and layouts for up to 5 pages (additional pages available on request) that match your industry and business.
We'll make sure you're easily found online, with search engine optimization.
Easy to use website builder for content updates and creating pages without code.
Expert support for all your questions.
Package overview
MyWebsite Creator + Design Service
---
Continue
The Design Service package includes:
A design service expert

A custom-made website (up to 5 pages)

Optimization for all devices

Up to 15 industry-specific images

Basic search engine optimization (SEO)

The MyWebsite Creator package includes:
An SSL secured domain

Social media and business widgets

State and local taxes will apply.
Click here
for our General Terms and Conditions.
Call us now for advice
Let's talk about your ideas. We're as eager as you are to get your project up and running. Call the number below to speak to one of our expert designers.
Custom-made website
FAQ – Frequently asked questions about our website builder service
Letting someone else create your website will save you oodles of time and creative energy. With us, you can invest your time and ideas into making your business profitable instead. Our custom-made website service is perfect for self-employed people, freelancers, small businesses, and midsize companies. It's for anyone who needs a professionally designed website, but doesn't have the time or personnel to accomplish it. This is where the special service for our MyWebsite customers comes in. We also offer professional search engine optimization (SEO) for your website. That way, you not only get a beautiful website, but one that's successful online. This professional custom-made website service is backed by IONOS's combined experience in the internet and web hosting industry. It doesn't get any easier to have a professional-looking website.
IONOS's custom-made website service is ideal for anyone who wants to create a website. For you that means a worry-free experience. Your website is not only planned and created by professional designers, we also consult and advise you beforehand, and we are there to help before and after your website goes live. To start, all you have to do is call us to receive your first consultation. We tell you how to proceed step by step with your custom made website, creating the basis of your site and a rough design with the help of a visual configurator via PC and the phone. Based on this, your personal web designer will create your site. Once this is done, we show you your website and make any minor changes or adjustments that you wish.
Our goal is to design a website that fits perfectly with your wishes and ideas. Once you tell us that you are happy with the website we've created, we will put it online where it can be found by search engines such as Google and Bing.
However, making your website live is only the first step towards achieving success on the internet. After your custom-made website is live, you can quickly and easily make changes with the intuitive IONOS MyWebsite Editor. When you need help from the experts, we're always just a phone call away. Pick up the phone and find out what IONOS has to offer with no obligation to buy.
When you want our custom-made website service to make you a website, then we'll show you your new layout ASAP. In the first talk with our experts, we try to learn as much as possible about your ideas and demands. With as few alteration phases as possible, we'll make the perfect site for you. How quickly we create your website depends on you. The faster we get all your information (e.g., for the contact page), your own text and pictures, the faster our web professionals can get started. Let IONOS guide you to success on the internet.
With the IONOS web design service, you'll receive a professional website at an attractive price. Compare our offer with other professional design services on the internet and you'll be surprised at what you get for your money at IONOS. Guaranteed.
The IONOS custom-made website design service includes up to 5 pages including a contact page. You can easily add more pages to any package at an affordable rate. Give our experts a call and find the best solution for your business today. You'll get the best website, for the best price, right here at IONOS.
So you want IONOS's designers to make you a website? Call our toll-free number and get the process started. Simply share your requirements with our friendly team, then consult with your personal web designer about the finer points of your website. It's quick and easy. Your website will be created only a short time after – looking professional, fast, and search engine optimized (SEO).
When you want a custom-made website, IONOS is your premier address.
If you already have a page, IONOS can still help you create a custom-made website in little time and with minimal effort. For instance, the images and content from your old site can be used once again if you want. We will even help you transfer and register a second domain for your website at no extra cost – ensuring that there is very little downtime for your online business. We are always happy to help you choose an SEO-optimized domain name (URL).
Once your custom-made website with IONOS's MyWebsite Design Service goes live, the exciting phase of development can begin. Because the internet and website trends are always changing, what looks good and modern today might be outdated tomorrow. Don't let your website compromise your business' success. Rather, optimize and update your site with IONOS's MyWebsite Design Service, you'll have all the tools you need to stay up to date. Once we've handed your website to you, you can quickly and easily make changes. However, when you have need for our expert services, give us a call. Our web designers are available to help you at a later date thanks to IONOS MyWebsite Care Services. That means your custom-made website won't go out of style. Call us to find out more about all the possibilities and solutions offered by our team at IONOS.
When you choose to have a custom-made website designed by our team, we want it to be as successful as possible. That's why IONOS's MyWebsite Design Service offers you a variety of tools to measure the popularity and effectiveness of your page. Once you've had our web designers make you a personal website, you gain access to a personal control panel. That's where you'll see how many visitors you've had to your website, and how this number develops over time.
There is a golden rule on the internet: Be original! It's important that you not only let our designers create a custom-made website for you, but that you provide us with content – in the form of pictures and text – that stands out from the competition. The more unique your photos, logos, videos, texts, and product descriptions the better. These can focus on you, your company, employees, and products. Our web designers are there for you if you need help choosing the right pictures, as well as with editing images or improving your texts and articles.
In order to be on the safe side regarding the legal requirements for your website, it's best to give our designers access to the data they'll need to build the imprint for your custom-made website. That also includes any legal or privacy information you need displayed on your site. With your support, we can build you the best website possible including an imprint in conformity with the law.
If you want to create an online store from scratch, then IONOS MyWebsite custom-made websites are unfortunately not for you. However, we are happy to integrate taking off points and teasers into your new custom-made website to an already existing online shop. That means creating a functional and graphical connection between your page and store. We can also design a website for you that fits perfectly with your online shop. Your personal web designer is happy to advise you on this topic and make any adjustments according to your preferences.
Couldn't find what you're looking for?
We may still have the ideal solution for you.
Contact us
We are here – drop us a line if you have any questions or concerns.
1-484-254-5555
We're here whenever you need us, 24 hours a day, 7 days a week.
Live Chat
Chat with one of our IONOS experts.
Start chatting