You do code. We keep it up and online.
That's code for product reliability by design.
Fast, scalable web hosting
Traffic peaking? Scale up with a click. Then protect your work with daily backups, a DDoS shield, and malware scanning.
Plans from $1/mo.
See plans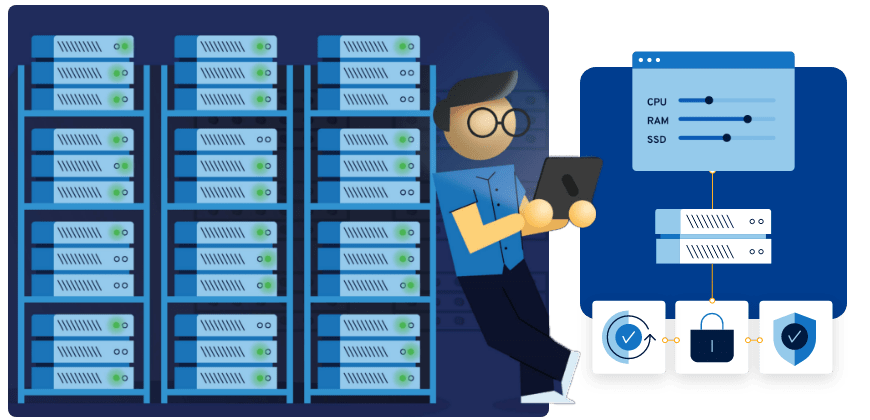 Say goodbye to manual deployments
Deploy Now detects your framework and then sets up a Git Actions Workflow, so you can git push and go live instantly on secure hosting.
Try it for free
Worry-free WordPress
Integrated caching, customizable auto-updates, backups, 99.98% uptime and more make for faster, safer WordPress.
WordPress Hosting from $1/mo.
See plans
First-class servers
That's code for 99.998% availability.
One hub for all your hosting needs
That's code for success made seamless.
Agency Partner Program
Boost your productivity and grow! IONOS Agency Partners enjoy:
Single sign-on access and admin
Product trials, offers and credits
Lead generation
Optimized contract terms
Sign up free
"Membership in the IONOS Agency Partner Program allows us to manage all our customer's hosting plans from one dashboard — making admin easier and speeding up our business day."
Daniel, CEO, Optimerch
"We really appreciate the flexibility that Cloud Server and web hosting provide, using them regularly for our clients' projects. Over the years, we've developed a really valuable partnership that works for our business."
Karl-J. Wack, CEO, Let's Dev
"If a client wants a customized user interface in their online store, say for example, for inventory monitoring or tracking purposes, then we build it quickly with a git workflow and Deploy Now."
Jonas, Founder, Fruchtec GbR
IONOS
That's code for your digital partner.
Unlimited traffic
We don't meter bandwidth, throttle traffic or charge overage fees.
Georedundant
We store your data in two data centers, so in the event of an outage, you stay online.
Sustainable platform
IONOS powers its data centers in the US and Europe using clean, renewable energy.
24/7 tech support
Experts are standing by round-the-clock. Reach them via email, chat, or phone.
DDoS shield
Our DDoS shield keeps your site online by filtering out suspect traffic before it lands.
Robust privacy
We'll never monetize or resell your data to third parties.