How to back up your iPhone
Whether via the iCloud or your PC, there are a few ways you can back up your iPhone.
Three ways to secure your iPhone
By backing up your iPhone, you can prevent data loss and make data recovery significantly easier. The three easiest methods for creating a backup for your iPhone are iCloud, iTunes for Windows, and Finder on Mac. We'll explain how to back up your iPhone using each method below.
Method 1: iPhone backup with iCloud
You can schedule automatic backups of the data on your device via iCloud, or you can also manually back up your iPhone at any time. To do this, you'll need to first make sure that you have enough iCloud storage space for the backup. If your iCloud storage is full, make sure to free up storage before beginning. Also, keep in mind that when you use iCloud, not all of the data on your device will be copied. Data that the backup does not encompass includes app store content, purchased music, and videos outside of iTunes
Step 1: Check your Wi-Fi connection. The backup process via iCloud requires a continuous internet connection.
Step 2: Open your iPhone "Settings".
Step 3: Tap on your Apple ID profile picture.
Step 4: Go to "iCloud".
Step 5: Start the backup by pressing the button labeled "Back Up Now".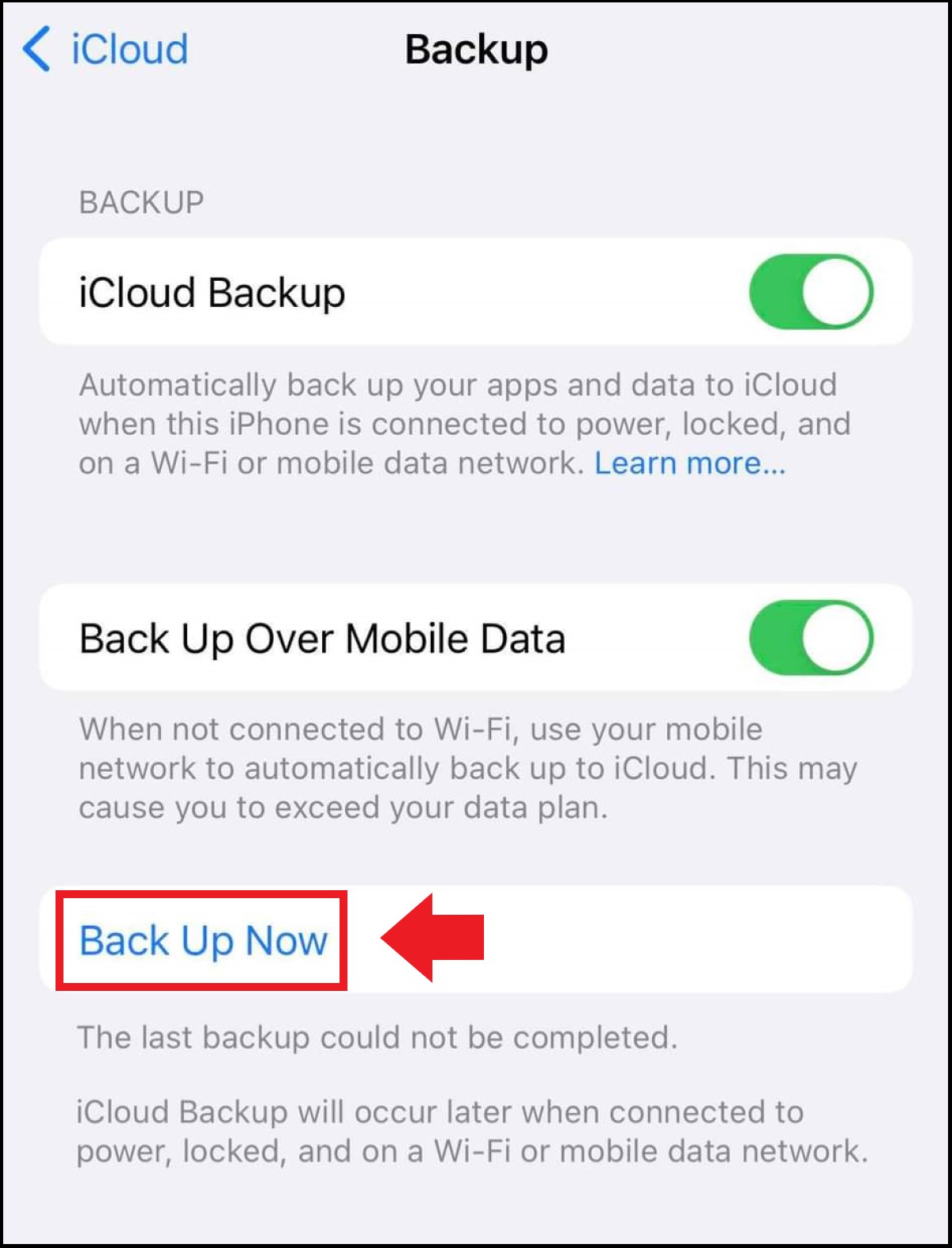 Step 6: The time needed to back up your data depends on the amount of data stored on your device and your iPhone model. It can take anywhere between a few minutes to up to two hours.
Method 2: iPhone backup with Mac
To back up your iPhone to your computer, use Finder on your Mac.
Step 1: Connect your iPhone to your Mac with a USB cable.
Step 2: Use Finder to find your iPhone. Select it.
Step 3: To encrypt the data you want to back up, tick the box that reads "Encrypt local backup" and add a password.
Step 4: Confirm your backup to begin the backup process.
Additionally, if you store important backups locally on your Mac, remember to create a Mac backup.
Method 3: iPhone backup to your Windows computer
If you want to back up your iPhone without using iCloud, you can use iTunes.
Follow these steps to start backing up your phone:
Step 1: Install iTunes for Windows.
Step 2: Establish a connection between your iPhone and Windows using a USB cable.
Step 3: In iTunes, click on the iPhone symbol. It's shaped like a smartphone and located near the top left corner.
Step 4: Under "Backups", select "This computer".
Step 5: To encrypt your backups, check "Encrypt device backup". Add a secure password using our secure password tips.
Step 6: Begin your backup by selecting "Save now".
Tip
iPhone backups aren't permanently safe on personal computers. That's why we recommend using IONOS' HiDrive cloud storage for reliable and secure backups of important data.
Summary: What's the best method to back up your iPhone?
If your iPhone storage is full, there are many options to choose from to get your backups back on track.
Backing up with iCloud is quick and doesn't require physical storage devices. However, the drawback of this option is the limited storage space.
iPhone backups using iTunes on Mac or Windows offer the advantage of being able to store large amounts of data locally. This, however, also means that there will be significant data loss in the event of hardware errors or malware attacks.
A combination of different backup methods is ideal. For example, you can store several cloud backups of your iPhone using iCloud alternatives, and additionally, back up data to your Mac, Windows PC, or an external storage device.