What is Dropbox? The cloud storage service explained
Dropbox offers storage space in the cloud that can be used to back up and store various personal files such as documents, photos, videos and music files. Dropbox is also often used for cloud-based file sharing and project collaboration.
What is Dropbox?
Dropbox is one of the leading cloud storage providers for sharing, storing and backing up files. It can be used within a browser or with an app on PCs and mobile phones. Thanks to the folder synchronization function, you can access up-to-date versions of all your files at any time, regardless of your location. This also makes it possible for multiple individuals to work on a file at the same time. Dropbox offers plans for private individuals as well as for companies.
How to get started with Dropbox
Using Dropbox is easy. All you need is a digital device such as a computer, smartphone or tablet, and an account. Dropbox offers a free plan, which is a great way to familiarize yourself with the features.
To create an account, visit Dropbox's website and register by giving your name, email address and a password. Once you have done that, you can choose the plan that best fits your needs or get started with the free plan.
Which devices can you use Dropbox on?
Dropbox can be used directly in a browser, as a program installed on your computer, or as an app on your tablet or smartphone. Both iOS/iPadOS and Android operating systems are supported, meaning Dropbox can be used on every popular platform. The large cloud storage space also makes it possible for you to access your files from all your devices.
How does the Dropbox user interface work?
When logging into Dropbox, you'll land on the Home page, where you can see your most recently used files. Below these files you'll also find a history of recent activity, with the names of the most recent files and folders used presented in a list.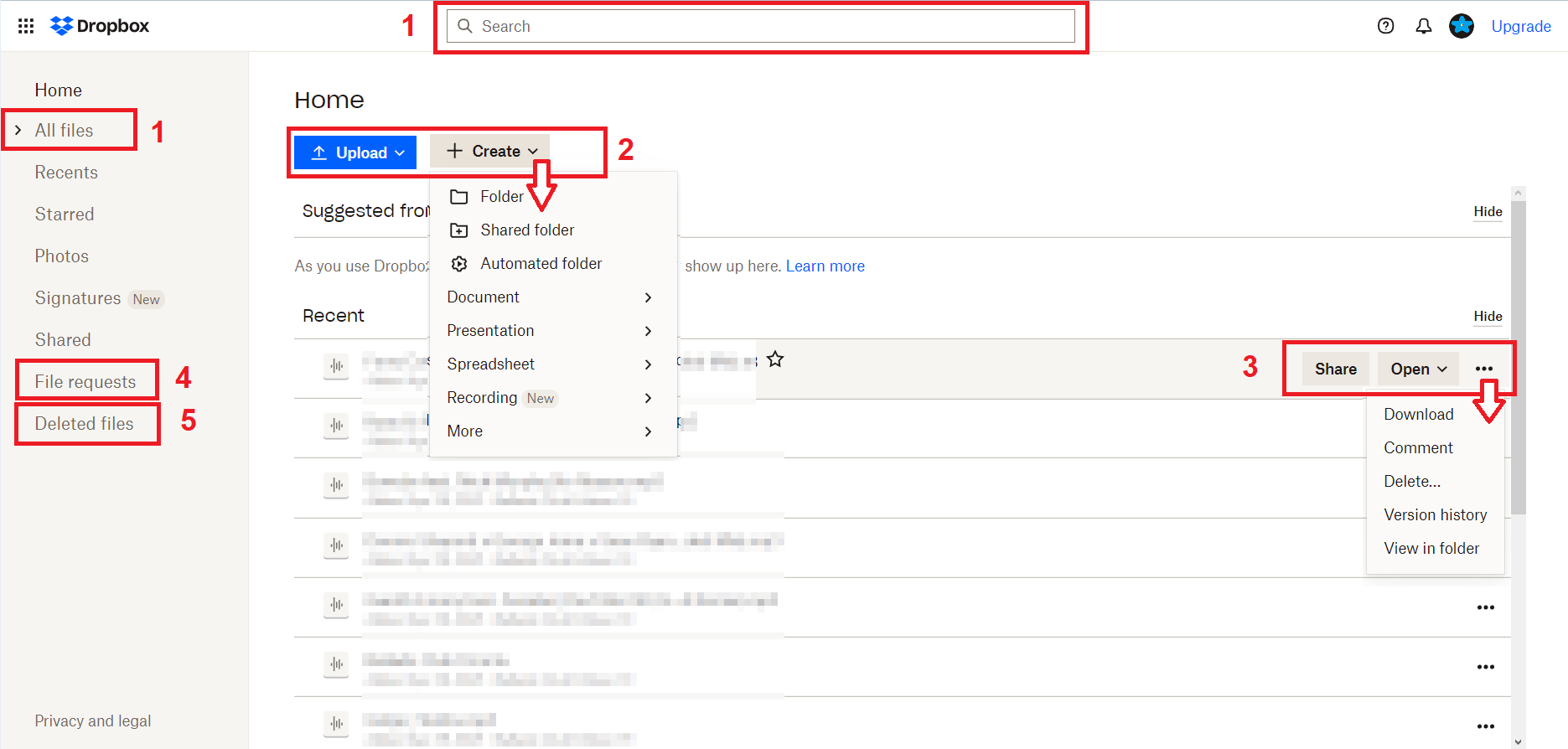 On the left side of the website, you can access the All files page. Here you can see all your Dropbox files and documents as a list or as a grid. The search function is located at the top.
On the Home page, there are two buttons that can be used to upload new files or folders from your devices to Dropbox. You can also use them to create new folders that are empty. The Create button can also be used to directly create documents via Dropbox Paper, Microsoft Office or Google Docs. These documents are then automatically saved to Dropbox.
When you click on an item, more information will be displayed on the right side of the page. This section also lets you share files directly with other Dropbox users or send them to non-Dropbox users using the transfer feature. You can also see recently used files, your favorites, or files you've shared with others.
Requesting files is also possible with Dropbox. This button allows you to request files from other people even if they are not logged into Dropbox. You can manage these requests in a separate section in the menu.
The last menu item allows you to access all deleted files. In this section, you can restore or permanently delete files.
You can access the Dropbox transfer, paper, signature, and presentation features via the grid icon at the top left corner.
By clicking on your profile picture, you can see how much storage space you still have and increase it by upgrading your plan. You can also find the account settings, log out of the current account, and switch between multiple accounts here.
Once you have installed the Dropbox app on your computer or smartphone, you'll be able to manage your cloud storage directly via the app.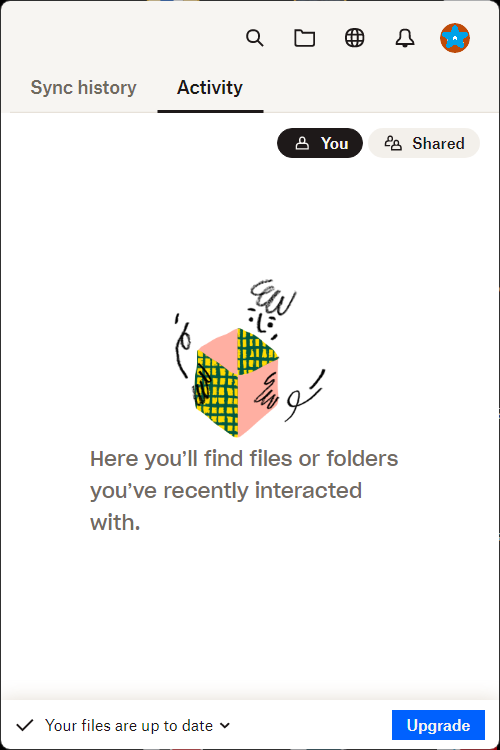 Recently used files, notifications and the search function are shown in the Home section of Dropbox. The software connects to the file system on your corresponding device and creates a special folder. Moving or copying files from your device to this folder will automatically store them to your Dropbox account. Click the globe icon to navigate back to Dropbox's web interface.
How much does Dropbox cost?
Dropbox offers its users 2 GB of storage space for free as soon as they register on the website. If you need more storage space, you can upgrade to a paid plan at any time. You can choose between Plus, Family and Professional plans.
The Plus plan offers 2 TB of storage space for one user for $9.99/month when billed yearly. Monthly payment options cost $11.99.
The Family plan offers 2 TB storage as well but for up to six users. It costs $16.99 per month when billed yearly and $19.99 when billed monthly.
The Professional plan offers 3 TB of storage space for one user and costs $16.58/month when billed yearly and $19.99/month when billed monthly.
For companies, Dropbox offers Standard, Advanced and Enterprise plans.
The Standard plan offers 5 TB of storage space and starts at $15 per user (min. 3 users) per month (yearly billing).
The Advanced plan offers 5 TB storage per user (minimum 3 users) and is available from $24/ user/month with yearly billing.
If your company's data needs are even greater, then the Enterprise plan could be a good fit. It is a customized plan, so you need to contact Dropbox's sales team directly to discuss it.
(Prices as of December 2022)
What are the advantages and disadvantages of Dropbox?
Like any online service, Dropbox has its advantages and disadvantages. One of the major advantages of Dropbox is its intuitive user interface. In addition to its user-friendliness, Dropbox has exceptional cloud storage access security, extensive sharing features, a convenient backup feature and the ability to connect to Microsoft and Google services.
However, nothing is perfect. One of the biggest disadvantages of Dropbox is that its free plan offers a rather limited amount of storage space compared to many of its competitors. Furthermore, the price-performance ratio of the paid plans is not as good as it could be.
What are some alternatives to Dropbox?
Alongside popular competitors such as iCloud or Google Drive, you can also find many other alternatives to Dropbox. For example, HiDrive cloud storage from IONOS offers individuals and businesses maximum flexibility and freedom to access and store files on all devices. All files are encrypted and stored in ISO-27001 certified data centers, whose location you can freely choose. In addition, HiDrive plans offer you a lot of storage space at an affordable price, and every plan comes with a free trial.