Domain parking with IONOS
Earn money by forwarding your unused domains to IONOS or sell them easily with Sedo.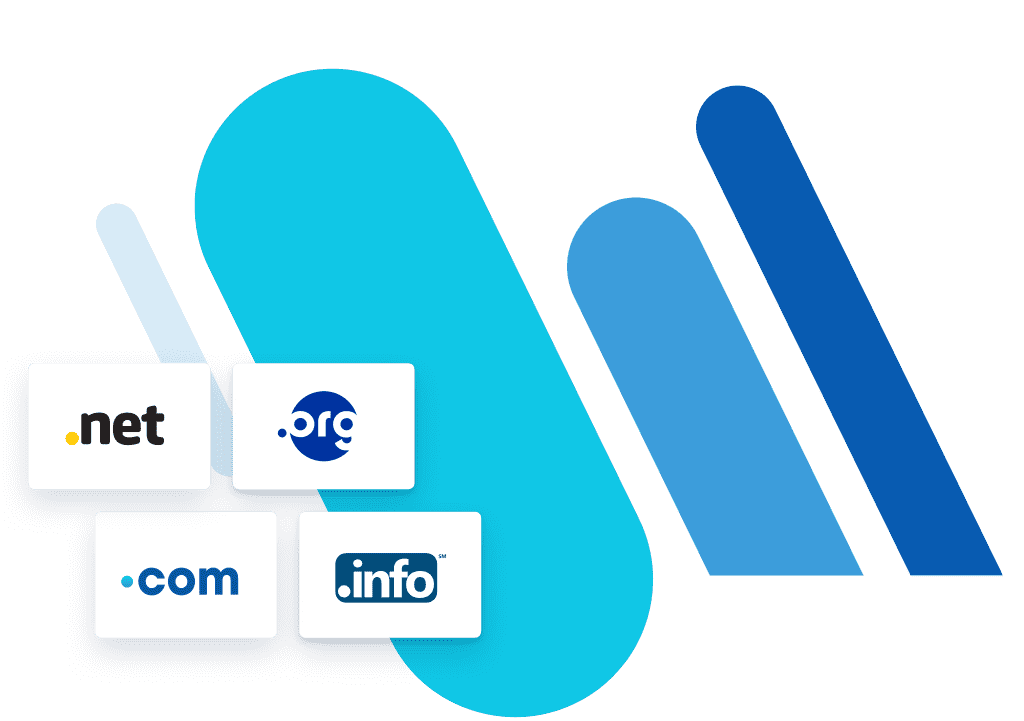 Step-by-step explanation
1. Select the domains
In the dashboard overview, choose the domain you want to park by clicking "Adjust Destination" under the "ACTIONS" dropdown menu and then select "Earn money with your domain". In this section, select "Park your domain with Sedo" and you will be offered the opportunity to also list your domain for sale. Click the checkbox if you wish to do this, or otherwise simply select "Park domain" to activate the domain parking service. Your parked domains will be listed in the domains dashboard.
2. Reactivate at any time
Should you wish to use your parked domain for something else, such as building a website, you can just easily reset the domain settings through the IONOS Control Panel. You have total control over when to monetize your domains.
Your personal consultant
At IONOS, you have a dedicated contact person for personalized advice, tips to boost your online success, and technical support. Reach them via phone, chat and email, all at no cost to you as an IONOS customer.
Learn more
Couldn't find what you're looking for?
We may still have the ideal solution for you
Parking a domain
FAQ – Frequently asked questions about the topic
If you want to use your domain as an advertisement platform, the setup process for domain parking is very easy. Only a few changes should be included, for example in the DNS of a domain. It´s very important to check your most important keywords while parking your domain. Based on this keyword list the parking provider will automatically allocate matching advertisements. Furthermore you should use a good-looking template to ensure that users will not immediately leave your domain. Of course, after setting up a parking page you should continually optimize it - analyzing the stats of the provider and adjusting your keyword list for generating a better click through rate. You should think about what you expect from a visit to your parked domain. And it is very important to read the news feed of your provider to stay up to date on topics such as a change in algorithms.
Domain parking is a simple process with IONOS, allowing you to start earning money from your unused domains quickly and with minimal hassle. This process is facilitated through the IONOS Referral Program, which offers a variety of ways to automatically earn commissions, including domain name parking. If you are already a IONOS customer, log in to the IONOS Control Panel and click 'Manage domains' – here you will be presented with an overview of your registered domains. Simply select the domains you wish to park and they will then be automatically associated with the IONOS Referral Program. When a domain is parked, it will be used exclusively for forwarding to IONOS products; you earn a commission on every sale originating from your domain.
If for any reason you wish to use a domain for something else, such as building a website, you can easily reverse the process and reactivate it. To do so, return to the Domain Manager in your IONOS Control Panel and select the domain you want to reactivate.
Parked domains can be monetized by incorporating advertising on the landing page – the commission you earn from this advertising is known as domain parking revenue. When you park an unused domain with IONOS, it effectively acts as an advertising platform for IONOS products. Your domain redirects to the IONOS website, and whenever a purchase is made, you receive a commission. Each purchase is tracked via a referral code attached to your domain, so you earn money automatically without having to lift a finger.
You can increase the revenue you earn from domain parking in a number of ways. Firstly, the more unused domains you register for the IONOS Referral Program, the more people will be redirected to IONOS products, resulting in a higher potential for earning commissions. In addition, ensure your keywords are appropriate for your domain because they determine which products your visitors will be redirected to. When they are redirected to a product that interests them, users are more likely to buy, which helps to optimize your domain parking monetization.
A domain is 'parked' if there are no services associated with it, such as a website. When a user enters the URL into their browser, a placeholder webpage or domain parking page is displayed instead of a homepage. Typically this page will either feature a 'coming soon' or 'under construction' message, or advertisements – non-monetized and monetized domain parking respectively. For example, the IONOS Referral Program monetizes the placeholder webpages of your unused domains by redirecting users to IONOS products.
The purpose of domain name parking is usually either to secure domain names for future development or to protect against any potential cybersquatting. Domain parking monetization is especially attractive because it allows you to achieve these aims, while simultaneously generating passive income.
You can use as many of your domains as you like for the IONOS domain parking service. There are no limits, so you are free to monetize your unused domains no matter how large your portfolio. The process remains precisely the same – you can still manage everything from your IONOS Control Panel. Even if you have hundreds of domains, monetizing them through the Referral Program is as simple as clicking a checkbox – likewise for reactivating them. For this reason, domain parking with IONOS is every bit as suitable for domain professionals as it is for those who simply don't want their unused domains to go to waste.
Should you wish to sell your parked domain, this can be done through Sedo. In addition to domain name parking, creating an account and listing a domain for sale on Sedo's marketplace is completely free. With this account, you have full access to all Sedo's tools and services, including buying domains as well as selling. When a buyer is found, the transfer of fees and the domain itself is also free of charge, but the sale will be subject to a commission fee – the minimum amount of this fee is based on the domain extension. It's also free to apply to sell your domain through Sedo's brokerage service, where a professional broker will manage the process on your behalf. Should your application be accepted and a sale completed, a 15% commission charge will be deducted. In addition to this, additional services are available that can aid you in the selling process, including domain appraisals and featured listings. The cost of these services may vary depending on the options you select.
The rights to a domain name can be sold and transferred just like property. If you want to find a buyer for your parked domain, Sedo can include a 'Domain for Sale' page on your site or list your domain on a domain auction site. On the Sedo website you can find out how much your domain could be worth and request a domain rating. The transfer of a domain name is a potentially time-consuming process, so most domain transactions are managed through a third-party trust service. The provider holds the buyer's payment securely while both parties work with their registrar to transfer the parked domain name. Once the transfer is completed, the provider releases the payment to the seller. The trust service provided by Sedo is recommended because they provide a financial intermediary and assist you with the technical transfer of the parked domain name.
When putting a parked domain up for sale on the Sedo marketplace, it can be tricky to determine exactly how valuable it is to potential buyers in order to avoid selling below the market value. Fortunately, there are a few key indicators to help you more accurately assess the worth of your domains. Firstly, search engine friendliness is an important factor, as any potential buyer will want the assurance that there is sufficient potential to build a website on a domain name that will rank highly. Similarly, your domain will have a higher market value if it has strong branding and advertising potential. Typically this refers either to a catchy and memorable name, or one that clearly identifies with a particular niche or topic. If this branding potential is related to ecommerce it can strengthen the commerce potential, which in turn will increase the value of your domain. Last but not least, Sedo looks at comparable transactions – that is, the prices that similar domains have sold for – in order to further assess its market value.
Cybersquatting – also known as domain squatting or grabbing – is the act of registering domain names, particularly trademarked brands, with the intention of either selling them or using them maliciously. The term often refers to buying domain names that contain variations of existing business names in order to sell them back to the business for profit. One good reason to use a domain parking service is to protect your brand from cybersquatting. By purchasing domain names that are related to your brand, you can prevent cybersquatters from exploiting or tarnishing your company name, or extorting you.
Fortunately, when you buy a domain name from IONOS purely to protect your brand against cybersquatting, the money you used need not be wasted. With the IONOS Referral Program, you can monetize that domain, and begin generating domain parking revenue through commissions. This is a great way of turning protective measures against cybersquatting protection to your advantage.
Live Chat
Chat with one of our IONOS experts.