Business web hosting
Get your business online

Market your business or service and connect with clients

Affordable web hosting plans for all business types
Buy your hosting plan now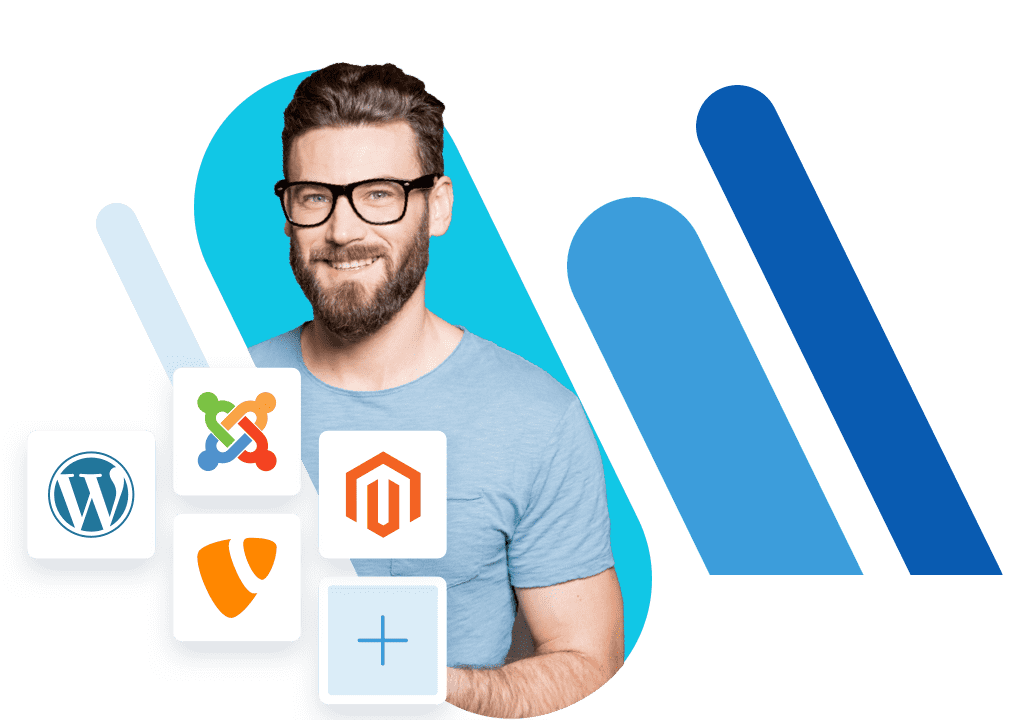 Build your online presence with IONOS business hosting
The solution for your business — web hosting from IONOS
A strong online presence is a vital component of any successful company. Representing yourself well online is one of the best ways to ensure that your company or business grows its client base and gets found nationwide.
IONOS can offer you the perfect hosting plan for your company website. For small business website hosting requiring only a simple online presence, we recommend the IONOS MyWebsite plans. These are particularly cost effective and easy to set up, even for novice web designers, thanks to the website builder.
Larger businesses will find that our more comprehensive plans offer them the freedom they need. Depending on the complexity of the site, you can choose between three different hosting plans. Whether you prefer a Linux or Windows based server is up to you, as all of our dual hosting plans feature both operating systems. In addition to the basic plans, you can further customize your business web hosting with additional add-ons.
IONOS business hosting for company websites
IONOS business hosting has everything you need to build a presence online that truly reflects your business. It's ideal for a fully comprehensive business website that allows for numerous subpages and functions. Several modules are available to help you with the design of your company website. Another feature is the IONOS Webmailer, which makes managing your email communication easier.
If you've got a small or microbusiness and you want to sell online, MyWebsite Online Store is a great solution. For larger or more complex online stores with more traffic, the IONOS online store builder is a good choice. There's never been a better time to grow your business and sell online with IONOS.
Support and security for your business hosting needs
When running a business website, guaranteeing the safety and protection of your customers' data can make or break your business. You don't want sensitive information slipping into the hands of third parties.
The IONOS data centers that host your website feature multi-core processors and RAID-protected hard drives, giving you the best performance and highest data security. They also feature georedundant infrastructure and daily backups.
We have an expert support team available 24/7 via phone, email, and chat to answer any of your questions about small business website hosting. You can rely on us to keep your website running, while you focus on making it engaging for your site visitors and customers.
Reliable servers for small business web hosting
As the clamor of the marketplace increasingly shifts to online transactions, the importance of having a strong website with a reliable server has never been more vital for businesses. Small business web hosting from IONOS offers your company a secure and adaptable web service.
When you opt for business hosting with us you will receive a powerful server with plenty of space and bandwidth, robust data security and simple installation. With a virtual server — the most popular choice when it comes to small businesses hosting — you will be able to place all your web projects in one place, ensuring seamless coordination and control.
You can also choose between a multitude of plans for Linux or Windows. If you already have a website with a different server and are not completely satisfied, you can easily switch to IONOS without having to change your domain or email addresses.
Scalable hosting for businesses
IONOS small business web hosting will never leave you cramped for space. As your business expands and evolves, we ensure that you can add New projects, features, and resources as you need them.
There are always more apps and features than you can integrate into your site. A managed dedicated server with IONOS can help you implement multimedia on your site resulting in something more vibrant and dynamic. These dedicated servers are high-performance models primarily utilized by medium to large businesses with a vast collection of data.
If your small business is evolving, and you feel that neither the dedicated nor the virtual server is the right fit, then you can consider opting for our dynamic cloud server. This server is flexible in the face of ever changing requirements and is often used for stores or organizations that experience seasonal peaks in traffic.
Small business web hosting with IONOS
IONOS MyWebsite for small businesses
MyWebsite from IONOS is the easiest way to launch your online presence. This intuitive website builder includes lots of easy-to-customize templates that'll help you create an individual business website.
MyWebsite also gives you access to apps, images, and even boilerplate content that'll allow you to appeal directly to your audience. Should you require any additional options, you can simply add the necessary extensions.
MyWebsite plans provide the best business hosting framework for getting your small business website online.
Business hosting
FAQs – Frequently asked questions
Yes. Alongside our regular web hosting plans that allow you to install WordPress, IONOS provides specialized WordPress plans for your company website.
An email address matching your domain is included with all IONOS business hosting plans. The number of email inboxes and the storage space may vary depending on which plan you buy. In addition, most plans also include automatic email forwarding to pre-existing addresses, the browser-based IONOS Webmailer, and anti-virus and anti-spam filtering.
If you are looking for a professional emailing solution that allows you to efficiently manage your data and communication, you can opt for a dedicated corporate email plan. With a wide range of additional features for your address book, calendar, and to help you manage your tasks and documents, IONOS business email is an excellent solution for your professional email needs.
If you choose IONOS business hosting for your web project, you'll get a variety of templates, features, plug-ins, widgets, content management systems, and more. They'll allow you to individually design your company website, ensuring that it's tailored to your industry. Whether you work in retail, have a startup, or are self-employed, our business hosting gives you all the tools, templates, and add-ons you'll need. All these features work equally well for blogs, online stores, or any other website type.
Should your website demands grow over time, you can easily customize your web hosting to suit your needs thanks to a modular system. Book additional plans or increase your performance level to add more storage or features to your website.
Another benefit of using IONOS business hosting to implement your web projects is that you will have access to the tried and tested content management systems (CMS) Drupal, WordPress, Joomla!, Typo3, and Magento as well as further, more specialized systems. The decision of which CMS offers the necessary features for your website is entirely yours, but this brief overview of the most popular ones should help you decide:
Drupal: Thanks to its wide variety of features, Drupal can be used to for almost any web application, from blogs and online stores to complex company websites or intranet solutions.
WordPress: WordPress is one of the most popular content management systems due to its user-friendliness, great functionality, and easy scalability. About 62% of all CMS-based websites run on WordPress.
Joomla!: Joomla! is a versatile and efficient CMS that is well suited to managing simple websites as well as more complex business hosting applications. It is both user-friendly and very reliable.
TYPO3: TYPO3 is a trusted and widely distributed CMS based on PHP often used for enterprise websites. It offers numerous extensions and easy integration of databases like MySQL, MariaDB or Oracle.
Magento: The perfect choice for comprehensive, functional, and visually pleasing online stores, Magento is based on PHP and uses MySQL for data storage. Through Magento you can manage a variety of shops with independent product catalogs on different domains.
Yes — our technical support hotline is available free of charge, 24 hours a day, 7 days a week. Should you encounter any problems or have any questions about your website or its hosting, our experts are happy to provide you with all the advice and guidance you'll need.
If you want an even more extensive service, there's the IONOS personal consultant. Your personal consultant will act as your designated contact person for the duration of your contract. They'll get to know your wants and needs, your website, and attend to all your concerns.
The only plan among the business hosting options from IONOS that limits online storage is the Essential plan. All other options provide unlimited storage for your company website or online store. Even if you choose to extend your website with more databases or functions, you don't need to worry about your website storage. However, larger plans do provide additional server memory, but you can always upgrade later as you need it.
Couldn't find what you're looking for?
Check out these other great solutions.
Live Chat
Chat with one of our IONOS experts.