Which are the best email marketing tools?
Email marketing tools help you to set up newsletter campaigns for your business. Different software offers different features as well as price plans.
What to look for in newsletter software
If you want to carry out professional newsletter marketing, you need the right software. But the demands on email marketing tools are high. In addition to the security aspect and legal compliance when sending newsletters, there are also some things to consider from a marketing point of view. For example, your choice of newsletter tool has to support you in managing your contacts and, if required, enable individual users to be divided into groups. The more expensive your planned campaign, the more important it is to have a feature implemented that measures performance. Only this way can you continuously improve the quality of your emails. In addition, the email marketing platform you choose should be able to ensure that your messages do not end up in the recipient's spam folder.
Newsletter marketing is particularly popular because it is one of the most cost-effective marketing instruments. Should the cost aspect play an important role in your decision, you could also consider that many newsletter software promise a significant and rapid increase in your subscriber numbers, but when sending emails, you're sometimes dependent on another provider's services because a corresponding service is missing in the software you've chosen. It is therefore important to consider whether the cost/feature ratio is good when you decide on a particular newsletter provider.
Below we present various newsletter software that is worth considering. All information is correct as of August 2023.
IONOS Email Marketing Tool
IONOS Email Marketing is the email marketing solution to choose if sending emails in a GDPR-compliant way is particularly important to you, if you do business with customers in the EU, for example.
The tool is particularly suitable for small and medium-sized companies and is known for its simple, intuitive operation. It doesn't matter if you don't have prior knowledge of newsletter design because these newsletters look professional thanks to the attractive design templates and drag-and-drop editor. AI generated texts can help you formulate the newsletters' contents and help save time.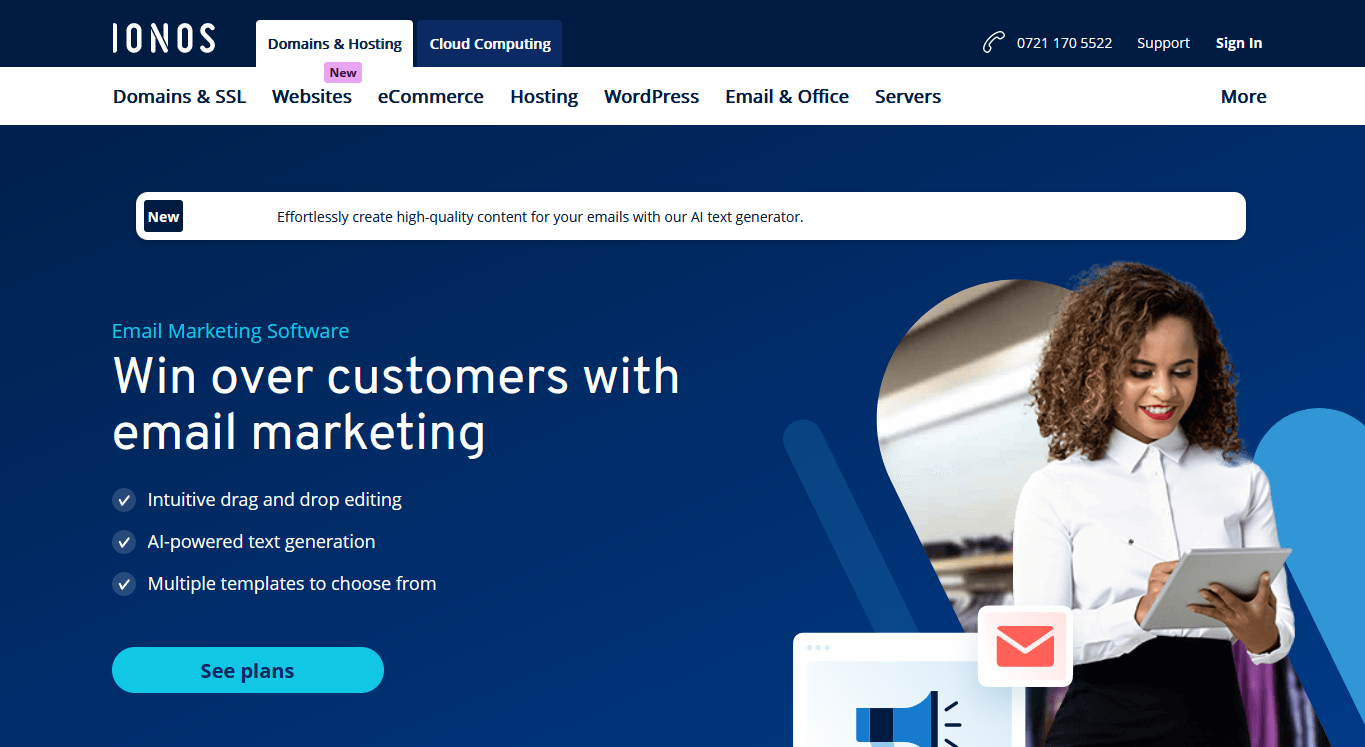 Features
GDPR-compliant newsletter dispatch
Simple and intuitive operation
AI-generated texts
Drag and drop editing
Double opt-in
Price
The IONOS email marketing tool is very good value for money. There is a plan for practically every use case. Users benefit from the full range of functions in every plan, it's just the number of emails you can send that changes in each one. Sending up to 2,500 emails a month in the "Starter" plan costs $7/month for the first six months, then $10/month thereafter. The "Plus" plan (up to 10,000 emails per month) can be tested for $5 in the first six months and then costs €15 per month. The "Pro" plan (up to 30,000 emails per month) and the "Premium" plan (up to 60,000 emails per month) also offer a six-month discounted introductory period at prices of $15 and $25, respectively. After that, they cost $30/month and $40/month, respectively.
Email Marketing with IONOS
Email marketing that converts - with intuitive drag and drop editing, AI-powered text generation and real-time monitoring. Win over customers with IONOS!
Add your contacts
Build your emails
Personalize and send
MailChimp
This email marketing platform, MailChimp, boasts intuitive operability and menu navigation. The template editor makes the software easy to work with due to its easy-to-use drag and drop feature.
The optional connection to Salesforce, Highrise, Zoho CRM, SugarCRM, and Microsoft Dynamics CRM makes the newsletter system versatile. Advanced analysis features ensure that you have an overview of all important data on how well your MailChimp campaign is doing.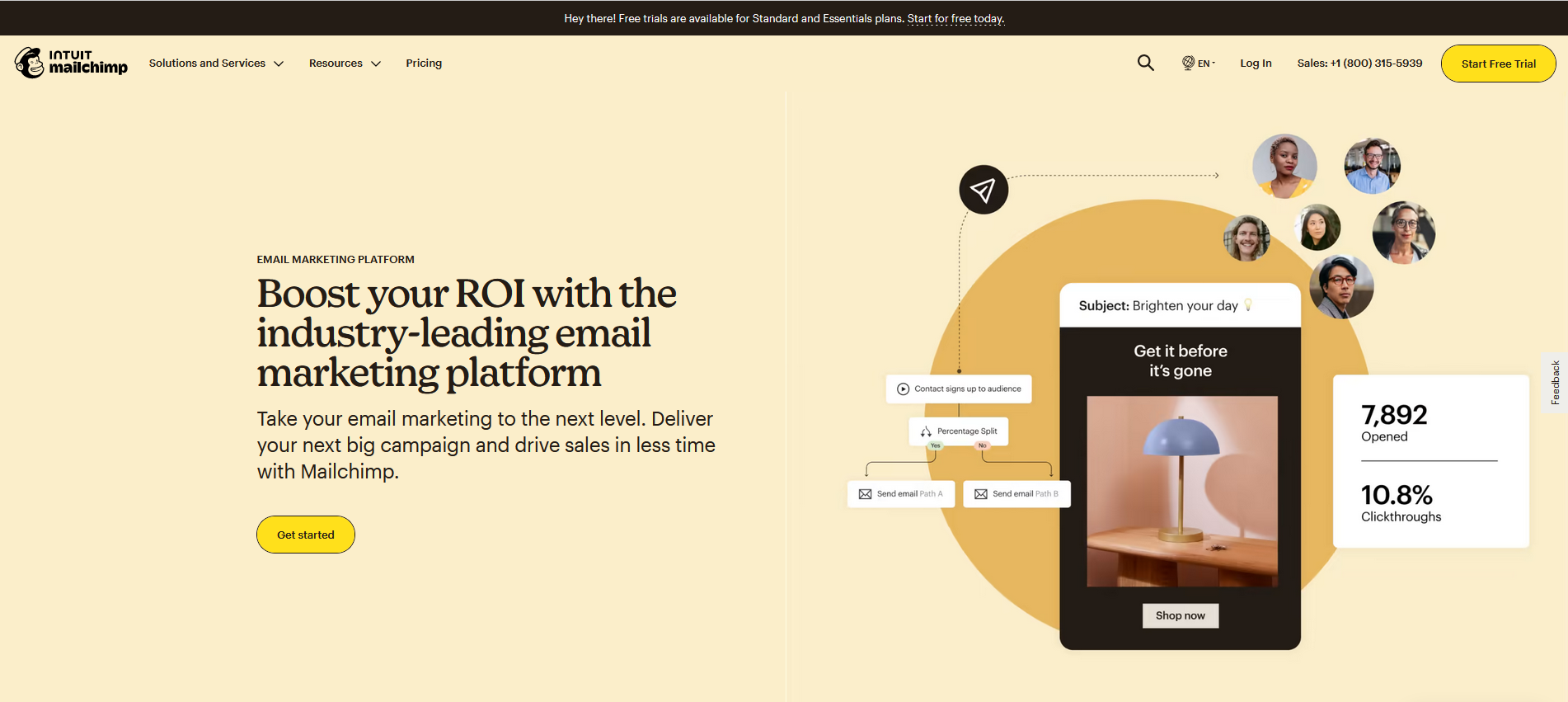 Features
Double opt-in process
Spam and design testing
Autoresponder
Refined bounce management
Linked to social media
Marketing automation
Authentication: sender-ID, SPF, DomainKeys/DKIM
Price
MailChimp offers a trial offer. It's free to send 1,000 emails per month to up to 500 recipients. However, the free trial doesn't include helpful features such as email planning or A/B tests. The "Essentials" plan offers more extensive support for email marketing campaigns thanks to its integrated plan function. This plan is available from $13 per month (500 contacts). Advanced automation options are available with the "Standard" plan from $20 per month (500 contacts) or with the "Premium" plan from $350 per month (10,000 contacts). Additional contacts can be added for additional monthly payments.
CleverReach
The provider, CleverReach, is the German market leader in the field of newsletter software. Many additional features and a high security standard make this program a good alternative to MailChimp. The cloud-based software has a large selection of event-related and responsive templates that save you a lot of work when creating newsletters. Learning the operation process and creating your own designs doesn't take much time at all thanks to the drag-and-drop feature. It can be integrated into other systems and social media without problems since there are interfaces to WordPress, Magento, TYPO3, affilinet, Facebook, and Salesforce.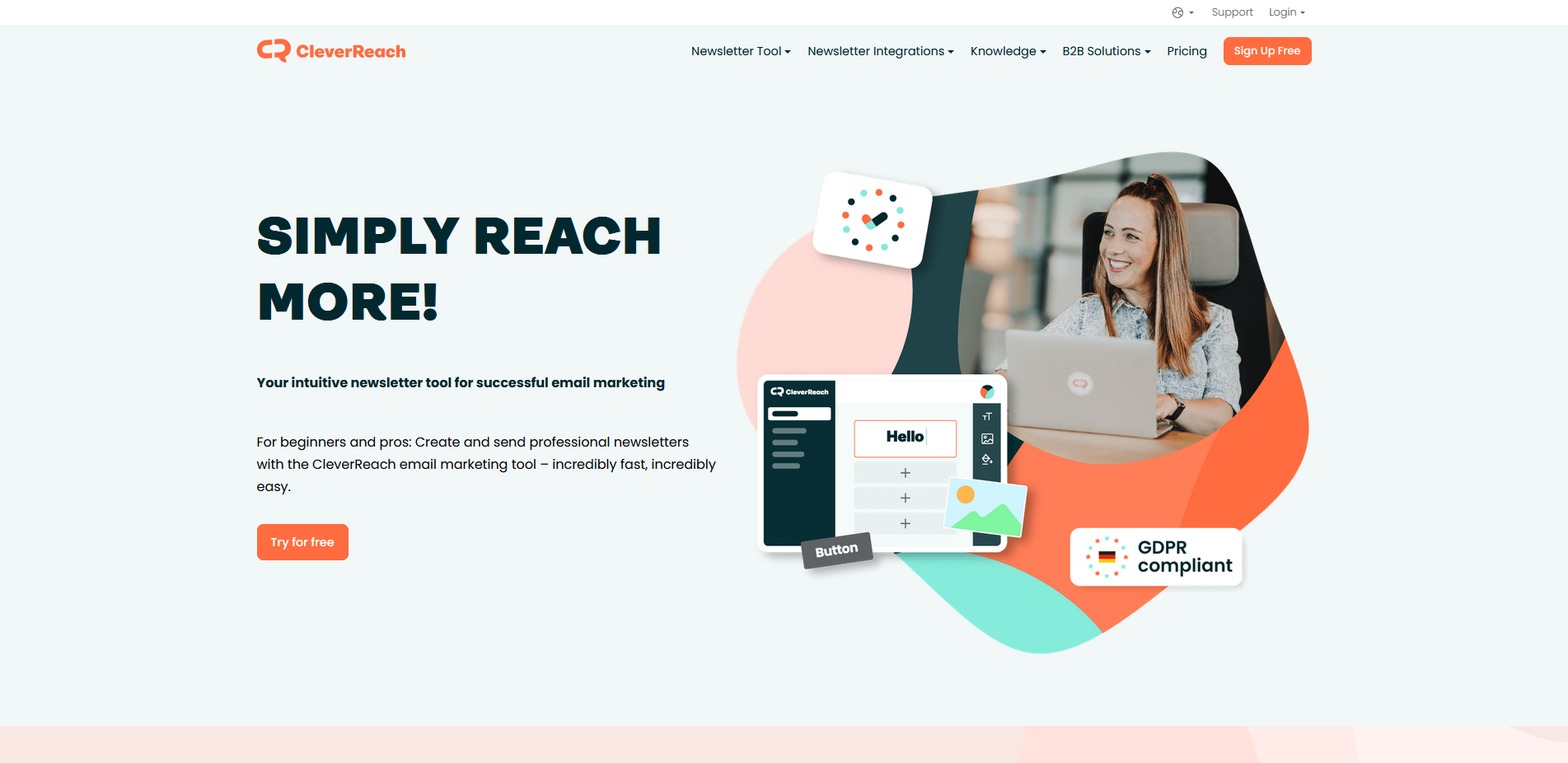 Features
Autoresponder and follow-ups
Marketing automation (THEA)
Automatic bounce and log-off management
Design and spam tests (Newsletter Client Testing)
Double opt-In
SSL encryption
Blacklist (import/export possible)
Price
With CleverReach, contacting 250 recipients and sending 1,000 emails per month is free of charge. The plan prices for larger amounts of emails start at 15€ (around $16) per month (unlimited emails to up to 500 contacts). If you would like to send 1,000 emails per month to an unlimited number of contacts, then you can book the "Flex" plan from 24€ (around $26) per month. The newsletter provider also offers a service for frequent dispatchers. For example, you can book a flat rate for sending 300,000 emails a month to an unlimited number of contacts for the price of 499€ (around $550). You can send more emails for an additional monthly charge.
Brevo (formerly known as Newsletter2Go/Sendinblue)
The service provider Brevo is based in Berlin. The servers where the company stores customers' newsletter data are also located in Germany, which is a big plus in terms of security and data protection (GDPR-compliant). Brevo is suitable for all forms of businesses and is much more than a clever email marketing tool: Multi-channel marketing campaigns via WhatsApp, SMS and Facebook Ads can also be initiated via Brevo and sign-up forms for your customers can be easily created.
Brevo is not only a marketing platform, but can also be used for sending transactional emails, providing chats for customers and as a sales platform.
With the help of a drag-and-drop editor you can easily create a custom landing page without any prior newsletter software knowledge. Alternatively, you can assemble your landing page using various templates. Furthermore, you can fully automate your marketing activities with Brevo, so that the right messages are automatically sent at the desired time.
Features
Bounce and unsubscribe management
Import and segmentation of recipient data
Spam test
1-click product and content transfer
Marketing automation
Mail server with whitelisting
Double opt-in
Price
When it comes to the price, Brevo offers users various plans. A free version of the marketing platform allows you to try out the service first and send up to 300 mails per day. For growing companies, the "Starter" plan is available for 19€ (around $21) per month. Those who want to benefit from extended analysis features as well as statistics can choose the business plan for 49€ (around $55) a month. Individual plans for very large companies can be created on request.
GetResponse
GetResponse is an internationally oriented email marketing tool that is available in 183 different countries and in 24 different languages. The solid newsletter editor and the integrated landing page editor are particularly attractive features. A selection of more than 150 templates and 1,000 free iStock photos offers users practically unlimited design options. Thanks to the mobile view, you also get a good overview of how your newsletter will look on mobile devices. Opening and click tracking as well as Google Analytics tracking are also available. In addition to Salesforce, SugarCRM, and Zoho CRM, eCommerce solutions such as WooCommerce and PayPal can also be connected to the newsletter software.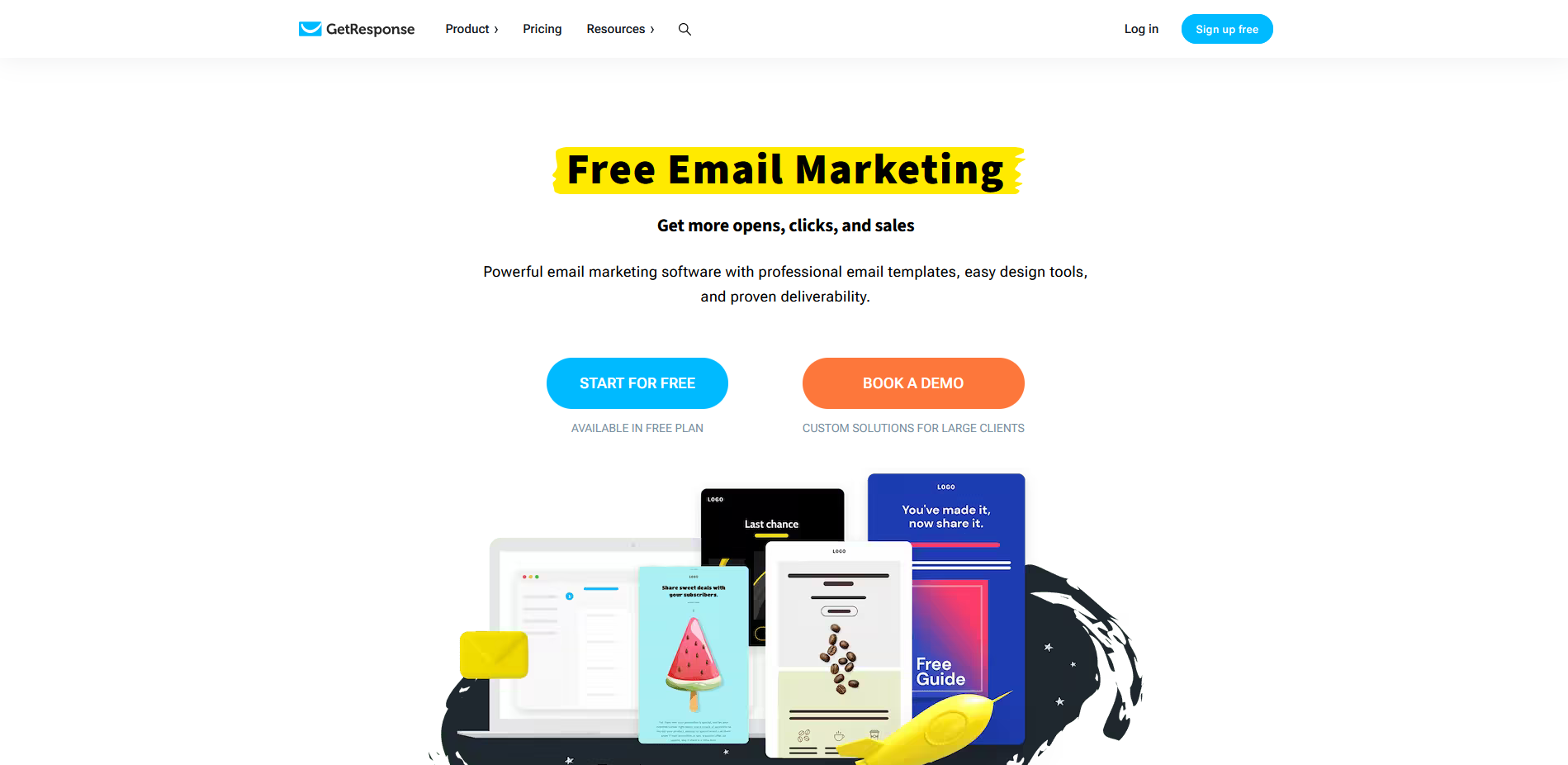 Features
Autoresponder
Access to free stock photos
A/B testing
Optimized message delivery
Spam and design testing
Double opt-in process
Bounce management
Price
The GetResponse newsletter tool is available as a 30-day trial version. Paid plans start from 16€ (around $18) per month (1,000 contacts). More professional plans that also support marketing automation start at 54€ (around $60) per month (1,000 contacts). The "Ecommerce Marketing" plan, which supports web push notifications and promotion codes, for example, is available from 106€ (around $116) per month (1,000 contacts). More contacts can be added to all plans for an additional fee.
Newsletter software for smaller projects
Many of the newsletter software solutions mentioned above aren't suited for smaller businesses and projects. The reason being is that there are too many useless features that can be distracting for freelancers or small businesses. If you simply want to reach a small amount of people, you should opt for a provider that offers the exact functions you need.
Simple email marketing tools such as Clever Elements with their sleek but solid range of functions are best suited for getting started. Another alternative is the free program TinyLetter. It belongs to MailChimp, but offers a narrower range of functions and is mainly suitable for the content area. Campayn offers a few more of the standard features that are also included in professional newsletter software. A good option with a user-friendly interface is Cakemail.