What is iCloud+ (iCloud Plus)?
We've provided an overview of Apple's iCloud Plus and reveal how to activate it on your device.
What is iCloud Plus? An overview
50 GB/200 GB/2 TB online storage from $0.99 per month
Additional functions, such IP address anonymization and email address hiding
Available for devices from iOS 15, iPadOS 15, macOS 12 and Windows
A detailed review of iCloud+
iCloud+ (Plus) is a paid extension of iCloud, Apple's online storage service. You get 5GB of storage in the free version, and with iCloud Plus you can add 50GB, 20GB or 2TB for a monthly price (the iCloud+ plan). As an iCloud+ subscriber, you'll also use all the features of iCloud Drive, an application that facilitates automatic storage of your data from all devices. The iCloud+ service has other premium features, too.
iCloud Plus functions at a glance
iCloud Private Relay: This function makes anonymous surfing on the internet possible. The application is similar to a VPN and disguises your IP address. However, it only works with Apple's Safari browser.
Hide Email Address: Use randomly created email addresses for newsletter signups and sweepstakes pages, for example, which are forwarded to your inbox. This way, your actual email address remains private.
HomeKit Secure Video: Connect your security camera in the Home app and access video footage stored in the cloud from anywhere. Depending on the subscription size of your iCloud Plus plan, different numbers of cameras can be connected.
Own Email Domain: If you already use your own domain for sending your emails, you can also use it for your iCloud emails (instead of @icloud.com).
If you have created a family sharing group on iCloud, you can share your iCloud Plus plan with this group. All members will then benefit from the storage space and can also use the features mentioned above at no additional cost.
iCloud+ pricing
The monthly price of iCloud Plus depends on the storage size:
50 GB storage space for $0.99
200 GB storage space for $2.99
2 TB storage space for $9.99
Tip
HiDrive by IONOS gives you online storage with high levels of data security.
iCloud Plus setup
To use iCloud Plus, operating systems from iOS 15, iPadOS 15, or macOS 12 are required for it to be installed on your Apple device. You can also use iCloud+ on Windows devices. To use all the features in Windows, you should be running Windows 10 or later operating systems.
Activate iCloud+ on your iPad or iPhone
Open the settings on your device and select "Apple ID".
In the iCloud section, click Manage Storage or iCloud Storage.
Select "Buy more storage" or "Change storage plan".
The different options (storage and iCloud+ features) are displayed and can be activated for a fee.
Activate iCloud Plus on a Mac
Open System Preferences on your Mac and select "Apple ID".
In the iCloud section, click "Manage".
In the window that opens, click "Change storage plan".
Select the plan you want and click "Next".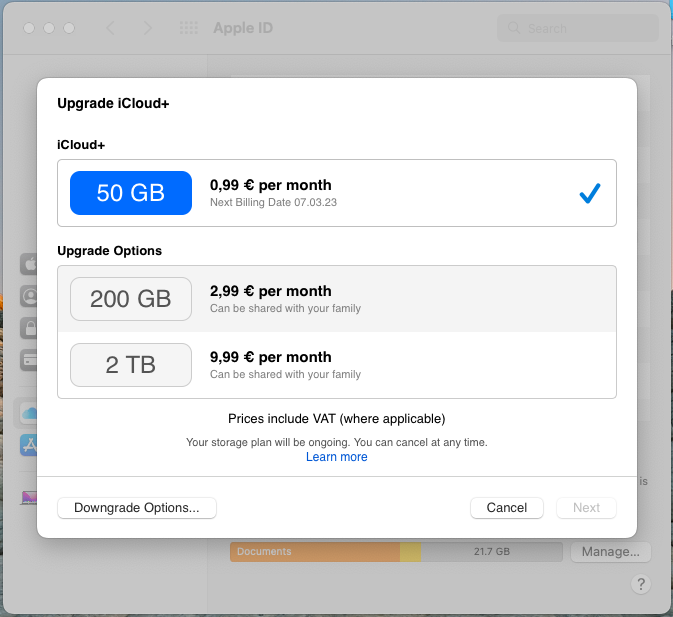 Complete the purchase by entering your password.
Activate iCloud+ on Windows computer
Download and install the iCloud app for Windows from the Microsoft Store.
Log in with your Apple ID.
In the overview, select the "Storage" item and then the corresponding iCloud Plus subscription.
Downgrade or cancel an iCloud Plus plan
If you no longer need the storage space and features you've booked with iCloud Plus, you can downgrade your current subscription. To do so, click "Downgrade Options" in the area where you select a plan and simply choose a cheaper plan or the free version of iCloud. The latter is essentially canceling iCloud+. The change takes effect from the beginning of the next billing period (usually the next billing month).