The best AI tools and websites for your business
There is a lot to consider when building your own web project. If you want to create texts or logos, you can now rely on the help of AI tools, which can make such work much easier.
An overview of the best AI tools
Artificial intelligence platforms existed long before the text generator ChatGPT took off. Many of these platforms can also be used for free. Not only do you have access to text and image generators, you can also have AI videos created for you.
This means that creating your own website is easier than ever. If you run out of website ideas, you can ask AI for advice. However, artificial intelligence doesn't always provide you with the product you may have had in mind. While a well-trained AI can write texts or create images, it makes more sense to see the AI's output as a source of inspiration rather than the end product.
With so many different types of artificial intelligence out there, it can be difficult to keep track of them all. Currently, however, the best AI tools for creating websites can be grouped into three categories:
AI text generators: This type of AI can write and correct texts. The best example of this type of AI is ChatGPT.
AI image generators: An image generator is, as the name suggests, a type of AI that can create images.
AI video generators: You can create AI videos with these tools.
Such tools can also help to ensure that website costs remain as low as possible. Below we have put together a table of different popular tools with their purpose and price.
| Tool | Purpose | Price |
| --- | --- | --- |
| ChatGPT | Text generation | Free basic version, pro version starting at $20/month |
| Jasper | Text generation focusing on content creation | Starts at $39/month |
| Neuroflash | Text generation focusing on content creation | 2,000 words per month is free, paid version starts at €29 (approx. $31/month |
| DALL E 2 | Image generation | 115 credits for $15 |
| Deep AI | Image generation | Free basic version, 100 credits for $5 |
| Logomaster | Logo creation | One-time payment starting at $39 |
| Synthesia | Video creation with audio | Starts at $19.50/month |
| Lumen5 | Video creation using blog posts | Free basic version with watermark, pro version starts at $19/month |
| Pictory | Video creation from short clips | Starts at $19/month |
Pricing in USD (June 2023)
The website builder from IONOS
MyWebsite is the turnkey solution for your professional web presence, including a personal consultant!
SSL certificate
Domain
24/7 support
An overview of the best AI text generators
Creating your own website often includes writing texts, although depending on the type of website you have, this might not always be the case. If copywriting is not one of your hobbies or strengths, generating texts can become quite the tedious task. Unfortunately, well-written texts are imperative for a successful website. When it comes to creating SEO content that ranks well on Google, the textual content of your website plays a crucial role.
Meanwhile, an AI tool can write texts that sound as if they were formulated by humans. This means that AI can be a great help when it comes to creating content for your site. It still makes sense to incorporate your own ideas so that your content doesn't lose that personal touch.
How to use AI text generators for your business:
Save time: AI can help create SEO-optimized content or product copy.
Save costs: Using artificial intelligence can save you money on proofreading, for example.
Idea generation: When you run out of text ideas, AI often has helpful new input for you.
Email creation: AI text generators can also be used to respond to emails.
ChatGPT
Probably the most popular AI at the moment, ChatGPT is an AI text generator. With the help of ChatGPT, you can create texts and computer code. Its capabilities are off the chart. You simply specify the number of words, certain keywords or even the style that the AI should bear in mind when creating the content and then it gets to work. ChatGPT can be used free of charge. But there is also a ChatGPT Plus plan for $20/month, which gives you direct access to new features as well as immediate access to the AI text generator when there is high demand.
| Advantages | Disadvantages |
| --- | --- |
| Thanks to a large amount of training data, it performs very well when creating texts | Partially outdated data sets can lead to incorrect information being output |
| Option to create code | Code can only be used for simple applications |
| Very good spelling and grammar skills | Texts are not very unique |
| Saves time when used for SEO purposes | Keyword research must be done manually |
| Can be used free of charge | Free version is often not available due to high demand |
Jasper
Unlike ChatGPT, the AI tool Jasper is not aimed at all users but instead specializes in content creation. This makes it an ideal partner for creating texts and other content pieces for your website. Jasper can formulate content in over 25 languages and also uses the GPT model. There are monthly and annual subscriptions for Jasper, with prices starting at $39/month. Unfortunately, there is no free version of Jasper.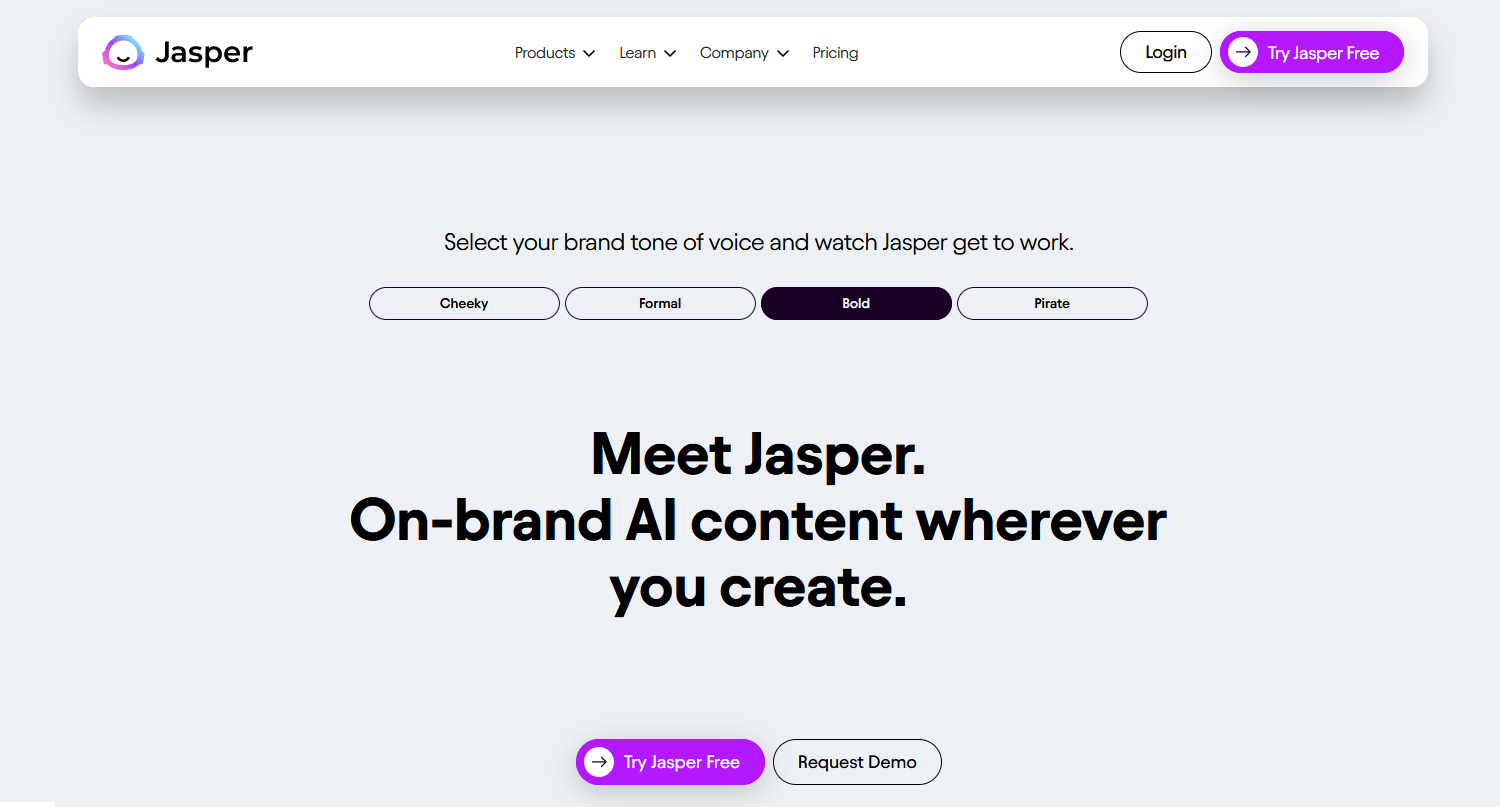 | Advantages | Disadvantages |
| --- | --- |
| Specializes in content creation, supports a variety of formats such as blogs and social media posts | No skills outside of content creation |
| Choice of different templates, over 2,500 different writing styles | Lack of individuality |
| Easy to use | No free version |
| Able to write in over 25 languages | |
Neuroflash
You can also generate content for your website with the help of the AI platform Neuroflash. The AI functions not only as a text generator, but also as an image generator. The templates for product descriptions, category texts, etc. provide suitable content for different requirements. Neuroflash's text generation is also based on the GPT model. You receive up to 2,000 words per month for free, but for anything more, you'll need to look into Neuroflash's subscription models, which start at €29 (approx. $31)/month.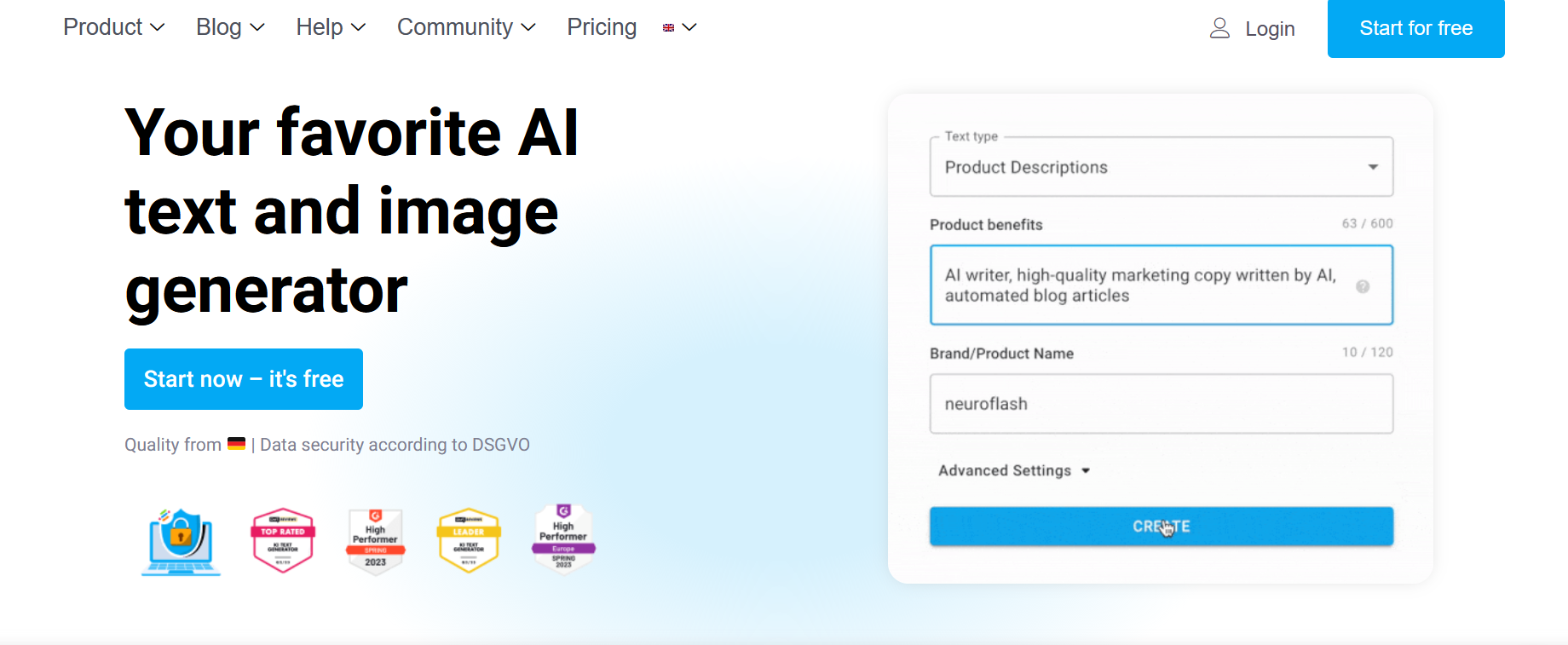 | Advantages | Disadvantages |
| --- | --- |
| Specializes in content creation and offers a variety of formats such as blogs or social media posts | No skills outside of content creation |
| Different types of workflows | Relatively long waiting times for content creation |
| Supports 7 languages | Specializes in German content |
| Free version with up to 2,000 words per month | An unlimited amount of words per month only available with the most expensive plan |
An overview of the best AI image generators
Artificial intelligence can also be used to create images. The variety of images that can be created using the best AI tools is huge. Whether landscape portrait, logo or avatar, a suitable AI can be found. So, if you're still looking for the right image for the homepage of your website or creative inspiration for your logo design, it's worth taking a look at various AI platforms.
AI image generators can also help your website out in many ways:
Save on time and costs: AI tools deliver high-quality image content in minutes at low prices.
Try new styles: It's never been easier to try a different style for your graphic design.
More images: The low price allows you to include more image content on your website.
DALL E 2
DALL E 2 is accessible via the AI platform OpenAI, just like ChatGPT. DALL E not only creates realistic images but also takes artwork requests. DALL E's ability to create images based on a natural language description makes it stand out. So, whatever you need for your website, the AI will most likely be able to create an image to your liking. To use DALL E 2, you need to purchase credits, which you can exchange for images. 115 credits cost $15. Additionally, you get full rights to the generated images, allowing you to use them for your business as you please.

| Advantages | Disadvantages |
| --- | --- |
| Image generation from natural language text | Result strongly depends on description given |
| Image editing | No free trial version |
| Images can be used without restriction after creation | Prepaid using credit method |
Deep AI
Similar to DALL E, Deep AI lets you create images based on text input. The results that the artificial intelligence produces are not quite as photorealistic as those of its competitor, but, in contrast to DALL E, Deep AI lets you choose between different image styles in advance. Another notable difference between the two is that the basic version of this AI tool is free. For a monthly fee of $4.99, you can get additional image styles as well as access to the API. If you only need a limited number of images, you can buy 100 image creations for $5.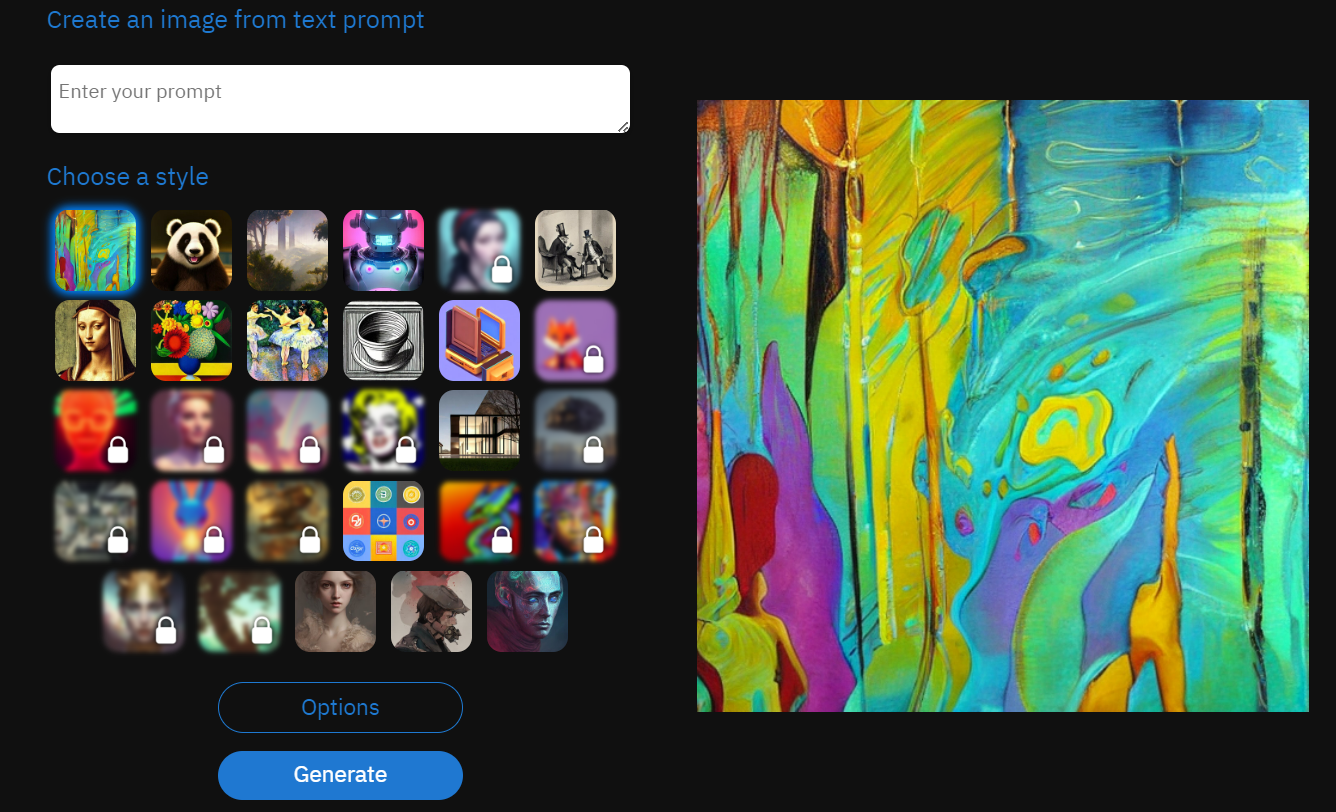 | Advantages | Disadvantages |
| --- | --- |
| Image creation from natural language text | Limited image styles |
| Free to use | Generated images relatively unrealistic |
| Free use of generated images | Not all requirements can be implemented |
Logomaster
Logomaster helps you to create your own logos for your business or web projectand can be especially useful as you design your website. You can specify certain styles as well as color schemes to influence the way the AI designs your logo. You can see the mock-€up before you pay, which is a one-time fee ranging from $39 to $159 depending on the features you choose. This means that you only pay for a logo that you actually like.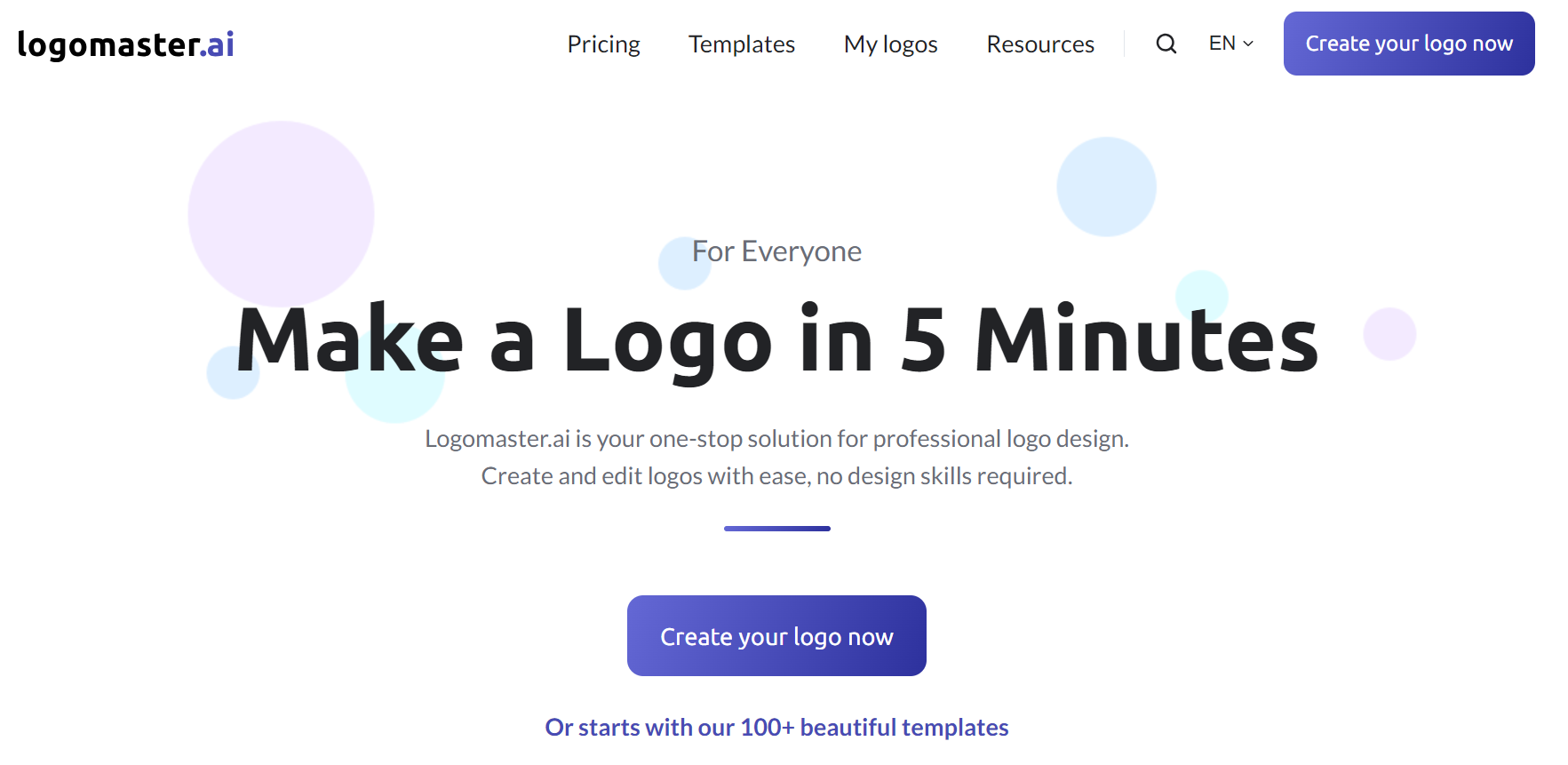 | Advantages | Disadvantages |
| --- | --- |
| Logo creation based on design templates, icons and company names | AI tool rarely takes own initiative |
| Logo can be viewed before purchase | No free version |
| Free use of the generated logo | Logo is not individually tailored to customer |
An overview of the best AI video generators
With video AI, you can generate your own videos, allowing you to provide your website visitors with an even wider range of content. The standard way of recording videos and then editing them takes quite a bit of time, but video AI tools promise professional videos in just a few minutes.
These kinds of videos can be used in many different ways. Not only are they great for websites, but they are also great for social media content. AI videos can elevate your business in many ways:
Save time: Editing videos no longer takes hours. Finished results are delivered by AI in minutes.
Save costs: Monthly subscription pricing means you can have videos created more affordably than ever.
Uniform style: By using AI, all your videos have a consistent and cohesive style.
Synthesia
Synthesia is an AI video generator that takes text and quickly turns it into a video. You can choose between different templates and different AI speakers. Since Synthesia supports more than 120 languages, it's easy to make videos in different languages. The AI videos made by this tool are very realistic and can be customized manually afterwards. You can, for example, add your company logo to the video. For 10 videos a month, you can pay as little as $19.50/month.
| Advantage | Disadvantage |
| --- | --- |
| Video creation based on text | Not possible to automatically create presentations in video |
| Many settings to individualize videos | No free version |
| Supports over 120 languages | |
Lumen5
Lumen5 generates AI videos that are particularly suitable for marketing. The AI is not only capable of creating videos based on blog posts but is also able to automatically add suitable background music to them as well. This makes creating video content a breeze. Lumen5 can be used for free in its Community edition, but resolution is limited, and videos are watermarked. You can avoid this issue by purchasing one of the plans, which start at $19/month.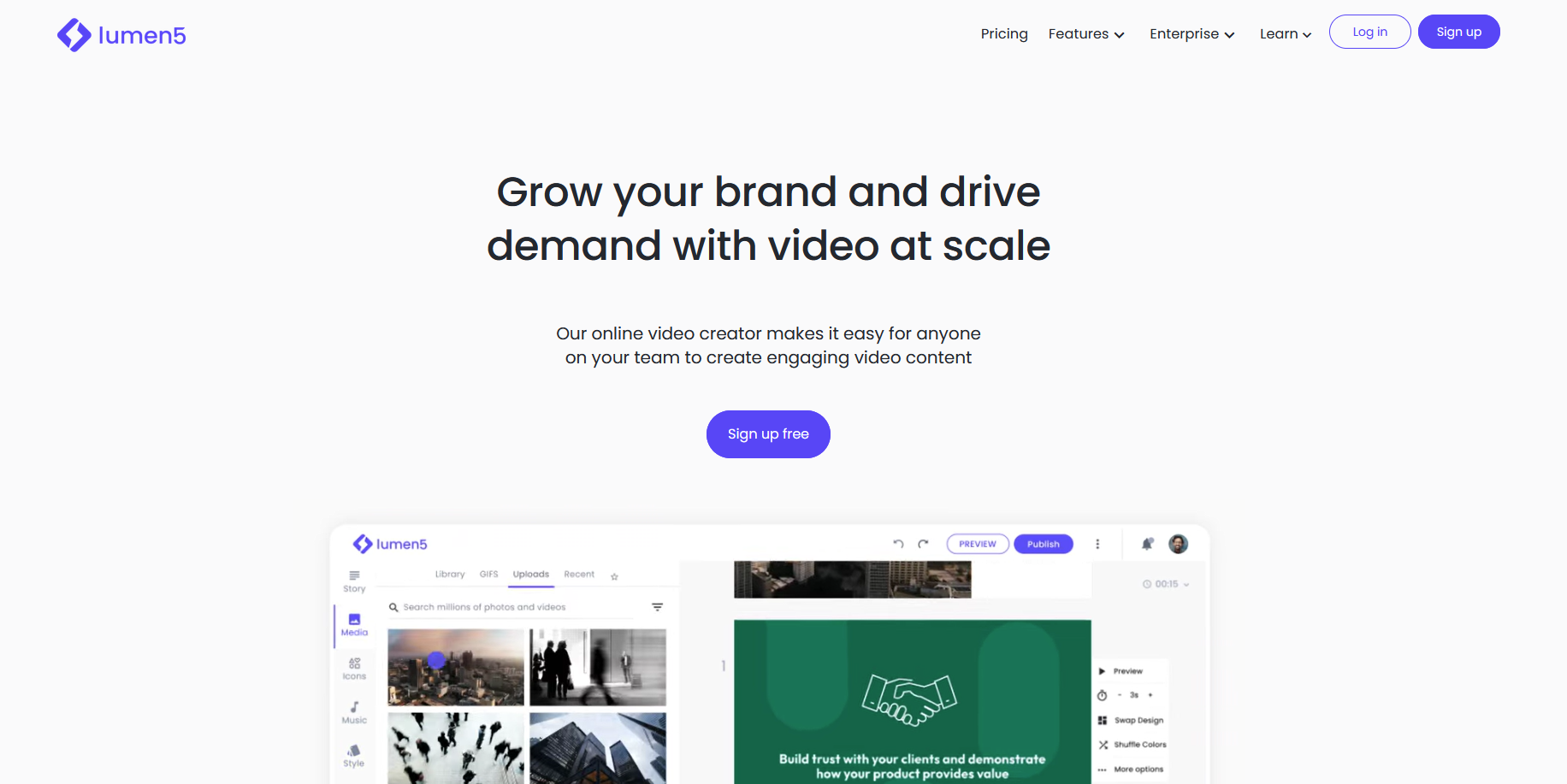 | Advantages | Disadvantages |
| --- | --- |
| Video creation based on text or blog posts | Videos often need to be adjusted afterwards |
| High level of customization | Videos without language |
| Free Community edition | Watermark in free version |
Pictory
Much like Lumen5, Pictory is great for creating video content. Pictory can be used to generate AI videos that consist of several small clips, making them ideal for social media platforms. This means that you can boost your business by creating quality content for Instagram reels (or a similar social media format) in just a few minutes. A particularly practical aspect of this tool is that it can create videos from articles you have already written, meaning you don't have to spend extra time creating scripts. Subscriptions for Pictory are available starting at $19/month. The first three videos, however, can be created for free.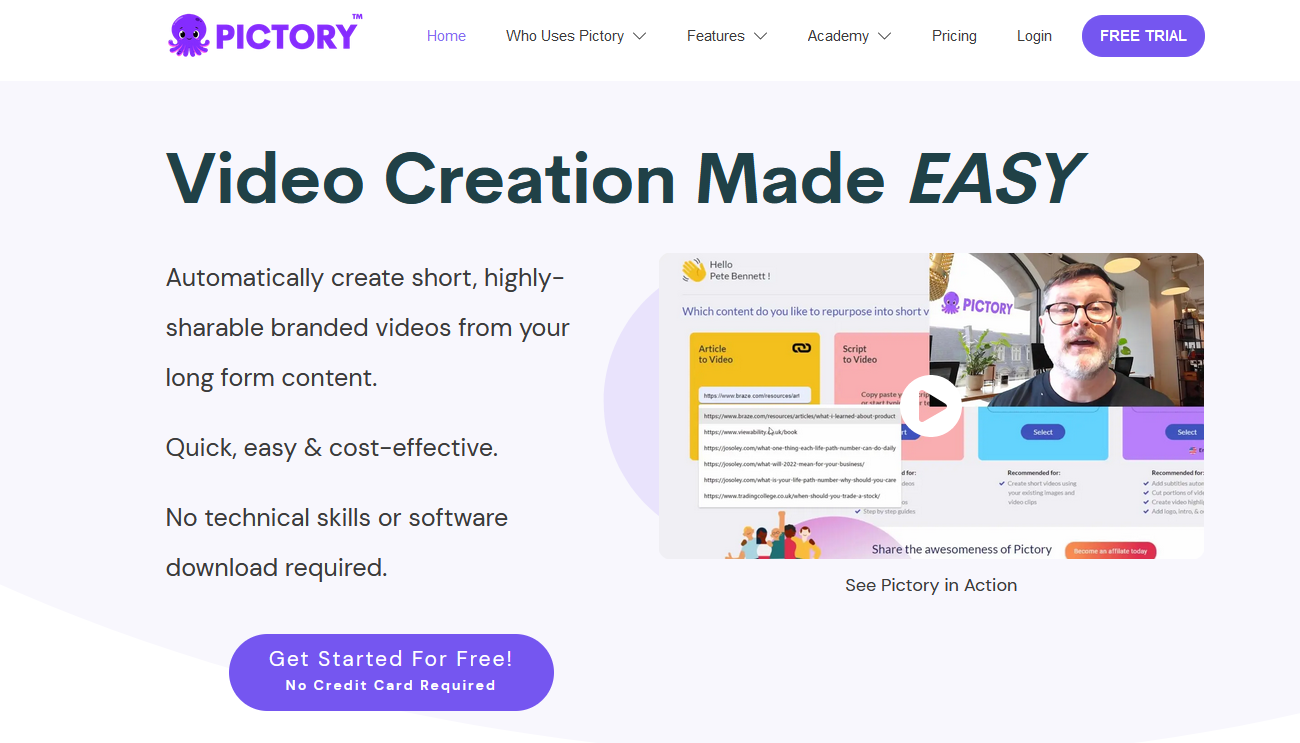 | Advantages | Disadvantages |
| --- | --- |
| Creates short clips, which are ideal for social media | Pre-made templates do not always fit individual style |
| Can create AI videos based on existing content | No free version |
| Voiceovers are possible | Voiceovers only available in English, other languages have to be recorded and added manually |