What is a .biz domain?
Position your business on the world wide web
..biz is a domain extension, which is the last section of the Internet address. It is located on the far right and separated from the rest by a dot. The abbreviation .biz stands for "business", or more precisely, it's the first syllable of the word "business". If you want your business website to be found on the Internet, you need a memorable Internet address, known as a domain. You need to make sure to choose your top-level domain (TLD) correctly.
With .biz you can find very good word combinations because many addresses are still free compared to other domain endings. The .biz domain is also reputable and has already been around for many years. With a .biz domain name, you let customers and anyone else interested know what they need to know about your business.
Register now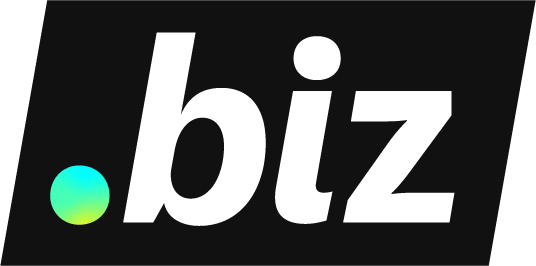 What is a .biz domain name suitable for?
Dot Biz, the domain for businesses: The .biz top-level domain was released in 2001 in response to the shortage of .com addresses. However, the target group remains the same. .biz is perfect for all companies that want to market themselves online. It makes no difference whether you run an online store, have a website listing your services, or want to market your company on your corporate website.
A .biz domain is also perfect as a secondary address. By registering as many domains as possible that include your company name or brand name, you are also protecting your brand. So, it is always worthwhile for companies to buy a .biz domain, and the price is very reasonable.
The .biz domain extension is also a good choice for freelancers. The business domain looks professional and highlights the business aspect of your self-employment. For example, if you connect your own name with the .biz domain extension, you add a personal touch to your service and show your professional side at the same time.
.biz domain feature list
A .biz domain at IONOS includes the following features:
1 email account with 2 GB mailbox space
10,0000 subdomains to structure your website
Advanced DNS management
Private registration for Whois privacy
24/7 customer support
Fast, simple domain setup
Domain lock to secure your domain against hijacking
FAQ
Yes, with IONOS you get a .biz domain for @badge@badgeFree for the first year when you purchase any of the following: web hosting, MyWebsite, or the eCommerce Website Builder. With IONOS WordPress hosting the .biz domain name is even permanently @badge@badgeFree, and depending on the package, it even includes up to 3 domains! An SSL certificate and more than enough webspace is also included in these packages. So, you already have the most important aspects covered and can easily Get started on the Internet.
A .biz domain does not put you at a disadvantage in terms of search engine optimization (SEO) - it's quite the contrary. One advantage is that you have a lot of choice when registering your desired address because unlike other traditional TLDs, there are still many .biz domain names available. Choose a concise and not too lengthy web address to improve your ranking in the search results, which will then result in more visitors to your website. In addition, your .biz domain will be immediately recognized in the search results as being the address of a company, which is the first step for customers and prospects to become aware of you.
Since 2001 .biz domains have been available to purchase. The (TLD) was part of the first expansion of the domain name system to meet the increasing demand for Internet addresses. There are no restrictions on registration (unlike some geographic TLDs, for example). Anyone can register a dot .biz domain. However, there should be a real business behind the domain - be it a corporation, small business, or a @badge@badgeFreelancer. In addition, as with all domains, the usual trademark rights must be adhered to.
The biggest difference between .com and .biz is the number of registered websites and therefore the availability of @badge@badgeFree addresses. Since .com is the most popular domain extension and has existed since the beginning of the domain name system, most of the best names have already been taken. In addition, the .com domain is very popular in the US as the default domain extension for businesses of all kinds. The country-code domain .us is used much less frequently than .com.
With the TLD .biz, on the other hand, there are still a lot of combinations available. This is the reason that the .biz domain was created - it was intended as an alternative for companies that wanted to market themselves on the Internet but could no longer find a suitable .com address.
The content focus of the two top-level domains is completely the same. While .biz is the abbreviation for business, .com stands for commerce. In terms of seriousness, .biz is in no way inferior to its older counterpart .com.
Didn't find what you were looking for?
We may have the ideal solution for you.
Your personal consultant
At IONOS, you have a dedicated contact person for personalized advice, tips to boost your online success, and technical support. Reach them via phone, chat and email, all at no cost to you as an IONOS customer.
Learn more
Live Chat
Chat with one of our IONOS experts.