Buy .org domains
Change tomorrow. Today.
Sale on .org
Further your cause. $1/1st year .org domain + 6 months free website builder!
People trust .org domains. Register yours with IONOS for free SSL, email, and more.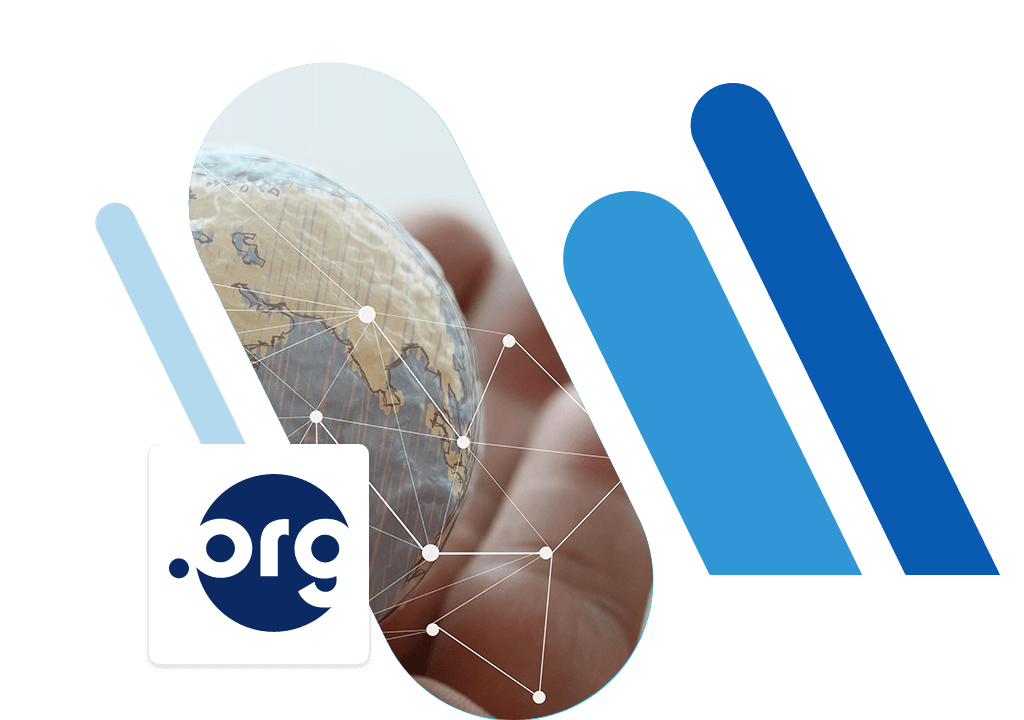 Why buy a .org domain?
Because it's the easiest way to show your audience that you serve the community.
People trust .org domains
For over 30 years, organizations of all sizes have been building their online presence on .org and for good reason! .org domains are synonymous with trust, charitable causes, and good intentions.
Fundraising potential
Your .org provides the perfect location for your fundraising page, whether that's for your nonprofit's website or your business's charitable arm. Gain your donors' trust with a .org domain.
The home for nonprofits
Whether it's a nonprofit, NGO, civic group, political party, charity, environmental cause, or association you want to tell the world about, a .org domain is a powerful stage for bringing your mission to your audience.
Register your .org
How do I launch my nonprofit online?
Get off to the right start with our checklist.
Develop your mission
If you've already got a mission statement, great! You're half-way there. Otherwise, you should think about your organization's mission before you launch your website on your .org domain. You can start by writing down your goals.
Check local law
You don't need to register your organization as a 501(c) to register a .org domain, but it can help with fundraising. A .org domain signals trust, but a 501(c) says to possible donors that you're a nonprofit organization, making their contribution tax deductible.
Design your logo
Logos are more likely to get noticed and remembered — they also look great on t-shirts! But before you pay for a graphic designer, try creating your own logo.
Register your .org
You'll need a domain name for your website. If the name of your organization is already taken, choose something else that's easy to remember. Simple is usually better!
Build your website
Let's build your website! Whether you choose our WordPress hosting or a beginner-friendly website builder like
MyWebsite
, you'll find personalized customer support and helpful tips at IONOS.
Register .org domains
FAQ – Frequently asked questions
You don't have to be a non-profit organization to register a .org domain. This domain is now open to anybody with an organization that is non-commercial in nature. If you're a business with a charitable arm, a .org domain is great way to signal to website visitors that you also have philanthropic or other aims.
The .org domain extension is ideal for any organization or cause that is nonprofit or not-for-profit in nature. These include sports teams, schools, fraternities, sororities, civic and political organizations, houses of worship, open-source software projects, environmental groups and causes, volunteer groups, and some non-governmental institutions.
If you're a school or accredited institute of higher education than you'll need to host your website with .edu. Governmental entities located in the United States use a .gov domain
Securing your very own .org domain with IONOS couldn't be easier. First, you will first need to ensure that your domain name is available. You can do this by simply entering your desired name into the search bar at the top of the page. If the domain name you selected isn't available, you will be provided with several similar alternatives. For example, you might get a recommended synonym or slight variation in your chosen name. Once you've selected a domain name, it's then simply a matter of following our simple registration instructions.
More useful options
Need more info or something else? Check out these other great options.
Live Chat
Chat with one of our IONOS experts.