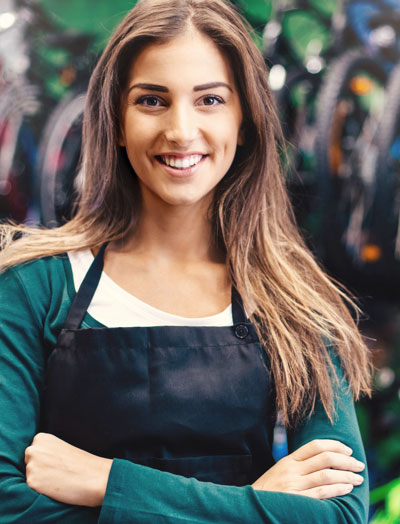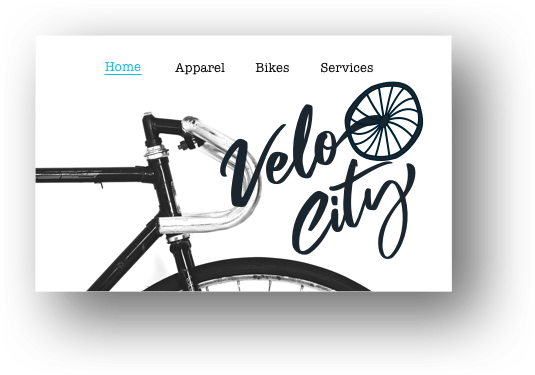 High quality, cheap websites with IONOS
IONOS website editor is both user friendly and in-depth. Functions to edit any aspect of your site quickly and easily are always on hand, and are designed with accessibility and efficiency in mind.
Get online now!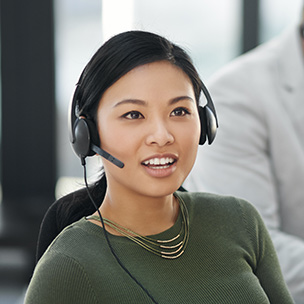 Personal Consultant
Lucy S. | Website Builder (literally)
Your support matters at IONOS
"I'm here to help you do it yourself"
Backed by our standard 24-7 support team, your Personal Consultant will be your single point of contact while building and maintaining your site. This service is free for our customers.
Select your ideal template
Updating the layout and content of your site couldn't be more simple thanks to the drag and drop feature of the editor, meaning you can focus on what really matters. Whether you're a seasoned pro or relatively new to web design, you'll find it a breeze to build your own website in just a few clicks.
Select your website package
Create your online presence
Affordable website from IONOS by 1&1
Build a professional website for your business

---
1st month
Free
then
$5
/month
Try for free
Website builder
Includes professional templates prefilled with text and business-related images
1 free domain and 5 email accounts Included free domain extensions: .us, .ca, .com, .net, .org, .info, .me, .biz, .online.Close
Social media widgets Connect your social media accounts like Facebook and Instagram. Integrate videos with YouTube and Vimeo or upload and manage images from your Dropbox and Google Drive accounts.Close
Business widgets Easy drag and drop business widgets like customer reviews and online scheduling.Close
State and local taxes will apply.
Click here
for our General Terms and Conditions.
Cheap website, premium images
No more hunting for cheap stock images and having to compromise on quality—IONOS provides all you need. When you choose the Basic package, or higher, you will immediately have access to a wide selection of high quality images to bolster the look of your website. No matter what the theme or purpose of your site, the image archive will have you covered, with highly relevant images for a wide range of industries. This way you can present the brand image you desire, without breaking the bank!
Online photo editor
Another testament to the simple but powerful editing capabilities possible with IONOS websites, the photo editor offers tools not typical found with cheap business websites. All within the same website builder package, the editor allows you to adjust the size, sharpness, alignment, and many more aspects of your images. Because all this functionality is accessible in the same place, and in tandem with the IONOS image archive, a professional look and feel to your website is easy to achieve.
Optimized for every device
A cheap small business website with IONOS doesn't entail cutting corners of any kind, including screen space. At a time when so many web users are browsing on tablets and smartphones, it's vitally important to ensure all your visitors have the same high quality experience, regardless of what device they use. IONOS takes care of this for you, using a responsive design, so you don't have to give it a second thought. Your site will look as great, and function equally well, on desktop PCs, smartphones and tablets.
Couldn't find what you're looking for?
We may still have the ideal solution for you
Cheap websites
FAQ – Frequently asked questions
Absolutely—cheap doesn't mean low quality! We recognize that owners of businesses both large and small take the image and reputation of their enterprise very seriously, and rightly so, but also want their online solutions to be cost-effective. Therefore, the IONOS cheap business websites are designed to be great value, but budget-friendly, for presenting your brand online.
You have everything you need to make a great impression on your customers when using our website builder. The combination of templates and the website editor makes it easy to create a visually appealing site. In addition, responsive designs come as standard, so your site is automatically ready for mobile and tablet viewing. You can also access a very large array of web apps to cater for your every need, so no external purchases are necessary to improve the features and functionality of your cheap business website. Even an email account is included within the package, so you really have all you need to make your website a success without breaking the bank.
Our website packages come with a wealth of industry specific tools and features to give your business' site a professional edge. You will automatically have access to our library with millions of professional images, covering a broad variety of industries, from general office-based themes to more niche fields. This specificity really helps to establish the relevance of your business to customers' needs. Furthermore, there are hundreds of business-specific web apps to choose from, such as a blogging platform, interactive brochure, Facebook and Twitter, Dropbox, and a number of excellent CRM applications.
Because of how easy and affordable it is to set up a website with IONOS, even the smallest of local businesses like a café can benefit. The blog app, for instance, allows you to broadcast a very particular kind of message in order to target your audience. By blogging about topics related to your local area, you can strengthen your relevance to the region. Furthermore, this does wonders for your local SEO, meaning your cheap small business website will appear higher on search engine results pages when customers are searching for local services. Our business-orientated web apps are also perfect for placing your business firmly on the local map, with Google Maps, Yelp, and much more.
Yes. Upon establishing your new affordable website you're given the choice of thousands of templates on which to base the design and structure of the site. These include neutral templates, fit for a variety of purposes, but also a large collection of templates to match a particular focus or application. A large eCommerce site, for example, will require a very different layout and approach to a personal blog or website for a law firm. Therefore our templates are categorized according to your individual needs, and further segmented by specific industries and fields, so you're sure to find what you're looking for. These templates also feature image and text suggestions to assist you when first creating your content. The best part is that they are completely customizable, meaning you are always in charge of your cheap business website.
Certainly. These days, the internet is the primary method of research for many people, and therefore a strong online presence is advantageous for businesses of all sizes. As for cost, we appreciate that many businesses have many more costs to budget for, particularly brick and mortar stores. The good news is, we offer a range of packages to reflect the varying amount of money different businesses are able to invest, even for a cheap website. The best of both worlds—a tailor-made site that also fits your spending power — is now a reality.
Contact us
We are here – drop us a line if you have any questions or concerns.
1-484-254-5555
We're here whenever you need us, 24 hours a day, 7 days a week.
Live Chat
Chat with one of our IONOS experts.
Start chatting