The ultimate marketplace
Start selling on social media
Before we get into the how, let's crunch some numbers on the why. Over 200 million Instagram users visit at least one business profile on a daily basis. There are 1.47 billion daily active users on Facebook, and 84% of the 300 million active Pinterest users use the channel to decide on what to buy. Isn't that a market you'd like to double tap into?
As a micro merchant with a small product range, you can reach customers where they already are, offer them a streamlined checkout experience and watch your conversion rate soar. Whether you want to simplify your online sales, or you're looking to get your trendsetting products out there for the first time, the Social Buy Button is the only tool you need to create a great buying experience.
Download your free guide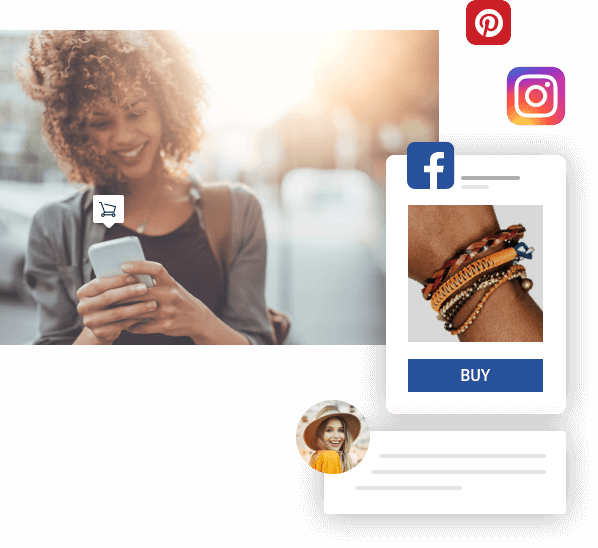 Mobile-first eCommerce
You can pretty much manage your whole life on your phone, so why not your online store? The Social Buy Button is designed with mobile-first users in mind. Manage your whole inventory with the mobile app – there's no need for a separate eCommerce site, or even a computer!
The new Social Buy Button enables you to add a buy now button on all your social media accounts, meaning customers can check out there and then. If you've already got a website or a blog, that works too – simply integrate a buy button in the same way and you're ready to sell.
Features to fill your cart
Most micro merchants also juggle a full-time job or other commitments. The Social Buy Button includes tools to help sellers give their all on both fronts. Up to ten unique products can be added and sold on Facebook and Instagram via a buy button. You can also share products via Facebook Messenger.
Track sales and products with Pinterest tags, real-time analytics and inventory management. Fast checkout and popular payment options guarantee your customers a great buying experience, while customizable shipping methods give you maximum flexibility.
Package overview
The fastest way to sell online
---
Continue
Add up to 10 unique products
Payment options include PayPal, Square, credit cards and more
Integrated shipping wizard supports UPS, FedEx and more
Mobile app for store admin
State and local taxes will apply.
Click here
for our General Terms and Conditions.
Your personal consultant
Helpful advice from a single point of contact. Exclusively for you. Experience customer service on a whole new plane. All this and more, free.
Learn more
Social Buy Button
FAQ – Frequently asked questions
To get started, follow our step-by-step guide on how to add your social shopping cart to various platforms and increase your reach.
Step 1 – Use the onboarding wizard: The onboarding wizard for MyWebsite starts right after you've purchased the Social Buy Button tool. If you've skipped the wizard by accident, you can find it again by going to the control panel.
Step 2 – Choose the project title: Insert the name of your website project.
Step 3 – Select the industry: Now choose the industry that you work in. This is so you receive appropriate images, templates and texts for your website that are tailored to your chosen industry.
Step 4 – Choose the design 1/3: Click on the Choose a Design to enable the website editor and activate shop management.
Step 5 – Choose the design 2/3: Now it's time to actually select the design template. Choose whichever color scheme or pattern suits your project's needs best.
Step 6 – Choose the design 3/3: Simply apply your selected design.
Step 7 – Activate the store 1/2: Click on Shop in the left-hand tab to open the shop menu.
Step 8 – Activate the shop 2/2: Then click on Add Online Shop.
Step 9 – Use shop management: You can now choose to either begin setting up your shop or to take the introduction tour, which familiarizes you with the features of your online store.
Step 10-15 – Set up your store: Customize your online store to your exact needs and have fun with it!
The Social Buy Button can easily be integrated into all the social media profiles that your business has. This includes four channels: Facebook, Facebook Messenger, Instagram and Pinterest. Using the button, customers can buy directly instead of following the long route to the shopping cart, which may cause you to lose some potential buyers along the way. Note that you need a business account for all four channels in order for the social media shopping cart integration to work. You must also accept the sales processes and policies of the social media platforms.
Here's how to integrate the Social Buy Button for each channel:
Facebook: Your business must have a Facebook page and you must act as admin. After selecting the Facebook business page where you want to sell your products, click on Save and accept the Facebook Merchant Commerce Terms and Conditions. It's worth noting that Facebook will have to review and accept your store before you're able to sell or advertise. All enabled products will then be synced to a new Facebook tab and will appear in your store as soon as the setup process is complete.
Facebook Messenger: Adding Messenger to your online store makes it easier for customers to contact you. They can simply click on the Message Us button and write their query in the chat. To enable Messenger for your shop, click on Connect Facebook Page, choose the business page from which you want to contact customers, then click Next. Allow the requested permissions and click Done. Click Save to connect the selected Facebook page, enter the shop's URL and click Save once again. The Message Us button will now appear on every page of your online store.
Instagram: Since Instagram is part of the Facebook group, you first need to set up a Facebook Store before you can proceed. You also need to convert your shop's Instagram account into a business profile in order to sell. Once approved, you can enable the product-tagging feature on Instagram. In Settings, click on Shopping to confirm your Facebook account, then select the product catalog you want to connect to your business profile, then click on Done. Once your account is approved by the Instagram team, you simply need to turn on the product-tagging feature. Then you can start tagging products in your stories and images.
Pinterest: First, you need a Pinterest business account. You can either convert your personal account to a business one, or you can add a business account to your personal profile and switch between the two. Pinterest doesn't enable button integration as such, but you can track visitors' behavior with the Pinterest Tag. You need to claim your website on Pinterest in order to track which images or products are shared from your site. In the Settings section, enter your website's URL and click Claim. Then select Add HTML tag, which you should copy, then click on Next. Open a new tab in your browser and go to the shop dashboard section. This code should then be added in the SEO settings and then simply click Add Code in the Header meta tags and site verification section. Paste the meta tag into this field and click to save. Return to the Pinterest browser tab and click Submit. Within the next 24 hours, you should receive an email confirming that your website has successfully been claimed.
The vast majority of product categories are suitable for sale through social media shopping carts. How popular your products will be, however, is a different matter. The best-selling categories on social media are electronics, beauty, films, music, retail, travel and hotels, but sometimes products that are a little out of the ordinary catch shoppers' attention most. According to several trend analyses, interest in niche products such as pet bedding and minimalist jewelry is on the rise. You can see an example of selling this kind of product with the Social Buy Button here.
Trending products can help increase your sales, so you could consider selling what people are looking for, or simply add these sought-after products to your already existing product range. Alternatively, you may decide to steer away from the crowd and do your own thing in order to stand out.
The payment process depends on which payment method or provider you choose. When a customer purchases through the Social Buy Button, the transactions are processed by third-party payment providers e.g. PayPal. The funds are paid into the account that you have with this payment provider, which you can then withdraw from at any time.
Customers can also pay using offline payment methods like cash on delivery, bank transfer, or phone order. To do this, they should pay you outside of the store using the payment instructions you've provided them with either at checkout or after the order has been placed (for example, by email or in a phone conversation).
PayPal Express Checkout is the most frequently used payment option. One reason is that customers want to progress from the social shopping cart to order confirmation as quickly as possible. Another reason for its popularity is that the buyer is able to skip the part where they normally have to insert their data in the checkout process. Payment and shipment data is delivered by PayPal, which saves them having to enter all this information.
Customers also frequently choose Stripe and Square payment methods due to their quick payment transactions.
In order to select the payment options for your business, follow these steps:
Open a business account with the payment solution provider of your choice.
Go to the shop dashboard and click on the payment options.
Choose your payment method from these options.
Connect the payment option to your business account to begin receiving payments.
Contact us
We are here – drop us a line if you have any questions or concerns.
1-484-254-5555
We're here whenever you need us, 24 hours a day, 7 days a week.
Live Chat
Chat with one of our IONOS experts.
Start chatting