Google Workspace (Formerly G Suite)
Work smarter, together.
Collaborate in real time with Google Workspace:
All your favorite Google productivity tools

Business Gmail for your domain

Free domain for the 1st year
See plans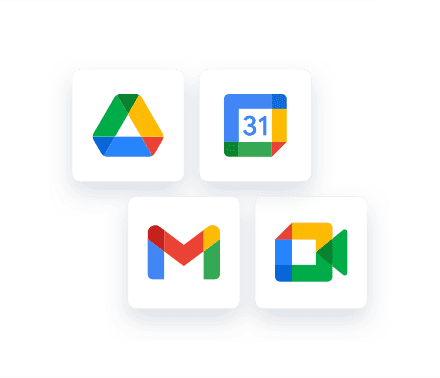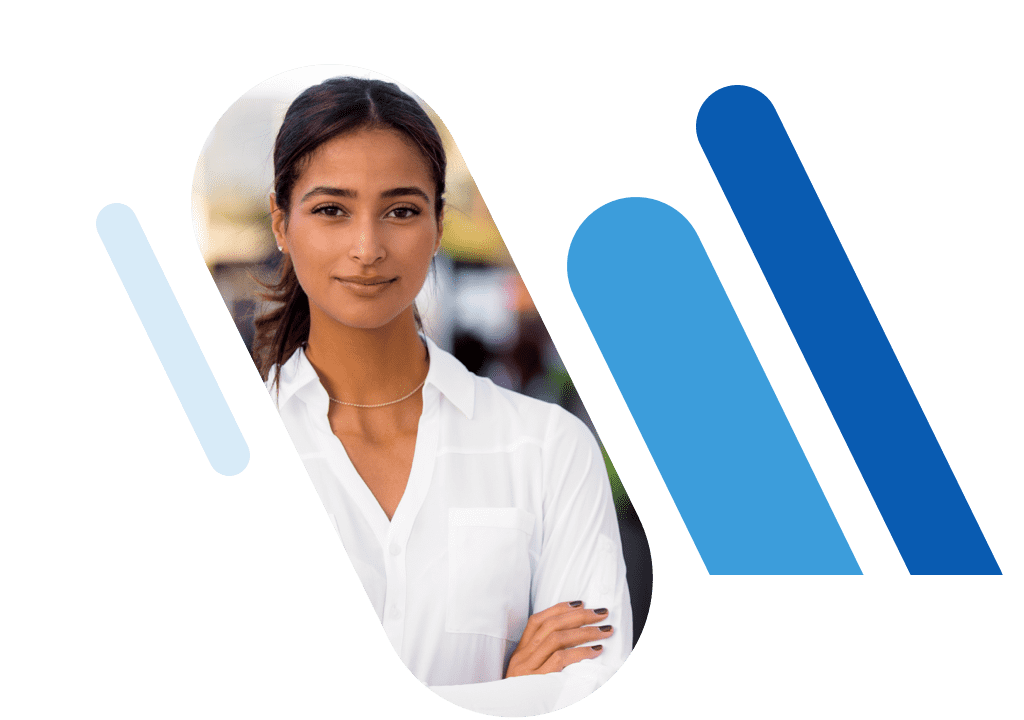 Why choose Google Workspace for your business?
In short — it's simple, familiar, and might be the only productivity solution you'll ever need.
Email like a pro
Wow customers with professional-looking emails from your own business web address. Communicate and collaborate with team members simultaneously by creating group mailing lists.
Storage that fits your purpose
Easily store and share all your most important files, videos and more with up to 30 GB of cloud storage per user. And once things start to fill up, find everything fast with the smart search function.
Collaborate in real time
Google Workspace allows your team access to documents, online calendars, and project schedules — allowing active collaboration, no matter the location. Real-time synchronization makes editing and sharing easy and efficient.
Optimized for quick decisions and results
Connect. Communicate. Collaborate.
Gmail, Calendar, Hangouts Chat, Hangouts Video
They say location matters, but not as you work and communicate with your team in real time. Reach out to customers with professional email (e.g. you@yourcompany.com) and easily share your and plan your day with smart scheduling and Calendar.
Hangouts (chat) and Hangouts Meet (video conferencing) allows you to connect with your colleagues and customers, no matter the location.
Say goodbye to version confusion
Docs, Sheets, Slides, and Drive
It's frustrating to spend hours working on a document, spreadsheet or presentation, only to find out that you were working on the wrong version. Google Workspace's shared access ends this problem as you and your team work on the same, most up-to-date version — at the same time. All your changes are made in real time and stored securely in Drive.
Google Workspace apps
Learn more about Google Workspace's key features.
Gmail
Send and receive emails more easily and productively
Use Gmail with your professional domain name
Create mailing lists and aliases
Calendar
Manage appointments, meetings and resources
Create shareable or group calendars
Access from your PC, tablet or smartphone
Drive
Create, edit, save and share files in one place
Intelligent search function and Quick Access feature
Install Drive onto your PC and access files directly
Hangouts Chat & Hangouts Meet
Group chats, one-on-one chats and virtual chat rooms
Video calls and conferences
Seamlessly integrated with Calendar for easy invitations and with Drive for easy file sharing
Docs, Sheets and Slides
Create text documents, spreadsheets and presentations
Work directly in your browser — no special software needed
Edit documents collaboratively in real time
Keep track of different versions and revert if needed
Forms
Easily create surveys with the drag and drop function
Embed forms on your website and share with an email or link
Analyze responses and process the raw data with Sheets
Keep
Work on ideas and tasks as they appear — alone or with your team
Quickly create notes and to-do lists
Stay organized and filter by color, label or attributes
Sites
Create sites to show off your team's work — no programming skills needed
Design templates and drag and drop make it easy
Optimized for all end devices
Cover all your productivity needs with Google Workspace
Add licenses as you need them
30-day money-back guarantee
Google Workspace Business Starter
3

months
Free
then
$7.20
/month
Free domain for the first year Free domain for 1 year when selected with initial order and an annual term. Extensions: .com, .us, .ca, .biz, .org, .me, .online, .net, .info.
Business Gmail and shared calendar Add up to 300 users to your Google Workspace package at any time.
All Google's productivity tools
Videoconferencing for up to 100 people
Security and admin functionality
Google Workspace Business Standard
---
6

months
Free
then
$14.40
/month
Free domain for the first year Free domain for 1 year when selected with initial order and an annual term. Extensions: .com, .us, .ca, .biz, .org, .me, .online, .net, .info.
Business Gmail and shared calendar Add up to 300 users to your Google Workspace package at any time.
All Google's productivity tools
Recording and videoconferencing for up to 150 people
Security and admin functionality
State and local taxes will apply.
Click here
for our General Terms and Conditions.
Google Workspace
FAQ – Frequently asked questions
Google Workspace, previously known as "G Suite", is an all-in-one package that combines email and collaboration tools developed by Google specifically for business use. The new name "Google Workspace" reflects the concept behind the collection of tools. Google Workspace, like its predecessor G Suite, includes all the tools you need to work in any kind of office: Gmail, Calendar, Drive, Docs, Sheets, Slides, Meet, Chat, and more. Google Workspace is the evolution of G Suite and promises a new integrated user experience that helps users collaborate and stay connected more effectively. The basic idea is to be able to stay in one place instead of switching between different application tabs like Gmail, Chat, Meet, and Docs. You can create and collaborate on a document with other participants in a chat room, for example.
IONOS offers new customers two versions of Google Workspace - Business Starter and Business Standard. Both packages enable up to 300 employees to have access to the apps, to receive their own email addresses, and to work together on documents, spreadsheets, and presentations. In the Standard version, there is 2 TB of storage space at your disposal.
If you are already an existing customer of G Suite through IONOS, we will inform you of any changes by email.
After purchasing the product, you will need to set up the first admin user account and domain to use your Google Workspace account. The next step is to go to the Google Workspace login and get started. You can then configure Google Workspace to your business needs with the admin console. You can customize your account and:
Create additional users and set access rights
Add secondary domains
Personalize the dashboard with company information
Adjust settings to suit you and your staff's needs
You can use Google Workspace Sync for Microsoft Outlook (GWSMO) to synchronise your account with Outlook. This enables you to access the synchronised information in Outlook on any device on which you use your Google Workspace account.
Once you've downloaded Google Workspace Sync for Microsoft Outlook (GWSMO), you must restart Microsoft Outlook when prompted. You can then import your data from an existing Outlook profile or from a PST file with data exported from Outlook into your Google Account. The import process might take a while, depending on how many emails you have in your Google Workspace account. You will receive a notification when the import process is complete. You are now able to use Microsoft Outlook to send Google Workspace emails.
Yes. Google Workspace and it's creators at Google are committed to providing you with the highest privacy standards. These include both the EU's General Data Protection Regulation (GDPR), in force since May 2018, and new legislation like California Consumer Privacy Act (CCPA). Both laws regulate data collection and use, transparency of storage, and give users wide access to their data management. You can learn more about Google Workspace and the GDPR in this white paper on Google Cloud & the General Data Protection Regulation. More on Google Workspace and the CCPA can be found here.
Google Workspace and Microsoft Office 365 offer professional business email and productivity tools for easier collaboration. Google Workspace's tools include (among others) Gmail, Google Drive, Google Docs, Sheets, Slides, Keep, Calendar and Hangouts, whereas Office 365 has Outlook, OneDrive, Word, Excel, PowerPoint, One Note, Skype and other Microsoft apps.
IONOS offers two packages, with the Business Standard package providing 2 TB of storage. Microsoft 365 offers two business packages, which all come with 1 TB of cloud storage and two of the plans come with 50 GB of email storage.
When it comes to ease of use, Google Workspace has better admin controls and web and mobile apps, whereas Microsoft 365 has better desktop apps. Both rate highly in the security department: with included cloud security protection, data loss and leak prevention, as well as built-in spam, virus and unusual activity detection. Google Workspace boasts two-factor authentication and Microsoft 365 comes with multi-factor authentication. For a detailed comparison on both products, check out this article comparing Google Workspace to Office 365.
It depends. Although Google Workspace has been developed for use in a business setting, it might be the right choice if you just want to upgrade or are looking for extended features such as a custom email address based on your own domain, the option for unlimited cloud storage (depending on plan and number of members), additional administrative tools and advanced settings, and 24/7 phone and email support.
Gmail is great if you're using it for personal use and therefore don't mind the @gmail.com domain. However, you probably prefer something more professional to represent your business, which is why the personalized domain (name@yourcompany.com) you get with Google Workspace is more appropriate. Google Workspace also provides user management and admin features for multiple users, which is especially important in case an employee leaves the company since it means the data doesn't leave with them. Google Workspace offers double the amount of storage that Gmail does: 15 GB compared to 30 GB/2 TB (depending on the plan). Documents are shared securely thanks to the rights management meaning it's impossible to accidentally share data outside of the company. Another advantage of Google Workspace when it comes to security is that there are additional security options such as two-factor authentication to make sure there is no unauthorized access to your account.
Users can take advantage of 24/7 support and an uptime of 99.9%. Google Workspace can be customized with your own company logo and, as previously mentioned, can be synced with Microsoft Outlook so you can access Google Workspace emails on any device that you've connected.
The free Gmail version is not designed with a business setup in mind so if you want as many features as possible to help your company flourish, it makes sense to pay a small sum each month for Google Workspace.
Both Google Workspace versions, Business Starter and Business Standard, come with 24/7 support. Both of these plans enable you to create documents, spreadsheets and presentations, connect with others through business email (Gmail), video and voice conferencing, secure team messaging, and shared calendars.
As well as the features mentioned above, you get 30 GB storage with Google Workspace Business Starter, the cheapest of the packages. Google Workspace Business Standard provides you with an enhanced office suite with 2 TB storage and archiving, and unlike with free Gmail, Google Workspace users aren't subjected to advertisements and administrators can personalize security and privacy settings.
The payment plan is flexible, and you're able to add and remove users at any time.
Yes! With Google Workspace, you're able to read and send emails on the go as well as attend meetings remotely no matter where you are. Google Workspace apps can be downloaded for Android® and iOS® devices so you can access them at all times from anywhere. It's especially easy to set up for Android — you only need to add your Google Workspace account once to your mobile device and your email, contacts, and calendar entries are available on that device. For iOS, you also have to setup Google Sync before you can start using email, contacts and calendar. Choose which products you want to synchronize with your device and repeat each step for each account you want to add.
You can also use Google Workspace offline as long as you set it up while you're online. As administrator, you need to enable offline access via the admin console dashboard, then it will be available for offline use.
Looking for different productivity solution?
Microsoft 365
The timeless productivity suite
The possibilities are endless with the market-leading productivity software from Microsoft. Includes all the popular applications such as Excel, Word, Outlook and PowerPoint.
Learn more
IONOS — Your web host and cloud partner
Scalable web hosting, digital and cloud products for all the stops along your digital journey.
Live Chat
Chat with one of our IONOS experts.