Server Hosting
Cloud, dedicated, or virtual private servers

For websites, stores, email hosting and more

Data center choice: US and Europe

24/7 support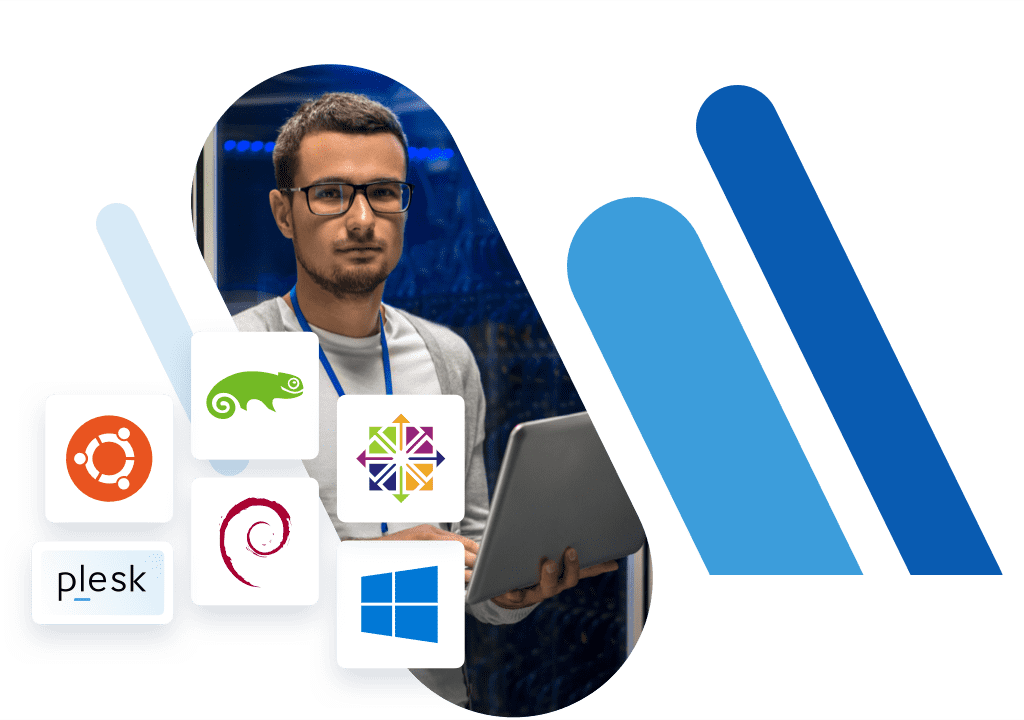 Server hosting services — your options
Suitable for every scenario
IONOS server hosting features powerful hardware for just about every use case. Opt for an inexpensive server to start an online business or choose a more expensive option for more intricate projects.
Websites
Want to create a website or set up your company's online presence? The server options from IONOS offer the right mix of affordability and scalability — whether it's the cheap server hosting in a VPS plan or a fully scalable cloud server solution.
Online stores
IONOS servers are also ideally suited for launching your own online store. The ISO-certified data centers in the US offer the best possible protection for a budding eCommerce business.
Email hosting
Sending and receiving emails using IONOS' powerful servers is easy, not just in terms of security, but also because the root access provided allows you to fully customize your email platform.
Email server hosting allows you to decide between Linux and Windows operating systems.
Other solutions for your projects
Web Hosting
Need storage and a domain for your WordPress project or web application? Our web hosting plans are the right place to start.
Learn more
Server hosting — FAQ
Going with web hosting or your own server depends on the complexity and the type of project as well as on your know-how and requirements.
You can rent the hardware and manage it with root access if you host with a server. It also gives you the full freedom to install your own software. Choose between VPS, cloud server, or dedicated server hosting from IONOS. All are perfect for testing various content management systems, and you can even use multiple ones at the same time. Even with complex projects, you'll be set up for success with an IONOS server.
Simple web hosting is the best choice if you are looking for a cost-effective platform for your website. You only need limited knowledge about the installation, maintenance, and operation of hardware and software. The provider takes over most of these tasks for you. Important applications such as content management systems can typically be installed at the click of a button. In terms of pricing, web hosting plans are more affordable than servers.
IONOS server hosting offers several advantages compared to having your own server.
You will never have to deal with underlying hardware, which means you won't have to purchase, maintain or replace it. If you need more performance, you can simply tweak the settings or upgrade. The provider takes full responsibility when it comes to defective hardware, meaning you'll never have to worry about doing it yourself.
Our server hosting, hosted in our certified data centers, also relies on a fast broadband connection. Thanks to this, you'll get peak download and upload speeds around the clock. Using your own server on the other hand means you have to rely on your own internet connection.
Backups, georedundant storage, and firewalls are security measures that come as standard with IONOS servers. You'll also benefit from state-of-the-art technologies like SIEM and IDS/IPS. These will safeguard you against data loss in case there's a natural disaster, fire, or cyberattack.
You might also be interested in:
Your personal consultant
At IONOS, you have a dedicated contact person for personalized advice, tips to boost your online success, and technical support. Reach them via phone, chat and email, all at no cost to you as an IONOS customer.
Learn more