How to create a Google account
In order to gain access to the company's service, you first have to create a Google account. The good news is that you can create a Google account in just a few steps.
How to set up a new Google account
Open www.google.com and click "Create account".
Enter your name and username.
Choose a secure password and confirm it.
Add your date of birth, phone number and email address for account recovery.
Choose your personalization settings.
Agree to the privacy policy.
Why is creating a Google account worth it?
While there are several reasons to create a Google account, one of the most persuasive is the access it provides to a number of Google services. Creating an account doesn't cost money and the different features that are included can be used free of charge. Some of the most well-known features include the email service Gmail, the photo management system Google Photos, the cloud service Google Drive and certain Google Maps functions. You also need to setup a Google account if you want to access the Google Play Store on an Android smartphone.
In addition to these services, there are other features that are useful in a professional context. By making a Google account, you can access Google AdWords and Google AdSense. These two tools can help you create, implement and analyze online marketing strategies. Additionally, if you have an important business meeting or need to give a virtual presentation, the conference service Google Hangouts is a popular choice in professional settings.
Since acquiring YouTube in 2006, Google also gives users the possibility to log into the global video platform with a Google account.
How to make a Google account
You can make a Google account in just a few clicks. We'll show you how below.
Step 1: First, go to the official Google website. Click on the "Create account" button in the top right corner.
Step 2: Choose who you want to create the Google account for. The following options are available: "For myself", "For my child" or "To manage my business".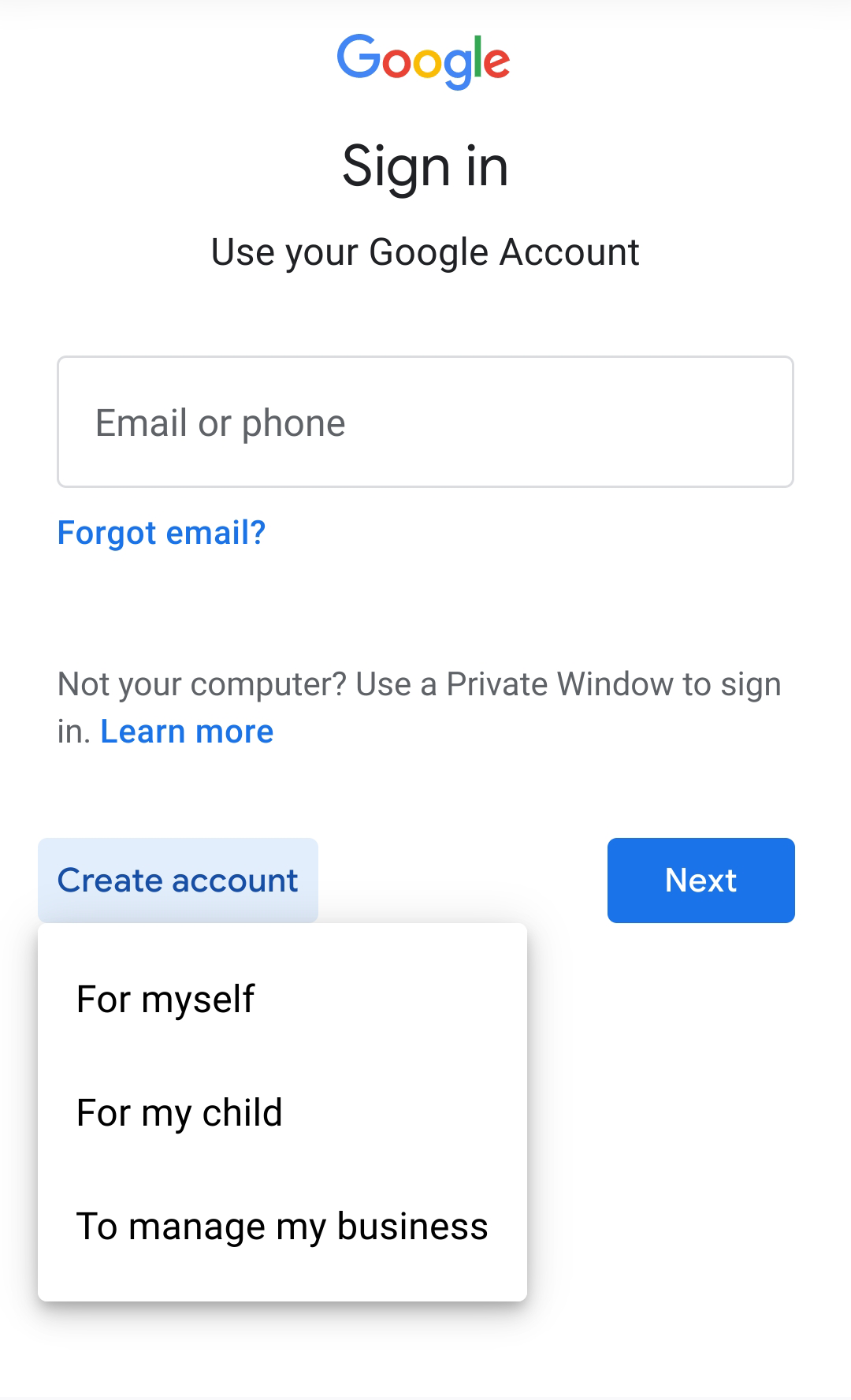 Step 3: Enter your first name and last name.
Step 4: Choose your username. This can either be your real name or an alias. Letters, numbers and periods are allowed. The username is completed with the "@gmail.com" ID. You can also use your current email address from another provider. This option is written in blue under the username field.
Step 5: Next fill out the password field. Make sure to set a secure password that has at least eight characters and contains a mixture of letters, numbers and symbols. Keep in mind that the first letter is not case-sensitive on a smartphone. Confirm the password and click "Next".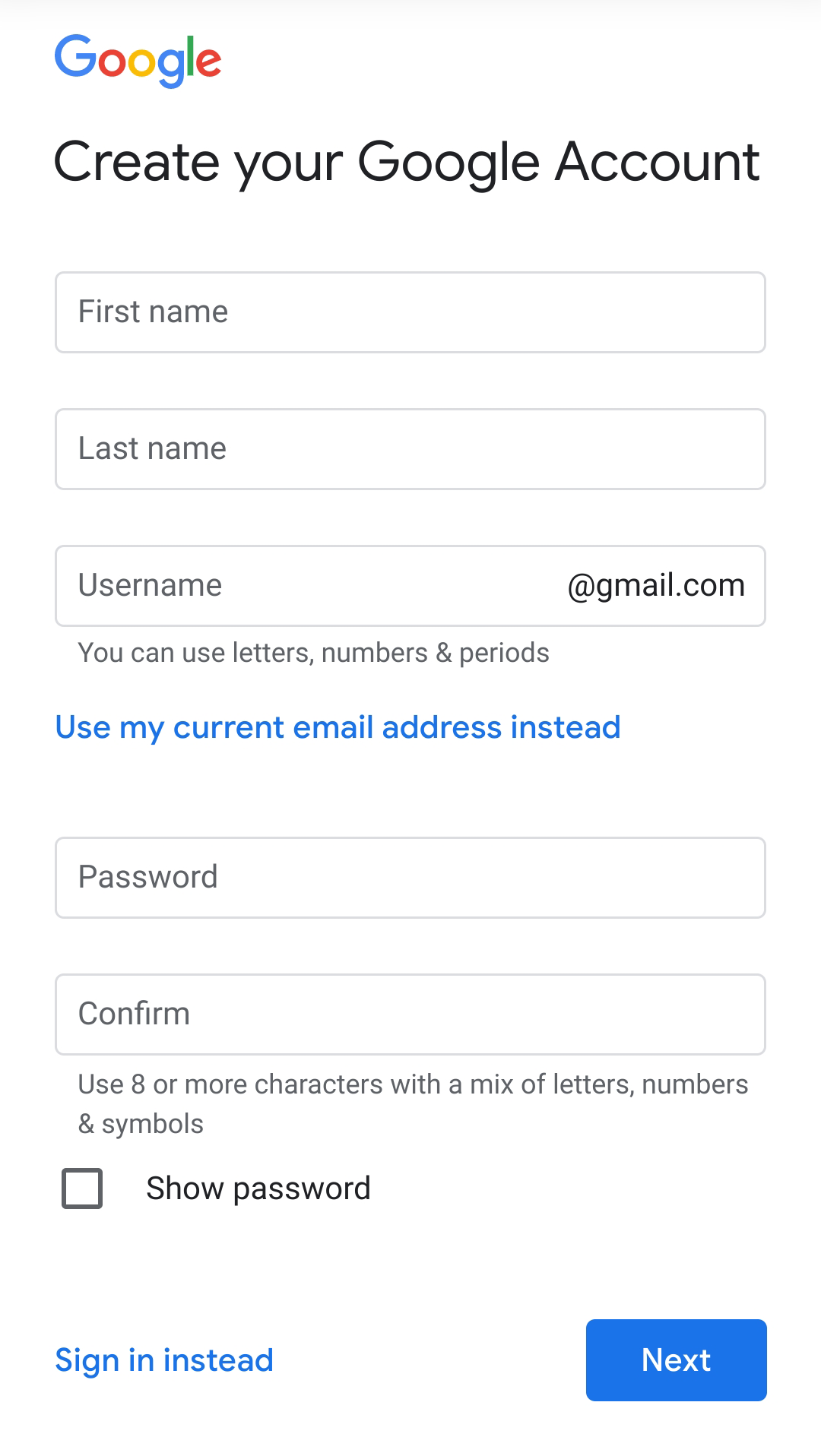 Step 6: Enter your phone number, date of birth and gender on the next page. Providing your phone number is optional, however, it is required if you want to restore your Google account. Your date of birth, on the other hand, is necessary in order to determine age-appropriate content and settings. This information is confidential and will not be made publicly available.
Step 7: The next page is for your personalization settings. You can choose between express personalization and manual personalization when creating a Google account. Manual personalization determines what will be saved and what ads you will be shown. Once you've made your choice, confirm by clicking "Next".
Step 8: An overview of your settings will appear. Click "Confirm" if everything is correct.
Step 9: Agreeing to Google's terms of service is the final step. Click "I agree" to create your new Google account.
What are the different types of Google accounts?
There are different types of accounts to choose from when creating a Google account. A private Google account will automatically give you access to the services mentioned above. You can use any email address you would like, including those from third-party providers. If you decide to create a new Gmail account, a new Google account will automatically be created with your Gmail address. If you create a Google Account for your business, it will be used with your business email ID. In this case, you can only access Gmail, Google Docs, Google Calendar, Google Sites, Google Groups, and Google Videos.
It's also possible to create a Google account for your child. The Google Family Link app allows you to keep track of the account, set rules, restrict or exclude access and prohibit purchases and downloads from the Google Play Store. Additionally, the app lets you set a bedtime to ensure a screen-free night of sleep. Your child can convert the account to a regular Google account once they turn thirteen.
How to change data at a later date?
You're required to provide certain information when you create a new Google account, but this isn't set in stone. Just go to myaccount.google.com to change your information at any time.
How to create, delete, or restore a Google account?
As you can see, it's pretty easy to create a Google account. If you decide you don't need it anymore, you can delete your Google account any time you want. It's also possible to restore a deleted Google account if you change your mind. If you don't want to sign up with Google though, there are several Google alternatives to choose from.
Tip
Do you want to use your Google account to work with Google Workspace? IONOS offers an affordable office solution Google Workspace with your own domain.