PHP Web Hosting
New Zend Engine

Independent of the operating system

PHP 8.2 with JIT, HTTP/2, and gzip
See plans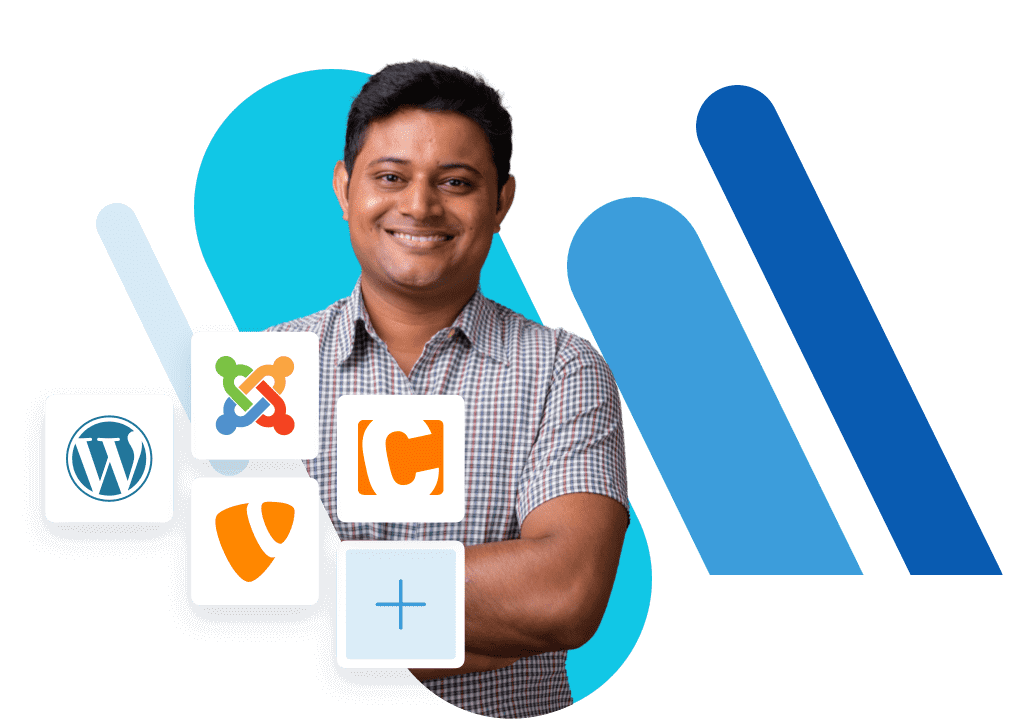 State-of-the-art PHP Hosting for your projects
Advantages of PHP Hosting with IONOS
With IONOS's reliable PHP servers, you can rest assured that the security of your data and maximum uptime of your site are guaranteed. Our geo-redundant backup of data ensures an extremely high level of availability for your website – 99.9 percent. Geo-redundancy means that copies of all data are stored in two entirely independent, high performance IONOS data centers. Should one of the data centers go offline, due to a regional power outage for example, then the second will be ready to take over and ensure your website remains online for your visitors. This way, online store owners need not worry about revenue losses.
Furthermore, with our PHP hosting packages, you benefit from the world-renowned IONOS expert support. We are on hand at all times to offer PHP support for your projects and answer any questions you may have.
Your personal consultant
Helpful advice from a single point of contact. Exclusively for you. Experience customer service on a whole new plane. All this and more, free.
Learn more
PHP Hosting
FAQ – FREQUENTLY ASKED QUESTIONS
PHP operates on the server side, meaning PHP scripts are executed on the server as opposed to on the client side – as is the case with other scripting languages such as JavaScript. Accordingly, the source text is not sent to a web browser, but to a so-called "PHP interpreter" on the web server. When a user sends a request to the server, the PHP interpreter must first process the script on the server itself before sending the output to the user's browser. This output can be in the form of HTML documents or a range of other file types, such as .jpg or .pdf documents.
In order for PHP scripts to function properly on web applications, some prerequisites must also be fulfilled on the server side. For instance, programming interfaces such as ISAPI are necessary for server services like Apache to execute PHP interpreter command lines. One of the most common configurations – known as LAMP – is combining a Linux operating system with an Apache PHP web server, a MySQL database, and PHP script. Other combinations with Windows or macOS are also possible. With IONOS, you have the assurance that all technical requirements for PHP hosting will be fulfilled. You can find further information on PHP in our comprehensive tutorial.
Yes. You can view your current PHP version and choose to switch to a newer version in the IONOS Control Panel settings. This makes it simple for you to choose the most appropriate solution for your applications and scripts. Once you notice they are compatible with PHP 8.2, you can update to the latest version directly in order to achieve the optimal level of security and performance. For security reasons, older PHP versions are only available as part of IONOS Extended Support for existing customers. You can find further detailed information on changing your version of PHP in our Help Center.
Yes. IONOS supports all other important and widely used scripting languages, including Perl, Python, and Ruby. Frameworks like Zend are also supported by IONOS, so you can easily find the best solution and corresponding script language for any given project. This gives you a wealth of possibilities for creating dynamic content on your website, allowing faster database access and hassle-free customization according to your individual requirements.
With a short piece of PHP script, you can easily find out how PHP is configured in your hosting package. To do this, use the following command to display the PHP file info:
<?php
phpinfo();
?>
This will help you identify the specific PHP version number and see which modules are installed at a glance. Alternatively, you can use your FTP main user login data to access the log file via your webspace's log directory and view it in your browser. Simply enter your domain into the browser address bar and log in: http://YOURDOMAIN.com/logs/info.php.
IONOS provides you with the latest PHP security standards, as well as geo-redundant storage for all your data. By storing two copies of your data in two geographically independent data centers (geo-redundancy), you benefit from 99.9 percent uptime. Even if one data center goes off the grid due to power failure, the other is primed and ready to take over, leaving your data intact.
A powerful firewall reliably protects the IONOS servers, and the data they contain, against cyberattacks. Because we use SSL encrypted data transmission, your customers' sensitive data is also secure. For PHP security in particular, as well as other scripting languages, it is also necessary to implement protective measures against cross-site scripting (CSS or XSS). This type of script is used by cyber criminals to insert foreign, malicious code into otherwise trustworthy webpages.
IONOS helps you protect your site from XSS attacks. In our Help Center, you will find valuable advice on how to implement the necessary protective measures. With this information, securing your data entry and output for your PHP website is easy to achieve. The Help Center also provides you with details on the additional security features of some hosting packages, such as safety scans.
If you have any further questions about the security of IONOS PHP hosting, don't hesitate to contact our expert support team, who will be available 24/7 to assist you.
Didn't find what you were looking for?
We may have the ideal solution for you.
Live Chat
Chat with one of our IONOS experts.