Create a website with your own domain
The fast way to your own website
Build an engaging website with our easiest website builder, MyWebsite Now. Includes a domain, email address, and a large image library.
First month's free
, then just
$5
/month
.
Get started free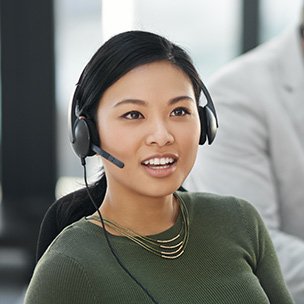 Personal Consultant
Lucy S. | Website Expert
Includes expert support
"I'm here to help you if you need it!"
Backed by our standard 24-7 support team, your personal consultant will be your single point of contact while building and maintaining your website. This service is free for our customers and only available from IONOS.
Three steps to your own website
Easily create a personal website, online portfolio, or a website for your business.
Pick a template
Get started by choosing the template that best matches your project or business type.
Add your content
Customize it! Add your own images and text or choose from a pool of high-quality stock photos.
Personalize the design
Make your sections and images unique with shapes. Publish, then you're online!
Choose a captivating template
Quickly build personal, business or portfolio websites using designer-made templates.
Add your content
Use responsive section templates to add your own images, stock photos, and text.
Add content to your site with sections.
You can add new content at anytime with responsive sections hand-picked by designers.
Quickly switch between different layouts to get a different look and feel.
Grow and structure your website.
Using the pages tab, you can create and edit pages and organize your navigation for better search engine rankings.
Adapt and prioritize what's important by using drag-and-drop to quickly reorder your pages.
Pictures
Tell your story with engaging imagery
With over 17,000 stock images at your fingertips, finding the right image is easy.
Click on any element to edit it, move it and bring up formatting and design options.
Customize the design
Intuitive design settings allow you to adjust colors, fonts and add shapes easily.
Shapes
Style up sections and images
Customize your site in one click by applying the same shape to all elements, or apply different shapes to images and sections to change their look individually.
Fonts
Make your words stand out
Customize your text with a wide selection of modern fonts. All fonts are optimized for readability and chosen to match your template, shapes and color scheme perfectly.
Color palettes
Change colors in an instant
Chose from a predefined color palette designed to impress or create your own color scheme. You can also select color variants and switch between light and dark mode.
Create a website with your own domain
MyWebsite Now includes not just your domain, but everything you need for a great website.
Benefit from a free domain
A domain and SSL certificate come included. Not just as a one-off. For the entire lifetime of the contract.
Easy to use
You don't need to know how to write code to get started. But if you do, there are more advanced options available.
SEO ready
Thanks to extensive dynamic functions, your site will be found by customers and remain relevant for search engines.
Responsive design
Desktop, smartphone, tablet — your website looks good on any device. This means your customers get a great user experience.
Quickly built with sections
Predefined sections with content suggestions help to quickly get your website up and running.
Sell online
Choose MyWebsite eCommerce for an integrated online store with all major payment and shipping options included.
Professional email address
Only amateurs use addresses that end in hotmail.com or yahoo.com. Professionals have one that matches their business.
Individual support
Your personal consultant is at the ready during standard business hours with helpful advice and answers to your questions.
Ad-free
Our affordable prices aren't paid for by advertising. Your visitors will only see your products or services. Nothing else.
Build it with MyWebsite Now
Create all kinds of websites with this simple, but versatile editor.
MyWebsite Now
Create your own website in minutes.
Designer-made templates and sections
Includes a free domain and professional email address
Build out-of-the-box websites. Ideal for those with limited time and experience.
---
1st month
Free
then
$7
/month
Try for free
New visual editor designed for easy editing. Anyone can get great results, fast. Create your own stunning website in minutes. Includes everything need to build a site for your business, portfolio, organization or passion.Close

Quickly build your website with easy-to-use sections. Add pre-set styles to sections for instant customization.
Create a professional-looking site, whatever your skill level.
Change the design of your site in a few clicks with ready-made color palettes, shapes and fonts.

Free domain for 1 year First year domain offer only valid on initial purchase of a 12-month contract. Included free domain extensions: .us, . ca, . com, . net, . org, . info, . me, . biz, . online.Close
Free SSL certificate MyWebsite Now includes an SSL certificate that encrypts your website traffic. It signals to visitors that your site is secure.Close
Email included Create a professional email address with your domain name. For example: contact@mydomain.com.Close
State and local taxes will apply.
Click here
for our General Terms and Conditions.
More ways to create your website
Get full design control, start an online store or have one of our pros do it for you.
The website builder for pros
MyWebsite Creator
Our most powerful website builder with professional features built for creative flexibility. Personalize the user experience based on location, time and special events.
Sell online
Online stores
Thinking about starting an online store, or growing your customer base by going digital? Find out which of our eCommerce platforms is right for you.
Custom website design
Web design service
No time to build your own site? Our skilled team of designers will work with you to create a professional-quality website that meets your business goals.
Couldn't find what you were looking for?
Check out these other great options.