Do I still need my own website in 2023?
Social media makes it possible to showcase your business without a website, but there are still plenty of reasons to have one.
To the guide
Why have your own website when you can easily reach customers on social media platforms such as Facebook, Instagram, Twitter, and Pinterest?
Here are some reasons you should consider.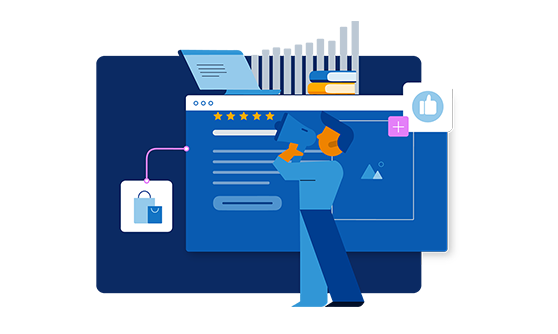 Five reasons for having your own website
You can create a custom design
Creating your own website gives you more design freedom. You get to decide how your homepage and all other pages look. You can adapt your web presence to your image. This gives your brand the perfect foundation online, and makes it more recognizable.
You get more space
Social media platforms have their own requirements for how your content can be displayed. Twitter relies on short messages, Instagram on pictures and videos. On your own website, you have all the space and options you need. Combine your blog articles with photos, add persuasive product descriptions, or showcase your brand in a video.
Customers can easily find information
If you offer different information on different platforms, you can extend your reach. But most users won't find all the information about your company this way. Content on social media also quickly disappears from the timeline of your target audience. On your website, you can compile all important information. Your website also brings together all communication channels you can be reached on.
You'll be more visible
Having your own website makes it possible for users to find you on Google and other search engines. Well-prepared content and a good structure lets your target group to easily find the right content. And not just when they search directly for your company – optimize your website for the search terms that your target audience uses to make your products and services more visible.
It's easy to do
Even beginners can create a website. By using a Content Management Systems (CMS) like WordPress, you can get great results without any web design skills. Handy, free extensions and design templates are a big help.
IONOS also offers
dedicated WordPress solutions
. These give you everything you need to create your own WordPress site. The setup wizard helps you get started quickly, and our customer support team is here to answer your questions. All you have to do is use your creativity.
Use your website as a central point of contact
So yes, having your own website is still important nowadays. It's the foundation of your online presence. But you shouldn't miss out on other channels either. Being active on social media is also crucial. Utilizing both is the best way to succeed.
It's best to coordinate your activities on different platforms and always take your website as the starting point. For example, publish a new article on your company blog, inform people about it on different social media channels and send out a newsletter about the new article.
Your website becomes the starting point for different marketing channels:
Social Media
Newsletters
Podcasts
YouTube
Guest contributions
Special features for eCommerce
Nowadays, you don't need your own online store to sell your products. You can also offer goods to a large audience via platforms like Amazon or Etsy. Amazon in particular makes online trading very easy with its logistics services. But that doesn't mean you shouldn't have your own website.
Even if you sell via another platform, you can use your own website to present your company and your products or services. This strengthens trust in your brand. You can always think about offering your own online store too, even alongside your presence on other platforms. After all, when selling through your own store, you save yourself the commission and fees.
Software makes it easy to set up a professional online store. With
WooCommerce Hosting
from IONOS you can set up your own online store based on WordPress with just a few clicks.
You might also be interested in: