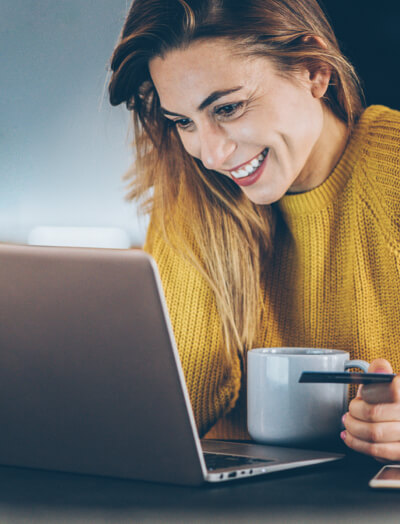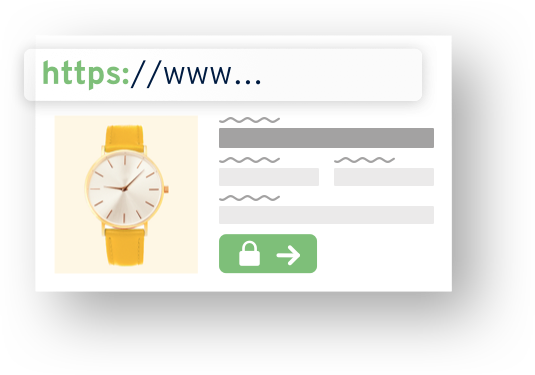 Buy a wildcard SSL certificate
A wildcard SSL certificate enables you to secure multiple subdomains at the same time.
See plans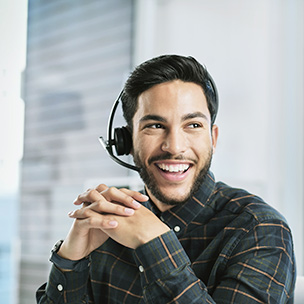 Personal Consultant
George T. | SSL Specialist
Dedicated support
"Got questions about validation? – I can help!"
More than 24/7 support. Get a direct line to your own domain expert and personal consultant free with each SSL plan.
What is a wildcard SSL certificate?
Thanks to the certificate, website visitors can be sure that the website they're visiting isn't fraudulent. The SSL certificate also enables communication to be encrypted using SSL/TLS, which website visitors can recognize from the lock symbol in their browsers.
Website operators usually opt for single-domain certificates, but this means they can only be issued for one subdomain. Larger companies, however, often manage a large number of subdomains. If, for example, both www.example.com and shop.example.com belong to your website, you would have to order two certificates - or one wildcard SSL certificate. This certificate is then issued for *.example.com. The wildcard character explains how these certificates got their name. No matter how many subdomains you run on your server, the certificate remains valid.
Because certificates with wildcard SSL secure multiple subdomains, they are popular in a variety of scenarios:
Company websites that maintain other subdomains in addition to the website e.g. their own blog
E-commerce websites that use two different subdomains for their online store and website
Multilingual websites that use several subdomains for internationalization purposes
Wildcard SSL certificates usually cost more than single domain certificates. However, if you manage multiple subdomains, the investment will be worth it, and also means you don't have to order multiple single certificates. If you buy a wildcard SSL certificate, you secure all the subpages of your website.
Plan overview
Wildcard SSL packages (protect a domain, incl. all subdomains).
SSL Starter Wildcard
---
Continue
GeoTrust Quick SSL Premium Wildcard
Protect a domain, including all of its subdomains
Organization Validated A higher level of authentication. Domain ownership and business authenticity are verified.
$500,000 loss excess amount
Easy to activate on your website
SSL Business Wildcard
---
Continue
GeoTrust True BusinessID Wildcard
Protect a domain, including all of its subdomains
Organization Validation Ensures the authenticity of the company issuing the certificate.
$1,250,000 loss excess amount
Protection against phishing
Display the trustworthiness of your business
State and local taxes will apply.
Click here
for our General Terms and Conditions.
DigiCert – your SSL security
Together with our partner DigiCert, we offer reliable protection for your website with highly secure 256-bit SSL encryption.
DigiCert SSL Certificate
World's largest and most well-known SSL provider
Unique additional services such as a daily malware scan
Global leader with vast experience in internet security
Wildcard SSL – FAQ
No, wildcard SSL certificates have the same high level of security as other types of certificates. Every SSL certificate you purchase through IONOS enables up to 256-bit encryption. The public-key method that digital certificates use is considered very secure. Website visitors are also made aware that they are using a secure connection in their browser.
Yes, wildcard SSL certificates also include the root domain that the subdomains stem from. The wildcard SSL certificate therefore includes not only *.example.com, but also example.com. However, if you want to secure a completely new domain or domains with different top-level domains - ccTLDs or gTLDs - you would have to purchase additional certificates.
With IONOS you can choose between the SSL Starter Wildcard and the SSL Business Wildcard. Both options are designed for an unlimited number of subdomains and meet the highest security standards. The main difference is the identity check - the Starter package works based on domain validation (validating the website operator), and the Business variant works with organisation validation (validating the company behind the website).
A free wildcard SSL certificate is also included in most IONOS packages! For example, if you purchase a domain from IONOS, you'll receive a SSL Starter Wildcard certificate at no extra cost.
Wildcard SSL certificates from IONOS can be installed in the same way as other SSL certificates. First, log in to your IONOS account and head to the "Domains & SSL" section. There you can select the domain you want to use, which will take you to the SSL management area. Here you can activate your SSL certificate or change the settings for already activated certificates. You can also order certificates here if you have not already done so.
Depending on the validation level of your wildcard certificate, the certification authority will try to contact you. This is usually by email and/or phone. Therefore, it's really important to make sure that all the information about you or your company is entered correctly when you order the certificate.
Still looking for the right product?
We may have the ideal solution for you!
Your personal consultant
At IONOS, you have a dedicated contact person for personalized advice, tips to boost your online success, and technical support. Reach them via phone, chat and email, all at no cost to you as an IONOS customer.
Learn more