Free server hosting
Get started with a 30-day money-back guarantee on VPS. Or try out an IONOS cloud server with $100 in credit for the first 30 days.
See solutions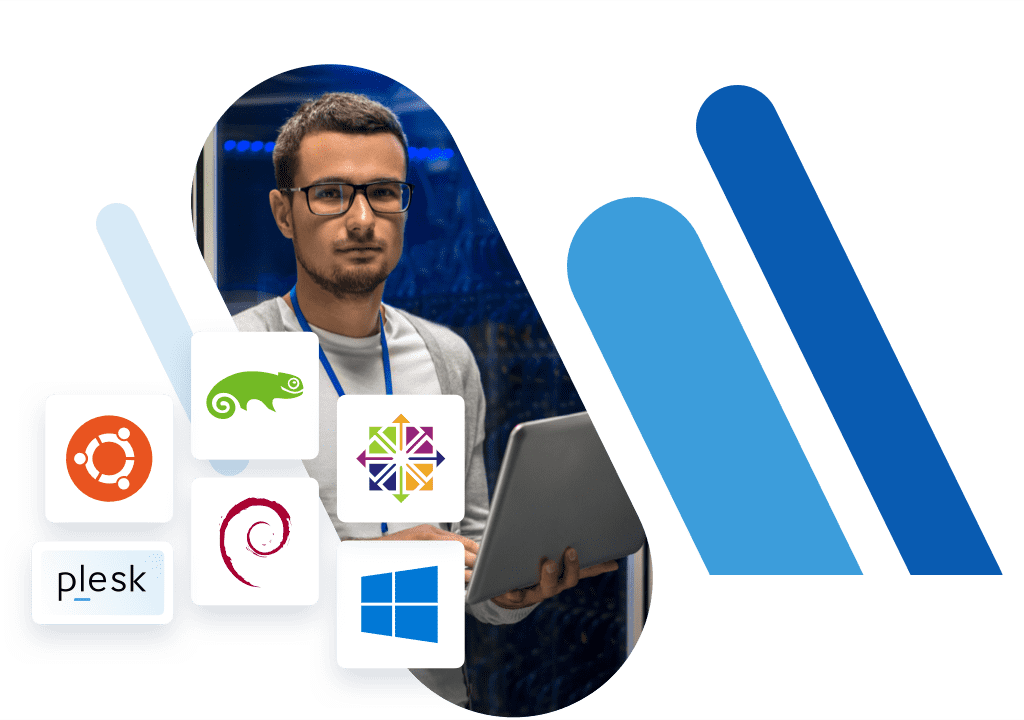 Server hosting for free
Server options to choose from.
VPS hosting
Virtualized resources for any project. Your data is always secure in ISO-certified data centers.
Only
$
2
/month
Risk-free for 30 days
Cloud servers
Great for simple websites and IT infrastructure projects, cloud servers can be flexibly scaled and configured exactly to your needs.
Two ways to get free server hosting
Learn more about free server hosting services at IONOS.
30-day money-back guarantee
Trial a VPS
Test out a VPS obligation-free for 30 days. If you choose to cancel before the end of the trial, you'll get your money back — no questions asked.
Free credit for the first month
Try out a cloud server
Start off with free cloud server credit and enjoy free server hosting for 30 days, depending on the resources you use.
If you exceed the credit amount, you simply pay the difference. There is no better way to try out your own fully scalable cloud server.
Your personal consultant
At IONOS, you have a dedicated contact person for personalized advice, tips to boost your online success, and technical support. Reach them via phone, chat and email, all at no cost to you as an IONOS customer.
Learn more
Free server hosting services — what's included?
Great features included with every IONOS server.
Performance
There's no limit on the cores, memory, and bandwidth you use while you're enjoying free server hosting. If you're using a cloud server, just make sure that the booked resources do not exceed the credit you've received.
Storage
With IONOS server offering between 10 gigabytes and several terabytes of storage, you never have to worry about running out of disk space. SSD or HDD is available, depending on the server you choose.
Operating systems
Although free Ubuntu server hosting is popular, you can choose Linux or Windows operating systems. With VPS and cloud servers, you decide which operating systems best fits your project.
Support
If you encounter any problems with the free server hosting, IONOS offers 24/7 customer service. Our customer service is on hand 24/7 for any questions you have about free server hosting. The support is included for free with any IONOS server.
Security
Your data is important to us, which is why we invest in the best IT security to ensure it remains safe from attacks. That's why we are one of the most secure free server hosting providers online.
Data protection
Our data centers adhere to high data protection standards. You can choose whether you want to use a data center based in the US, UK, Germany, or Spain for your free online server hosting.
Another free hosting option
Try out IONOS web hosting with a 30-day money-back guarantee.
Web hosting
The perfect solution for your website. With IONOS hosting, you get plenty of storage and your own domain so you can get started with your web project straightaway.
See web hosting
Free server hosting
FAQ – Frequently asked questions
The dedicated servers from IONOS are especially useful for those interested in high performance. Large companies, in particular, find these solutions especially appealing. They appreciate the high performance, dedicated hardware, and the flexibility. Dedicated servers also have the added benefit that you can structure the server to your requirements. Choose from:
AMD servers: Servers with AMD processors are ideal for demanding tasks because they offer both high single-thread and multi-thread performance.
Intel servers: If you are looking for servers with powerful processors and innovative technology, Intel CPUs are worth considering.
Storage servers: Fail-safe servers for storing very large amounts of data while maintaining high security.
Thanks to pay-as-you-go billing, you only ever pay for what you actually use with an IONOS dedicated server.
Thanks to the 30-day money-back guarantee, you can try out the product for a month. If you decide to cancel, you get your money refunded.
Unless you've signed up for a minimum term, all IONOS servers can be canceled at any time.
There is no minimum term for cloud servers. It doesn't matter if you chose free Windows server hosting or the Linux option, once you delete the cloud server, you won't be charged any additional costs. This also applies even if you have used up all your credit.
Cloud servers from IONOS are billed to the minute and you only ever pay for what you've used. This means that you don't have to terminate the entire contract — just delete the server to ensure you're not charged any more. If you start using resources again, you will be billed for this use.
Couldn't find what you were looking for?
Check out these other great solutions.