The Domain Finder - Grab your favorite URL
Find the right name for your website

Check if your preferred extension is available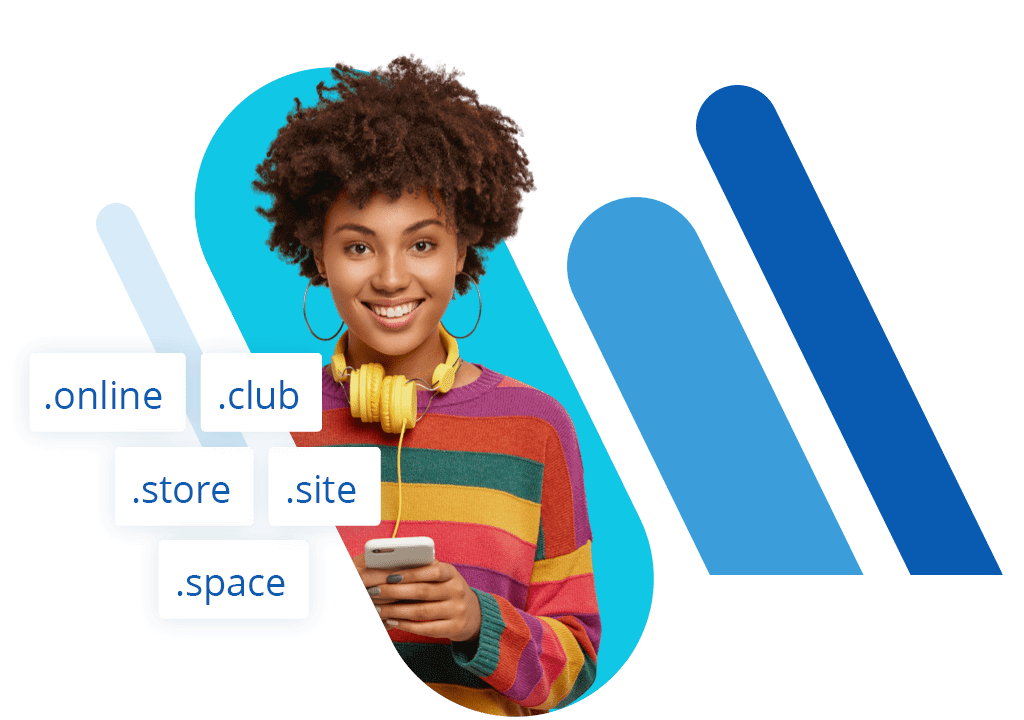 .com
$1
/1st year
then
$
17
/year
.net
$5
/1st year
then
$
20
/year
.xyz
$0.75
/1st year
then
$
15
/year
.holiday
$53.20
/1st year
then
$
76
/year
Discover your perfect domain
State and local taxes will apply. Click here for our General Terms and Conditions.
How to find your own domain
Creating a new online presence needs to be well thought out and planned.
- What should your website convey,
- who is the target audience for your content, and
- what added value can you create for your users when they visit your site?
The answers to these questions will define your website's success. One of the most important prerequisites for a successful website is coming up with a meaningful and easy-to-remember web address. You can find a domain in an instant and with zero complications.
Here's how simple it is: enter your desired domain into the search field at the top and click "Check". We'll then show you, if your domain is available. In case it is not, we'll offer alternatives that match your original choice.
Why use the domain finder?
The key to success is an intelligent domain search. A decisive factor for finding a domain that meets your objectives is pinpointing the exact purpose of your online project.
- Do you want to sell something or
- raise awareness for your product in your target audience?
- Or do you want to create a blog about a specific subject?
Please always use a catchy domain name that accurately reflects the theme of your website. Take advantage of our Domain Finder to see if your desired domain is available, if not you can use it to look for new domain extensions that give you the best possible chance of landing on a suitable web address. Providing you have a business, it is recommended to use the company name or a slight variation thereof for your website. If you want to build an online store, then you have a bit more freedom when it comes to creating a name.
You've found your domain - what now?
You were successful in finding a domain and registering it - congratulations. But what about the next step? As one of the leading web hosts in the US, it's our job to equip you with all the necessary tools for creating a successful website once you have found your domain. At IONOS, we provide you with an extensive portfolio of powerful technologies in order for you to bring your next project to life. Take a close look at our product recommendations, once you have bought a domain from us. You can always get in touch with your personal consultant, if you have any questions or need a piece of technical advice from us. Give it a try.
Your personal consultant
At IONOS, you have a dedicated contact person for personalized advice, tips to boost your online success, and technical support. Reach them via phone, chat and email, all at no cost to you as an IONOS customer.
Learn more
Domain Finder
​FAQs
You covered all the bases when coming up with a domain name, entered your preferred option into the IONOS domain check, and the result was that the URL is already taken?
No need to worry, we're here to help you find a domain! On the same results page that informs you of the availability of your preferred URL, we will also show you numerous alternatives or recommendations that fit your original choice. There are now numerous top level domains which you can use. For example, if .com is already taken, why not try .co, or one of the many other new domain endings. You can find domain endings for specific fields, like .restaurant for gastronomy websites, or .tech for technology companies. In any case, you're certain to find a suitable domain name for your online project.
Alternatively, you can always make a slight change to the spelling of your preferred web address - like using a hyphen to break up words, or even changing the order of words in your URL. That way, for example, handymansmith.com can easily become smith-handyman-business.com. Be creative and allow yourself to compromise on your original choice when finding a domain name.
You found several suitable domains and would like to use them all for yourself?
At IONOS, you can register numerous combinations of a URL or multiple top level domains all at once. It goes without saying that you should keep an eye on your costs if this is the case. That's why we advise you to check the exact cost of each domain extension, because each price is calculated individually. Normally, the most common domain extensions in a particular country (in the US it's .us) are the least expensive. New top level endings cost considerably more. Our domain check results page always provides you with an overview of the monthly cost for individual domains. Find the domains you want, add them to your cart, and we'll calculate the total cost straight away. It's worth checking out our welcome offers - to find domains that you might not have thought of, all for attractive prices.
Didn't find what you were looking for?
We may still have the ideal solution for you.
Live Chat
Chat with one of our IONOS experts.