Buy a .io domain name now
Get creative with your URL and a .io country domain to increase your input/output.
Free Wildcard SSL

Free private re­gistration

Free 2GB email account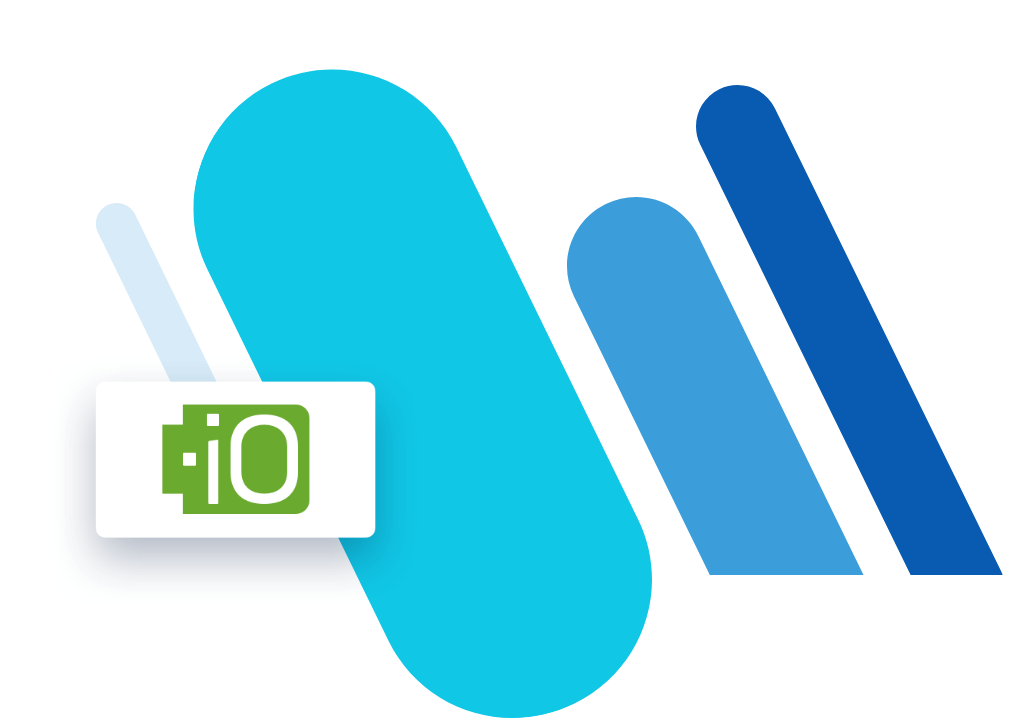 What is a .io domain?
The io domain extension has entered the spotlight since its creation in 1997.
This is partly because the .io domain offers a cheap alternative to other top-level domains (TLDs), but that's not the only reason. The .io country domain based out of British Indian Ocean Territory has gained popularity among tech companies, startups and computer lovers alike due to its similarity with the abbreviation of "input/output" or "I/O". The fundamental concept of computing that every input results in output also reflects the basic goal of the businesses buying the io internet domain. Let's take a look at what makes it special.
Learn more
What is a .io domain used for?
Since there are no permanent inhabitants of British Indian Ocean Territory, the .io domain name's applications are not related to its location. We already know why it has become the domain name of choice among many developers and entrepreneurs working in the tech industry. But it is popular as more than just a nod to computing.
As the world is experiencing a rapid period of digitization and most businesses require an online presence, you'll need a slick and easily memorable site and domain name to stand out. The dot io domain can help achieve that. With some creative thinking, you can integrate your company's name into a domain with io. Famous examples include 2016 US presidential candidate Marco Rubio "rub.io" and LEGO selling platform Bricklink's studio software "stud.io". So, whatever industry you're in, buy your .io web domain and get your online business off the ground.
Buy .io domain
Success on the web with your .io domain
Discover the many benefits of .io domain names
Email
A professional email address (for example: me@mycompany.com) connected to your domain with 2 GB of mailbox space to start. Upgrade anytime for more space.
Security
For reliable protection of your website visitors and to increase your ranking on Google, one SSL Wildcard Certificate is included per contract.
10,000 subdomains
Up to 10,000 subdomains to customize and structure your website, for example: news.mycompany.com.
Easy setup
One-click activation makes it easy to connect your domain with email, hosting, or social media profiles.
Domain lock
The domain transfer lock ensures your domain cannot be transferred by unauthorized third parties.
24/7 customer support
Our professional, knowledgeable support team is always available for help and advice, 24/7.
.io domain
FAQ – Frequently asked questions
Domain registration of .io is really quite simple, as it is an unrestricted domain name, meaning you don't need to be based in its territory to get one. Firstly, you will need to do a .io domain search using the domain checker above. If your desired URL is free, you can go through with your io domain purchase. If not, you will get suggestions for top-level domain alternatives that may interest you. With IONOS, you will get reasonable prices, free Wildcard SSL and a free email account with 2 GB of storage and much more.
We advise that you get the io domain you want before someone else does. Otherwise, it may already be taken, and can only be acquired if the website owner violates your name or trademark rights, requiring potentially costly litigation. You can find out who owns a .io domain using WHOIS.
The .io domain is an internet country code top-level domain (ccTLD) assigned to the British Indian Ocean Territory. However, due to the lack of permanent inhabitants on the archipelago, Google classes the .io domain name as generic.
There are also a few .io domain rules that are important to know. io web domains may only contain alphanumeric characters and hyphens and must be between 3 and 63 characters long. The .io domain can be registered for a minimum of one year and no more than 5 years.
There are many factors that have put the .io domain extension in high esteem. Firstly, within the SaaS and tech industries, it resonates with many due to its similarity to the input/output concept. Secondly, it allows for a level of creativity with the URL, i.e. domain hacking, to create a single word from the body of the URL and the .io extension, such as "stud.io", "scenar.io", "adag.io". However, this can sometimes have an inverse effect in terms of SEO if your brand is still relatively unknown.
The final points in favor of the unrestricted .io country domain are the affordable pricing, and the possibility of getting a URL that may already be taken under other popular top-level domains such as ".com" or ".co.uk". While many other domain names require that your business has some kind of base in the country, that is not necessary with .io domains names.
Simply put, no. If low costs are key, then there are some alternatives. Some plans for other top-level domains such as ".com" or ".us" offer the first year for free. Check pricing and domain name availability with the domain name search from IONOS.
Still haven't found what you're looking for?
We may have the ideal solution for you.
Your personal consultant
At IONOS, you have a dedicated contact person for personalized advice, tips to boost your online success, and technical support. Reach them via phone, chat and email, all at no cost to you as an IONOS customer.
Learn more
Live Chat
Chat with one of our IONOS experts.