eCommerce Website Builder
The online store for everyone
Sell and market your craft with the intuitive online store builder that grows with you.
See plans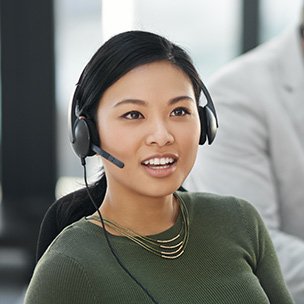 Personal Consultant
Lucy S. | Online Store Pro.
Dedicated support
"Questions about abandoned cart recovery? I can help!"
Backed by our 24-7 support team, your Personal Consultant is your single point of contact for your online store project. This service is free for our customers.
Build your own online store
Choose your plan and get started with all the features you need.
No additional transaction fees
Optimized for all devices
Your storefront to the world
Open up a world of opportunities within minutes.
Grow and evolve
Everything you need to sell online
From small beginnings, great things grow. Benefit from a platform that makes your online store stand out in the marketplace. The MyWebsite Online Store packages make it easy for your business to grow and evolve, and include all the tools you need to succeed.
View demo store
It's all in the design
Create a store that takes center stage
So you're ready to turn your passion into a fully fledged online business? Let's do this! It can be daunting even thinking about where to start. Fortunately, our platform requires no coding or design expertise to create a breathtaking online store.
Just drag and drop modules, add pictures, widgets, videos and more and experiment with your text by changing the font or color. And look at that, you've created a fantastic website that looks great on any device.
Showstoppers
A million ways to win over your customers
The choice of listing up to a million products, or a smaller range of 5–10 items is yours. Add variations such as size and color, and attributes like brand and category.
When you're ready to launch a new product, simply upload the item's details online and, before you know it, it'll be flying off the shelves.
Mobile app
Manage your store wherever you are
Add and modify products directly from your smartphone. Scan the barcode, take a picture, add the description, and your product is online.
Track sales in real-time, and always stay up to date on your monthly turnover. It's your store, but in the palm of your hand.
The shipping wizard
Cutting-edge shipping technology
Take your customers on a journey they'll remember with a range of convenient shipping methods such as same-day delivery, in-store pickup, or standard shipping.
Why not go a step further and include a personalized thank you note with every delivery, or special coupons to be used on their next purchase? MyWebsite Online Store can do that too.
Flexible payment options
Make it rain
Accepting the right payment methods goes a long way in helping your customers decide whether to buy from your online store. Alongside traditional options such as PayPal and credit card, users can choose from a wide range of methods depending on location and market. Build trust and convenience right from the get-go.
Reward and engage your customers
Discounts
Move older stock easily by offering discounts for a quick sale.
Coupons
Personalize the shopping experience by extending coupons to loyal customers.
Facebook
Meet the growing demand for social shopping with the smooth integration of your shop with a Facebook store.
Instagram
Keep up with the latest trends and link your store to an Instagram profile. Let the influencing begin.
No cart left behind
Unique checkout experience
Your customers will love the simplicity and unique purchasing experience of your online store. Customize shopping carts with individual layouts and wording, plus benefit from cross selling features.
As a last resort, you can still save leads with the abandoned cart recovery, where customers are sent a friendly reminder notifying them when orders are left incomplete.
Increase volumes and sync inventory
Business models that encourage growth
Encourage B2C and B2B customers to increase the size of their orders with volume discounts and an easy-to-use client area. Add a login function to your store where customers can view detailed information on your B2B model and different pricing lists.
The built-in POS feature also allows you to sync inventory across both online and offline channels, meaning you're always kept in the loop on your stock levels.
Sell anywhere
Expand the reach of your store
The way people search and shop for products has changed a lot over the years. One thing that hasn't changed is the need for a presence in the most popular marketplaces.
That's where we come in. Our platform syncs and integrates your online store with Amazon and eBay, and price comparison portals such as Google Shopping.
Lighten your workload and increase visibility
Bulk invoice printing
Allow yourself a well-earned break as we take the hassle out of manually printing individual invoices.
Sales tax
Tax rate changes and locality are determined automatically. You can also set up your business as a sales-tax nexus and mark customers as tax exempt.
Fraud checks
The higher end packages include features that support users in identifying fraudulent orders, like warnings on orders stemming from an overseas IP address.
SEO
Search engine optimization fields for individual products help improve Google rankings.
Facebook Ads
Advertise your products on Facebook feeds. You decide on which products to push and how much you want to spend, and our tools do the rest.
Google Ads
Automated marketing tools help you move your products with tailored ads that appear in Google search results.
Build an eCommerce website that's got it all
We've thought of everything so you don't have to.
Domain and SSL
All of our eCommerce packages include a free domain which is valid for the lifetime of your online store.
SSL encryption is also a must for any online store. It's free with us.
Hosting and mailboxes
Secure, georedundant hosting forms the core of our business. Many other providers will make you pay for this separately. Not here.
Our packages also contain from 10 to 50 2GB mailboxes.
What kind of eCommerce website do you need?
Online store builder
FAQ – Frequently asked questions.
An ecommerce website is a fantastic option for professional sellers with an eye on gaining new customers online and extending their reach. Nonetheless, online store builders are so simple and cost-effective to set up nowadays, that beginners can start selling online without any prior experience. Anything from rare collector's items to custom-made T-shirts, to your own paintings can be sold once you've decided to set up an ecommerce store. Luckily, it's quick and easy with IONOS.
Ecommerce website builders essentially do all the hard work for you and no programming, coding, or sophisticated technical know-how is needed. You can choose a design template, upload product images and descriptions, and start reaching potential customers right away. After setting up with a website store builder, you have the freedom over how you choose to run things and even save on sales commissions that other major online selling platforms will charge.
For professionals and newbies alike, creating an ecommerce store is always worthwhile for those looking to sell their products and/or services to customers online. Keep in mind you can also sell online over social media platforms like Facebook and Instagram. Learn about selling on social media with the use of the Social Buy Button.
Although an attractive website and intuitive navigation are important when it comes to an online store builder, not to mention great deals and savvy marketing, the way you present your products should always be the main focus of your site. This means that your images must be high-quality with good lighting and must present the product in a positive way. Interesting and engaging product descriptions with as much detail as possible are also helpful for motivating potential customers to buy online from your eshop. For example, if you're selling packs of items such as napkins or plates, then state exactly how many the customer will receive in the description.
Furthermore, it helps to have an easy-to-read and memorable URL, a simple and logical page structure, and attention-grabbing headlines to make your eshop stand out from the crowd. In general, don't forget about developing a clear website structure, with informative descriptions and sharp images that detail exactly what your product is all about. Images with good titles and descriptions are also important for practicing useful SEO (search engine optimization) methods, so too is adding meaningful keywords to help shoppers find your ecommerce store via Google and other search engines.
Depending on the package, there are many online store builder tools from IONOS that help you with advanced SEO features. Make sure you visit our page with a checklist for creating a professional online store to help with making your ecommerce website look its best.
You can purchase the entry level eCommerce shop package for the price of a movie ticket. While the highest package, costs the equivalent of a nice dinner out. Peanuts really.
Depending on the number of products in your shop, you can be online anywhere between a few hours or up to a day.
Adding as many payment methods as possible is incredibly beneficial and can often sway a customer towards purchasing from your ecommerce store. In addition to classic options like PayPal and credit/debit cards, there are several newer methods to choose from depending on your location and market. There are also payment methods like direct debit, purchase on account, and even Stripe and Bitcoin. PayPal Express Checkout is becoming a favored option for customers to shop online quickly by avoiding the need to enter log-in data.
Help build trust for your customers by providing convenient and flexible payment methods when setting up a store with an ecommerce website builder. It's worth bearing in mind that it's not entirely necessary to set up all payment options when you first use an online store builder, as you can add other methods later down the line. Some options are immediately available with your own business bank account, while others require you to create a separate account with the specific provider.
The highest package allows you to connect your shop to the Square POS system, where users can manage online and offline inventory with the help of the Square POS App.
Of course. In the highest package you have the option of defining different customer groups and different pricing categories for each group.
Couldn't find what you're looking for?
Check out our other great solutions.
Contact us
We are here – drop us a line if you have any questions or concerns.
Live Chat
Chat with one of our IONOS experts.