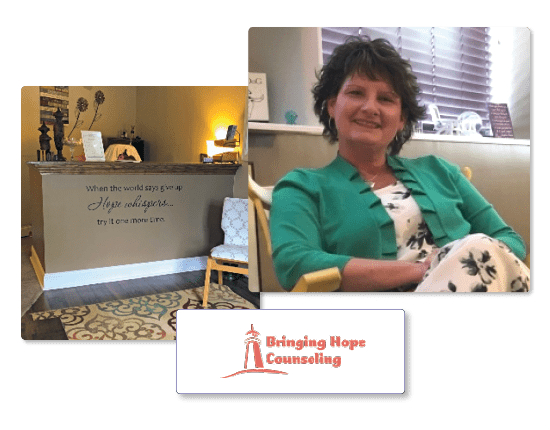 Bringing Hope Counseling
Hosting hope and healing
A new website and a digital transformation to reach those in need. #HereForYou
Read more
Rising to the challenge with telemental health
Bringing Hope Counseling is a mental health counseling practice in Logansport, IN that provides therapy to those in need. Founded in 2016, the three-person team have responded creatively to the challenge of counseling while stay-at-home restrictions are in place.
"We began in March adapting our business to do telemental health and support our clients. It has been a success! Going digital has helped us think outside the box, be resource-creative, and more intentional with our clients."
The website came first. Quality hosting, a close second.
In order to reach new clients, the team at Bringing Hope quickly saw the need for their own website. It is essential for them to promote their business to potential clients and to continue interacting with their current patients.
"Our website designer strongly recommended IONOS based on 12 years of collaboration. They've always provided quality, good-value hosting."
Mary Babb, MA, LMHC
Bringing Hope Counseling
"Our website helps clients find us and we can now provide them with therapy digitally. It's a win/win for everyone!"
Visit website
Adapting and thriving in the new normal
With face-to face contact banned, Bringing Hope maintained client relationships and kept appointments digitally. Google Hangouts Meet was used for counseling, with the team scanning and emailing important documents. This ensured clients could continue to work on their goals throughout the week.
The transition to all-digital communication was challenging for both clients and therapists, but the team has been blown away by the result. The practice is going so well it's "thriving."
Bringing Hope Counseling hosts with IONOS
Host your website and meet your business and professional goals with IONOS.
Not just a web host, but a partner
You can rely on IONOS web hosting to provide the launching pad for your business dreams. Packages include security features like Wildcard SSL, DDoS protection, domain and email as standard. It's also fully scalable and uptime is 99.9% guaranteed.
Learn more
Web hosting basics
Learn more about hosting in our Digital Guide.
More customer stories
Our customers are also #HereForYou. See how they're adapting:
The Dapper Bowtique, LLC
Helping local communities in style
With demand for surgical masks skyrocketing, Florida's Dapper Bowtique, LLC went from selling handcrafted bow ties to sewing hundreds of fabric masks for those in need.
See the full story