Deploy Now
Deploy static pages directly via GitHub
Push code and go live on georedundant, DDoS-protected infrastructure.
Sign up free
It's like instant hosting
Deploy Now combines reliable hosting with the efficiency of a Git dev environment.
Harness the power of static websites
Faster loading times
Because there's no database or backend to query, static websites hosted with Deploy Now load up to ten times faster than dynamic websites.
More secure
Static websites come with much less complex infrastructure meaning there are fewer entry points for attack.
Supports Jamstack and more
Deploy Now works with pure Javascript, plain HTML 5, and Jamstack websites. Jamstack reduces response times by prerendering your website anytime you publish a change.
Learn more about Jamstack
Deploy directly from GitHub
Git's flexibility is why it's the most popular version control system in software development. By deploying feature branches to Deploy Now, teams of devs can test changes during staging without touching the production code.
Deploy Now is hosting optimized for Git workflows. With each project, you'll get a set number of staging deployments each with their own preview URLs. And there's never any limit on rebuilds.
Learn more about Workflows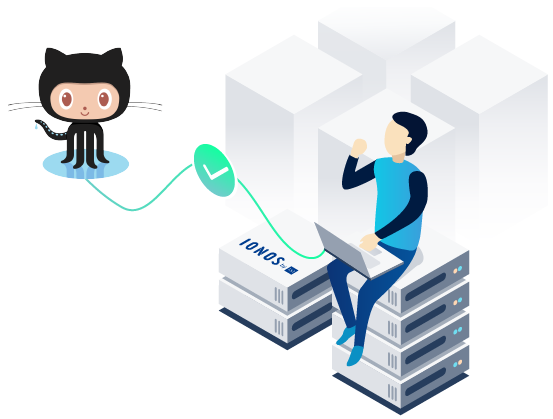 Documentation
Find tutorials, framework samples, GitHub action workflows, and more.
Supported frameworks
Build static websites with your favorite script, framework, or site generator.
Get your first 3 projects on us
Deploy your static sites from GitHub without any build or bandwidth restrictions directly on georedundant, DDoS-protected infrastructure.
Deploy Now membership
Sign up as a member and get the first three projects for free. Included with each project:
SSL-secure production deployment
1 staging deployment with preview URL
50 MB storage space per deployment
Sign up free
A network built for devs
We host in our proprietary, ISO-certified data centers in the US, UK and Germany.
Georedundant
We mirror all your data in multiple data centres ensuring seamless recovery and 99.99% uptime.
DDoS protected
We use our own server shield technology to keep your site online and protected from malicious attacks.
100% green
The future of hosting is sustainable. All our data centers in the US, UK and Germany are powered by renewable energy.
Ideal for your development team
Got agency or freelance clients? Deploy Now is the right hosting solution for seamless development.
Leaner workflows mean happier clients
Deploy Now enables leaner more SEO-friendly architecture and more efficient workflows.
By streamlining your development with instant setup and simpler staging, you lower costs and increase speed to market, making your agency and freelance clients happier.
Feedback appreciated
The journey to better hosting is just beginning. Based on your feedback, we'll add features and continue to improve Deploy Now. Please share your experiences and help us make this product work better for you!
Get membership plus more staging and storage
Starter Project M
---
Only
$
1
/month
Risk-free for 30 days
Continue
1 production deployment with AutoSSL and domain connect
3 staging deployments with preview URLs
300 MB storage per deployment
Starter Project L
---
Only
$
2
/month
Risk-free for 30 days
Continue
1 production deployment with AutoSSL and domain connect
5 staging deployments with preview URLs
1 GB storage per deployment
State and local taxes will apply.
Click here
for our General Terms and Conditions.
Getting your site live with Deploy Now
Launch your site in just three simple steps.
Connect to GitHub
Start by signing in to your GitHub account and authorizing our application.
Choose your repository
Pick your favorite repository with static files, Javascript, PHP or a static site generator.
Deploy your website
After scanning, we set up the action workflow, and your site goes live. You can make changes as needed.
Get more with the IONOS Agency Partner Program
Members get exclusive benefits, single dashboard client management, expert-level support and more.
Join for free
The Agency Partner Program
If you develop for an agency or freelance clients, our Agency Partner Program can help your business with:
Free product trials and activation credit
Client management and lead generation
Specialist support from our in-house experts
Learn more
Deploy Now - FAQ
Deploy Now supports popular static site generators such as Hugo, Gatsby, Jekyll, Nuxt, Next, Jigsaw, Gridsome, Hexo, or Vuepress. You can also set up any Static Site Generator via manual setup. Additionally, Deploy Now supports single page applications based on Angular, React or Vue. Deploy Now does not support server-side rendering based on Node.JS.
Yes. Using Deploy Now, you can easily deploy single page applications using React, Vue or Angular from GitHub.
Yes. You can also deploy from organizations @badge@badgeFREE of charge with Deploy Now. However, the GitHub account associated with Deploy Now must be the owner of the organization to do so.
First, you need to create a GitHub account and link it to Deploy Now. The Deploy Now wizard lets you link your repository, create a third-party repository, or Get started using a Deploy Now sample project. You can then modify your code as desired via GitHub, and Deploy Now will automatically update your website.
Once you have linked your GitHub account to Deploy Now, you can select an existing repository from the wizard. If you are working with multiple branches, you can delineate which branch should be defined as the productive branch. Deploy Now automatically adds a configuration file to your repository that defines the interaction with GitHub Actions.
Still haven't found what you're looking for?
We may have the ideal solution for you.