Drupal hosting for your new website
Add Drupal to your web hosting package using 1-click-installation

Your desired CMS with included SSL certificate

PHP 8.2 with JIT compiler, and SSD Webspace
View packages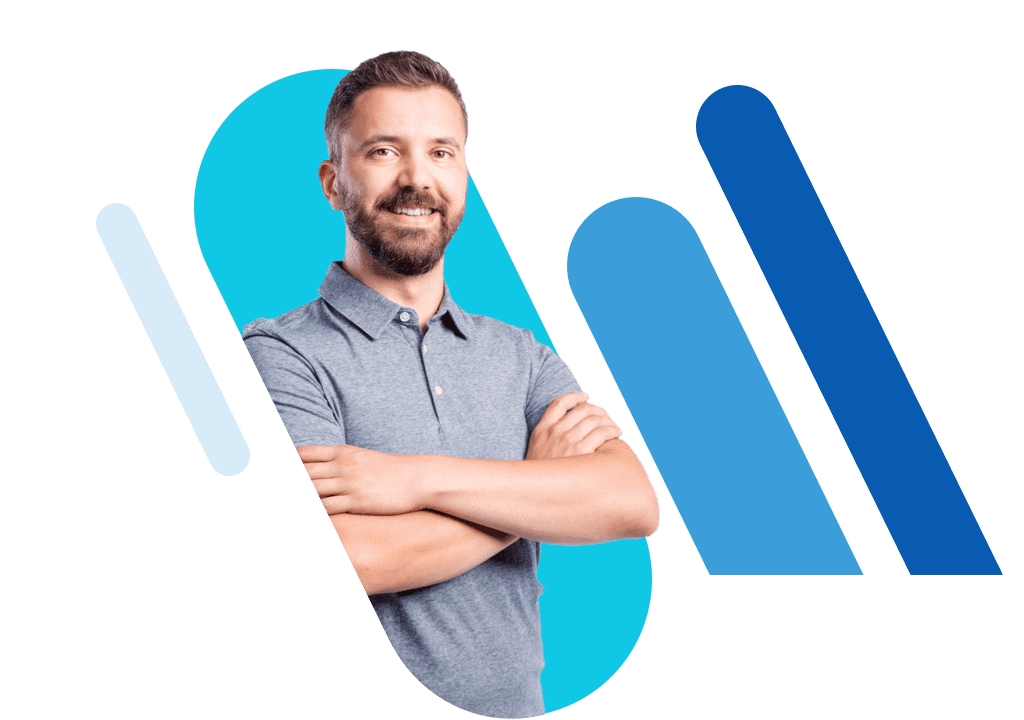 Flexible and secure Drupal web hosting for your projects
Content management with Drupal
Drupal is a free Content Management System (CMS) that is continuously improved and extended by a global community of developers and companies. A CMS allows you to manage and update content like texts, pictures, and applications independently from the website design. The Drupal CMS places particular emphasis on varied design possibilities for presenting the content. If you ensure your web hosting is Drupal compatible, you can create an individual design for your internet presence and other applications without any knowledge of CSS or HTML. Drupal web hosting was initially developed as a weblog or community system, but now serves more diverse purposes. It offers features for eCommerce set ups, picture galleries, mailing lists and high-performance programming interfaces for applications. CVS integration allows the management of different files versions.
Templates for all occasions
IONOS Drupal hosting guarantees intelligent content management for your web applications. Thanks to modules and templates; websites, wikis, forums, blogs and picture galleries are easy to create and manage. Drupal includes a vast selection of extensions and finished designs. Content can be edited directly from the website and beginners can make use of the many helpful offers. A website created with Drupal is easy to extend. Company pages, online shops, and intranet solutions are quick to set up and easily managed or expanded. The Drupal community develops new ideas daily and drives improvement.
Drupal web hosting for designers and developers
IONOS web hosting packages are automatically compatible with Drupal, making content management with varied demands easy to manage. This means that website designers can realize even more exciting projects. The countless design templates include easy to edit style sheets, which are equipped to cope with all modern techniques and HTML standards. Commercial themes are constantly extended, so even beginners can create an appealing design for their project. Drupal provides developers with useful interfaces for application programming and frameworks. All of the over 9,200 Drupal modules and 3,000 Sandbox projects are perfectly coordinated. The integrated help system and the large Drupal community provide support for developers. Thanks to its modular structure, Drupal can portray even complex business processes, which increasingly makes it of interest to companies. Decision makers are frequently opting for the Drupal open-source strategy and value its integration with modern web standards.
Your personal consultant
At IONOS, you have a dedicated contact person for personalized advice, tips to boost your online success, and technical support. Reach them via phone, chat and email, all at no cost to you as an IONOS customer.
Learn more
Drupal Hosting
FAQ – Frequently Asked Questions
Easy! To operate your Drupal project with IONOS simply select Drupal from the IONOS app center to get started. Whether you're after a company website, online shop, a complete intranet solution or private blog – with Drupal everything is possible.
Drupal web hosting from IONOS uses server-based installation and enables geo-redundant access, this increases data security and allows anyone working on your project to access the latest version from a centralized storage location. A further advantage is that multiple people can make changes or manage the existing content with Drupal hosting. All content is saved to a database, when the website or application is opened the layout and content data is dynamically displayed.
Drupal uses the most common script language: PHP. Of course, IONOS will make sure to provide you with all the technical requirements necessary for Drupal web hosting. All Linux-based hosting packages from IONOS offer Drupal support in accordance with your needs.
Compared to content management systems like Joomla! and WordPress, Drupal offers a real alternative thanks to its easy customization. WordPress is particularly suited to small and medium sized projects, as it is easy to use and requires minimal maintenance. By comparison, Drupal is very flexible and dynamic because of the modular system it uses. The diverse social publishing features make it suitable for larger blog projects, company websites or journalistic websites with multiple editors.
This allows plenty of space for growth, as Drupal is well-equipped to handle any future challenges through its dynamically expandable system. Additionally, with Drupal you benefit from the knowledge of an ever-growing community – so, aside from our IONOS expert support, you can rely on the knowledge of a global community. You are sure to find the answer you need to any questions or find inspiration for new projects in forums or specialized web portals.
Constant development and regular security updates make Drupal a good choice for the future of your web project. A comprehensive summary of all the advantages of Drupal and a comparison with the best other content management systems can be found in our Digital Guide.
Yes, IONOS offers the right dedicated hosting solution for all your needs – whether you want to launch a private vlog or a large community project. The servers in our high-performance data centers are built for the best possible performance. So, you can easily install Drupal and tailor it to your planned venture.
Rely on the managed Drupal hosting service from IONOS while you attend to the content of your project. We will take care of server maintenance, install important updates and relieve you of the administrative tasks – giving you the freedom to concentrate on your project.
Profit from our know-how and the reliable hardware of our servers, which are almost completely protected from malfunctions thanks to our high-performance data centers with multiple redundant connections. What's more, with IONOS managed hosting, you can rely on our competent expert support 24 hours a day, 7 days a week – one phone call and we are here for you.
Yes, IONOS allows you to easily install Drupal 8 in just a few clicks. Our useful app center provides you with everything you need for an easy introduction to the world of Drupal. In next to no time you can install the newest version of Drupal 8 hosting. Extensions can be installed at any time so you can customize Drupal 8 to your needs.
The advantage of the eighth version of the CMS is that some previously separate modules like the popular "views" or the "CKEditor" are integrated into the core of the system and do not have to be installed later on. "Views" makes accessing the database easier and "CKEditor" is a useful WYSIWYG (what you see is what you get) editor.
Didn't find what you were looking for?
We may have the ideal solution for you.
Live Chat
Chat with one of our IONOS experts.