Where can I find website design ideas and inspiration?
Your website's design should reflect how unique your brand is. That being said, drawing web design inspiration from the outside can never hurt. In fact, it can help you keep an eye on current trends and come up with new website design ideas.
What are the best inspo websites for website design ideas?
Creative ideas can't always be had at the push of a button. But sometimes it helps to click through design websites and get ideas from others. Below we'll share the best inspo websites for design trends and website layout ideas.
If you can dream it, we can build it!
No time to create a website? Let us take care of it! With the MyWebsite design service, our expert website design team will build an agency-quality website for your business or project for a fraction of the price!
Lifetime domain
SSL certificate
Email account
Dribbble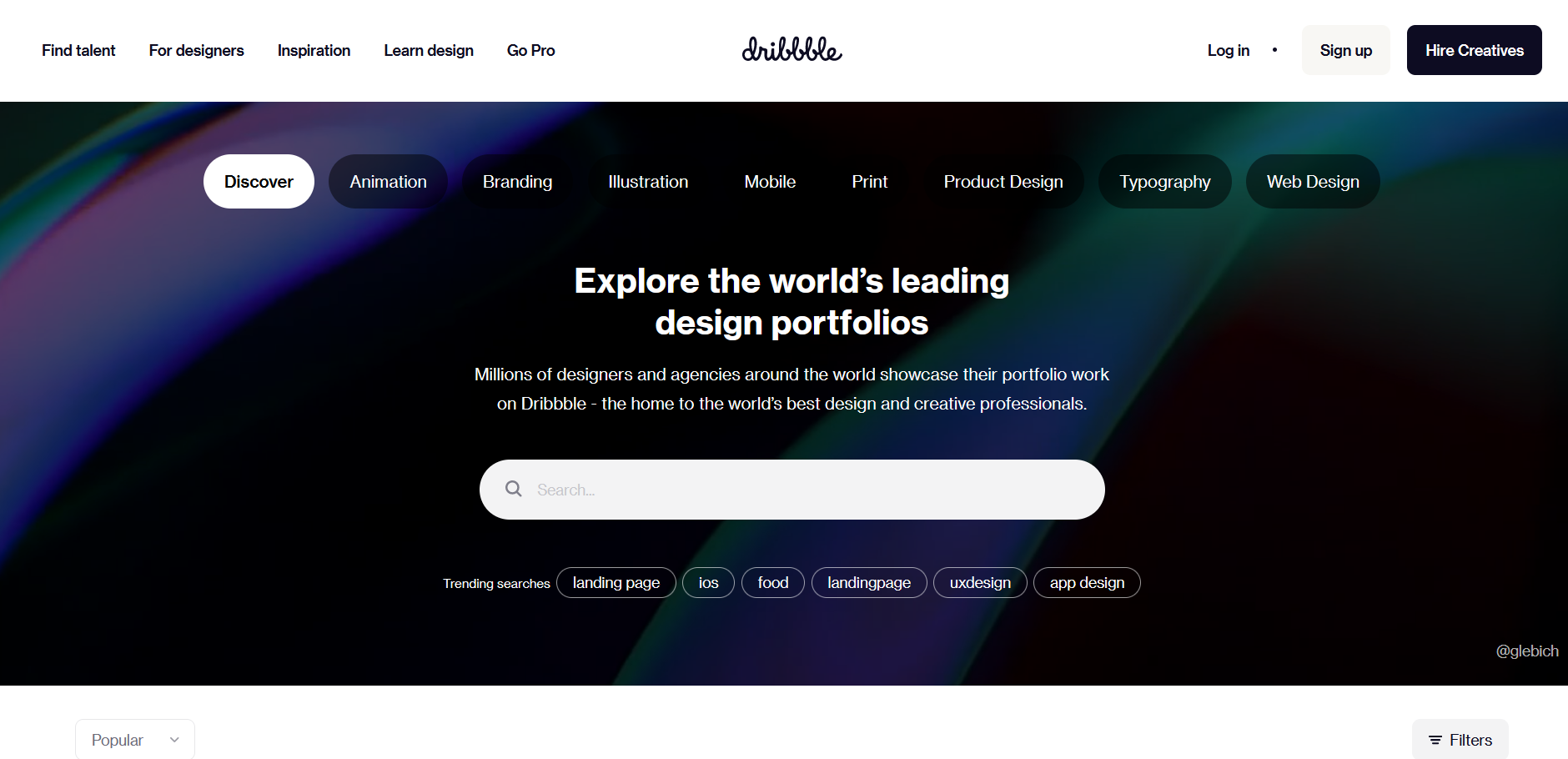 One place to turn when you're hit with a creative impulse are communities like Dribbble. On Dribbble, designers, illustrators and typographers from all over the world come together to share their projects and showcase results. It's a social network for creatives that allows you to share screenshots of your work with the community every month.
Advantages
You can see Dribbble as a social network for all things design. It's not just limited to website design inspiration, it also showcases product design, app design, animation and even typography. This makes the platform the ideal source of website design ideas and design ideas of all kinds. It offers a free basic membership plan that you can use to browse, save and rate designs.
Disadvantages
If you want to rate designs, you'll need to register. And if you're looking for specific web design ideas, the limited filter options might pose a problem. The only filters available are the color of the design and a few tags. Another issue is that it can be difficult to rate the quality of a design. Exciting designs with a lot of animation or other flashy elements usually get more likes than sleek and simple but high-quality designs.
Behance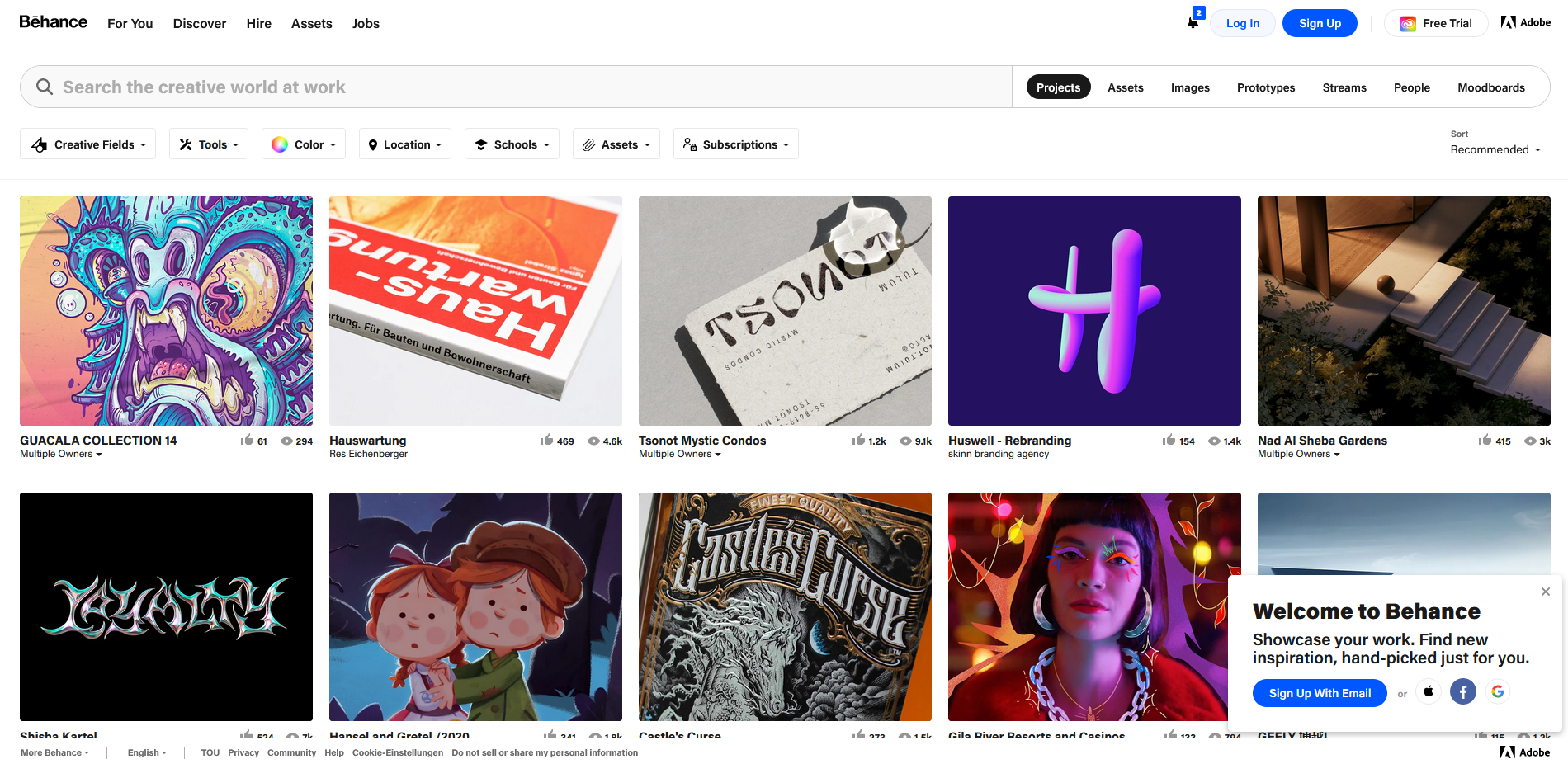 Behance is another global creative network where people can publish their graphic design work. The platform was acquired by Adobe in 2012 and added to their Creative Cloud. Adobe subscribers automatically have access to Behance's basic features.
Advantages
Behance offers photographers, graphic artists and designers a platform for sharing their work with the public. One advantage of the site is its filter feature, which offers users diverse search settings such as creative fields and the tools used for the design work. Scrolling through the creative fields is a great way to get website design inspiration without having to register.
Disadvantages
Behance is closely connected with the world of Adobe and is thus best suited to people already using Adobe programs like Photoshop. Other than that, it doesn't have many significant disadvantages. It's an ideal platform for browsing website layout ideas and getting web design inspiration.
Awwwards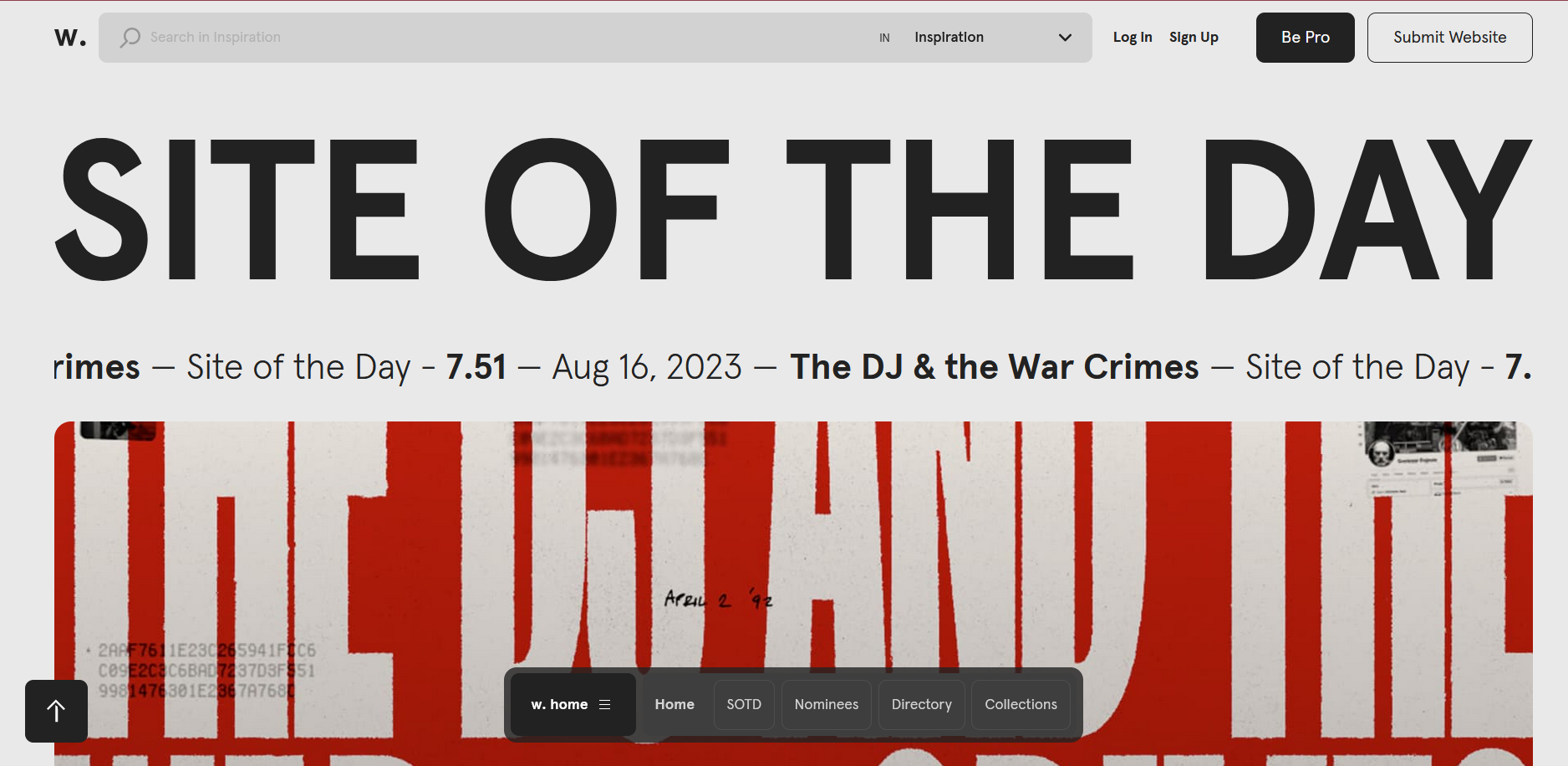 Awwwards presents itself as an online meeting place for digital design professionals. It offers designers a space to share their knowledge and experience, start discussions and find inspiration. Each day, Awwwards chooses a "Site of the day" and displays it on the homepage. Winners then appear in a yearbook called "The 365 Best Websites Around The World". You can find inspiration for your own site by browsing the winner's gallery.
Advantages
On Awwwards, web designers, developers and creative agencies can submit their projects for evaluation by a professional jury. The winning websites can be viewed and visited from the platform, allowing you to discover award-winning websites and gain insights about good web usability during your search for web design inspiration.
Disadvantages
There aren't really any disadvantages to Awwwards. The only thing is that the design of the winning sites might sometimes be a bit too overdone for what you want for your own website.
FWA
FWA stands for "Favourite Website Awards", a recognized award program that has been open to web designers since May 2000. Similar to Awwwards, FWA presents a site of the day (SOTD) every day and chooses a site of the month (SOTM) each month. Winners can then participate in the People's Choice Award (PCA) at the end of the year.
Advantages
FWA is the perfect place to look for website design inspiration that stands out from the crowd. Although some designs may be rather unconventional, you can be sure that the designers and developers have used UX design principles to ensure the perfect user experience.
Disadvantages
FWA places a heavy focus on presenting a few designs in detail. If you're looking for more general input and want a quick look at various design ideas and current trends, this site probably isn't for you.
The website builder from IONOS
MyWebsite is the turnkey solution for your professional web presence, including a personal consultant!
SSL certificate
Domain
24/7 support
CSS Design Awards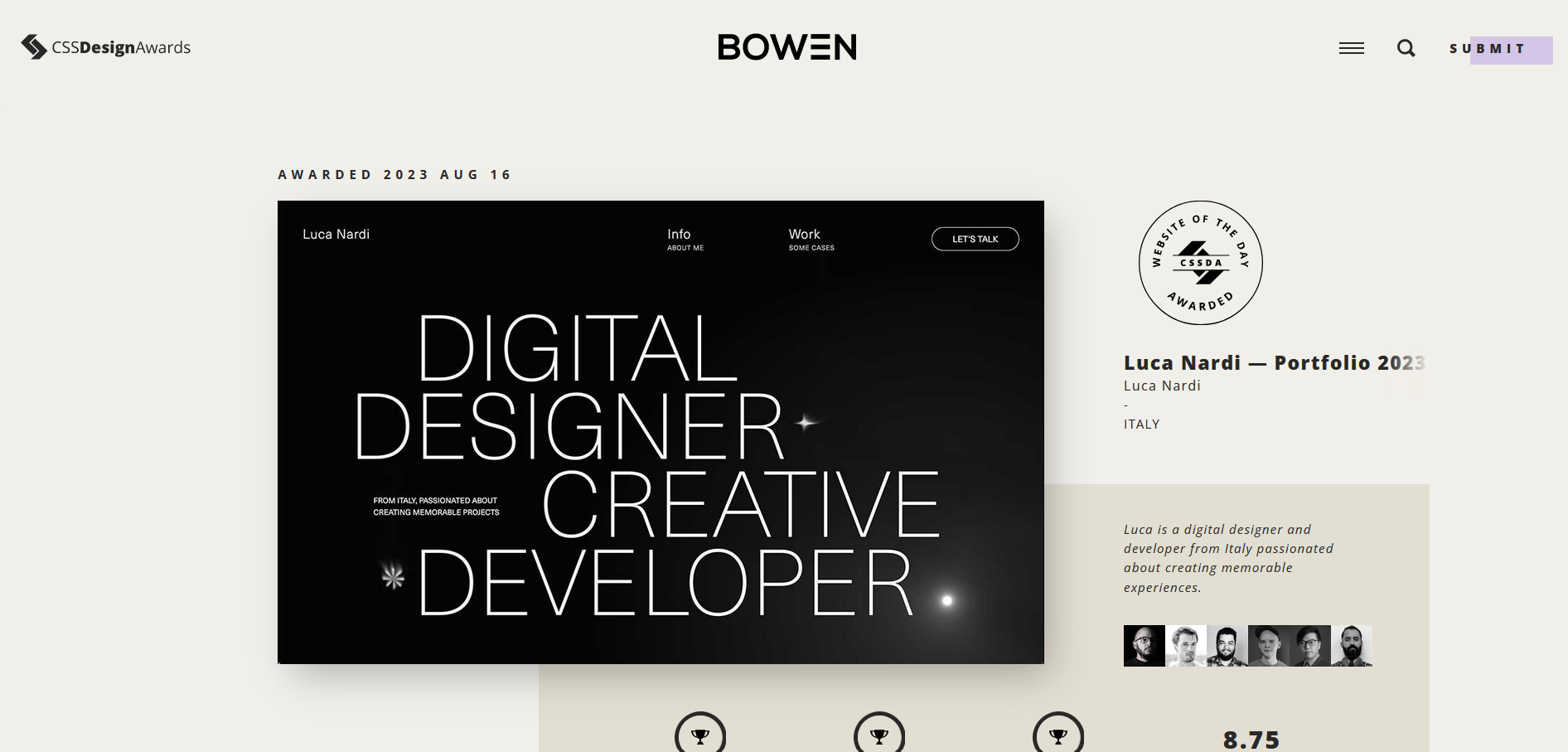 CSS Design Awards awards a website of the day every day, as well as monthly and yearly prizes. The criteria for selection are creative design, core & function, and UX & content.
Advantages
The CSS design awards website offers users several helpful filter features for searching. Winning and nominated sites can be filtered based on color, features and industry. The website also has articles on key topics like web design as well as links to free resources, which users can use to improve their own web design skills.
Disadvantages
Much like FWA, the CSS Design Awards site focuses on providing a detailed look at the website designs of a select few. On this website, it will also be difficult for users to get a quick impression of current trends and website design ideas.
One Page Love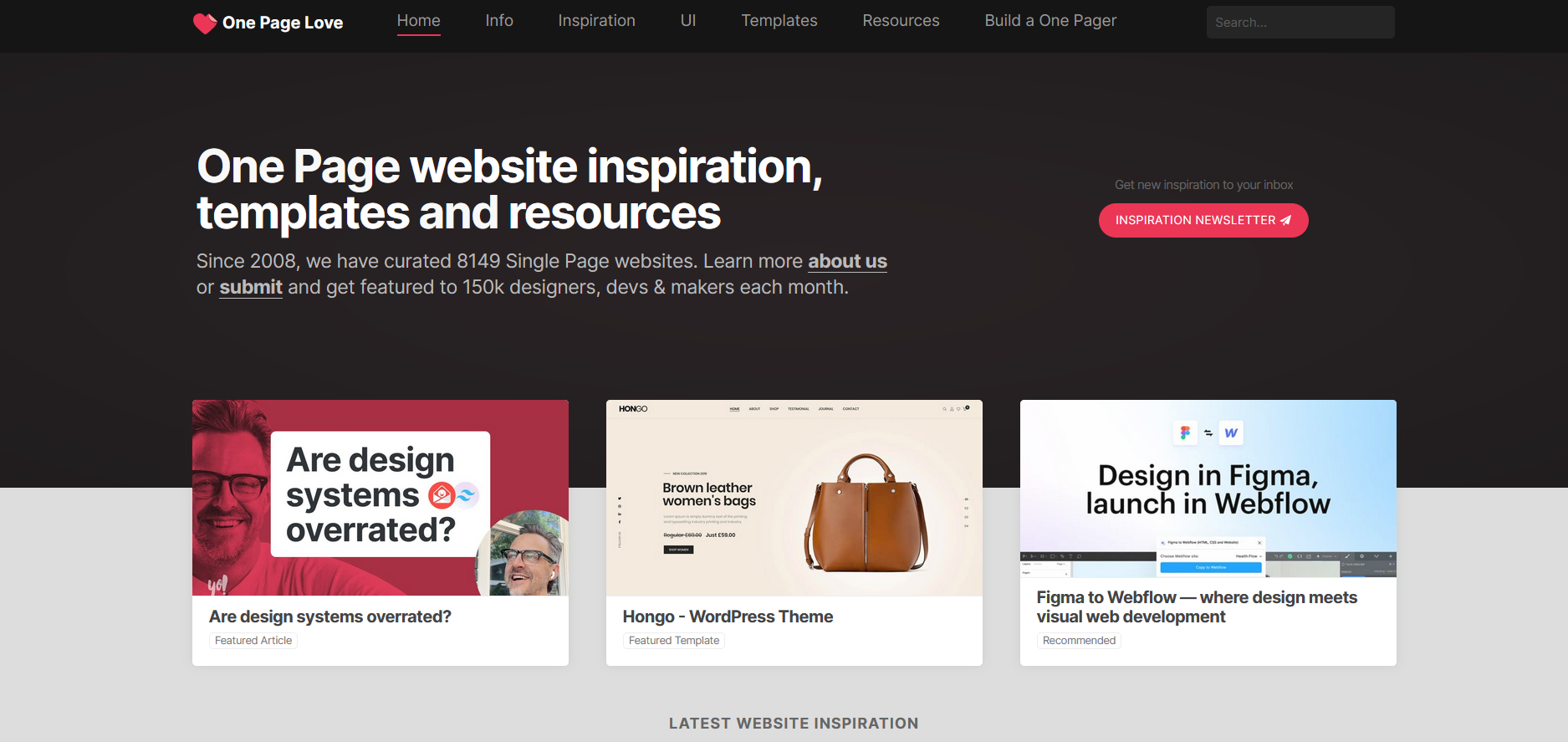 If you find subpages overrated and prefer to place all your content on a single page, One Page Love is the place for you. The platform describes itself as the ultimate showcase for one-page websites, templates and resources.
Advantages
One Page Love is, as its name suggests, the source for web design inspiration for one-page sites. It offers users 8,000 examples that feature current web design trends like centrally divided layouts and user-centered design. If you're looking for layout inspiration for your single-page app, One Page Love has you covered. And another plus: One Page Love offers users a number of resources with articles, icon sets, templates and tutorials.
Disadvantages
If you're not running a single-page application, One Page Love can at best provide you with website design ideas for your homepage. It naturally, however, doesn't have anything to offer when it comes to looking at the creative interaction between subpages.
Design Bombs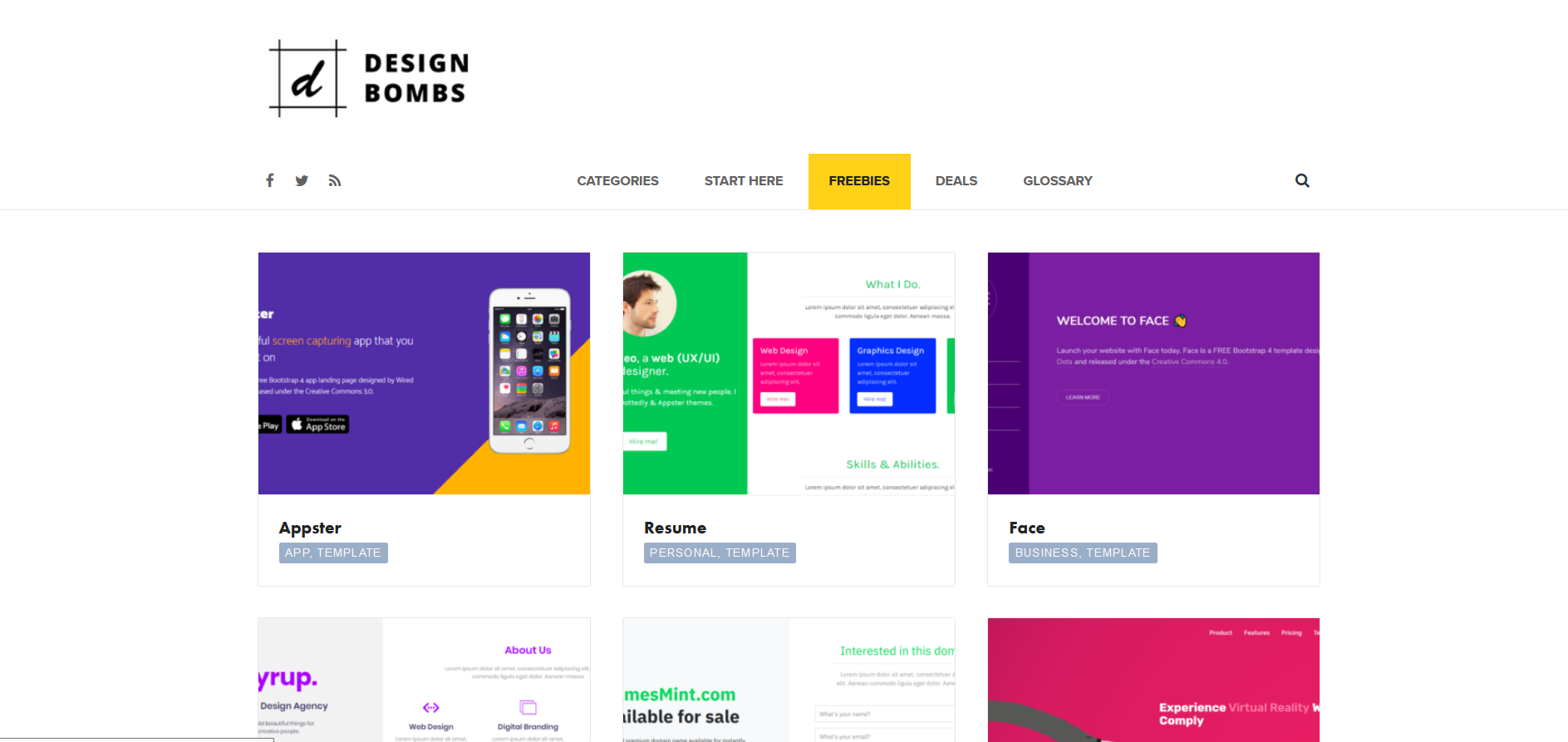 Design Bombs offers more than just web design inspiration. It also features a series of articles and tutorials on web design. And if you're looking to beef up you're coding knowledge, they also provide guides on that.
Advantages
Design Bombs isn't just a great design inspo website—it also provides templates that visitors can use. Additionally, with its wealth of resources, the platform is also a great place to learn about web design basics.They also offer tutorials. You can, for example, learn how to create the perfect style guide for your website.
Disadvantages
Design Bombs isn't a classic inspo website that connects creatives with each other or gives out awards for innovative website design ideas. It's much more a source of resources and ideas. As a result, the templates they provide are rather plain and don't showcase any new standards in web design.
Register a domain name
Build your brand on a great domain, including SSL and a personal consultant!
Private registration
24/7 support
Email