Domain Security
Keep your domain safe from attack
Your domain is a valuable asset. Protect it from third-parties and threats with our add-ons, Domain Guard and DNS Pro.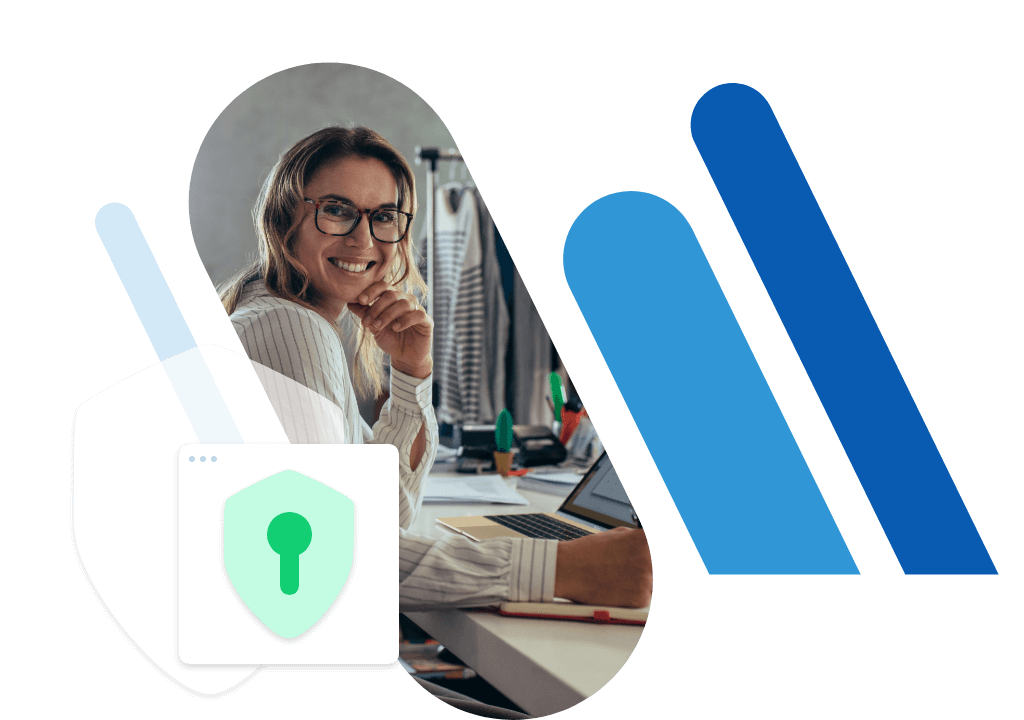 How to get Domain Guard or DNS Pro
Add extra security to all your IONOS domains.
If you don't have a domain, search for the one you want in the search bar above.
Add Domain Guard during checkout. Or add DNS Pro to your domain after purchase.
Log in and activate Domain Guard or DNS Pro for all domains in the contract with a click.
Already have an IONOS domain? Sign in and add DNS Pro or Domain Guard any time.
Protect your domain with extra security features
Domain Guard
Take control of your domain and its DNS traffic.
Secure access rights with two-factor authentication
Verify DNS traffic with DNSSEC encryption
Get proof of domain ownership
Applies to all new and existing domains within a contract.
First year for $1, then $15/year
Protect your domains
Domain Guard features in detail
Protection from DNS hijacking
Hackers could redirect your domain to fraudulent or malicious websites, potentially allowing them to steal one of user's credit card details, or even claim legal ownership of your domain. Domain Guard counters these attacks and protects your DNS records.
Two-factor authentication
Any changes to your domain and its records must go through an additional verification step where a security link is sent to your email address. This adds an extra layer of security and prevents hackers or unauthorized third parties from stealing your domain.
Improved security with DNSSEC
Your DNS records store information on how your domain is connected to an IP address. Domain Guard protects your DNS records through DNSSEC, leaving hackers unable to manipulate these important details or reroute them to fake destinations.
Authenticated proof of ownership
IONOS will provide you with a domain ownership document free of charge. You can use this document if you need to prove domain ownership to any third parties, or when dealing with various authorities, institutions or companies.
DNS Pro
Improve load times, and prevent DNS failure and website downtime.
Reduce the risk of DNS hijacking, spoofing, and DDoS attacks
Premium Anycast DNS, Secondary DNS and DNSSEC included
Back up and restore DNS zones, define and use your own DNS templates
Applies to all existing and new domains within a contract.
12 months for $1/month, then $2.50/month
Protect your domains
DNS Pro, explained
Premium Anycast
Reduce your website's loading time, no matter where your visitors are located. Unlike standard name servers, Premium Anycast has server locations on all continents so your visitors always profit from a fast name resolution.
DNS Backup
Manage custom templates for groups of DNS records to configure DNS zones quickly and easily. Create backups of your entire DNS zone and restore it at any time, reducing costly downtime.
DNSSEC
Make your domain name system more secure with an added layer of authentication. DNSSEC prevents hackers from manipulating your DNS records and rerouting queries to rogue servers.
Secondary DNS
The operator of an authoritative name server can use IONOS as a secondary DNS provider. This increases the availability and performance of name resolution.
Why buy a domain at IONOS
Each domain contract is packed with great features.
Security
For reliable protection of your site visitors, one Wildcard SSL certificate is included per contract. Domain Guard or DNS Pro can be added as an optional extra.
10,000 subdomains
Get up to 10,000 subdomains to customize and structure your website, for example: news.yourname.com.
Email
A professional email address (for example: you@yourname.com) connected to your domain with 2 GB of mailbox space to start. Upgrade anytime for more storage.
Domain lock
The domain transfer lock keeps your domain from being transferred by unauthorized third parties.
Easy setup
One-click activation makes it easy to connect your domain with email, hosting or your social media profiles.
24/7 customer support
Our professional, knowledgeable support team is always available for help and advice, 24/7.
Domain protection and security
FAQ – Frequently asked questions
Protecting your domain name is critical to maintaining a healthy online presence. One way of doing this is with private domain registration. This hides your personal contact data from the public, effectively masking your registration details with the name of your web hosting provider. It's only available with certain domains.
Having authenticated proof of your domain ownership and preventing third-party access to your personal domain data can also help protect your domain name.
IONOS offers a wide range of domain security and protection services. With IONOS domain security products like Domain Guard and DNS Pro, you can protect your domain from DDoS attacks, safeguard against DNS hijacking and spoofing via DNSSEC, ensure faster, reliable, and secure DNS resolution, and choose Premium Anycast or secondary DNS with DNS backup and restore. Customized DNS templates are also offered as a part of an optional add-on that will work with any domain.
As long as you do not proactively cancel your domain (for which you will receive reminders from us in advance), we will auto-renew your contract. This way, you do not have to worry about your domain expiring unexpectedly.
Private domain registration makes sure that your Whois information is not visible to third parties. The Domain Guard, however, protects you against hackers trying to access and alter your DNS records.
Get online now
Recommended domain, hosting and website solutions for your digital success.
Your personal consultant
At IONOS, you have a dedicated contact person for personalized advice, tips to boost your online success, and technical support. Reach them via phone, chat and email, all at no cost to you as an IONOS customer.
Learn more
Live Chat
Chat with one of our IONOS experts.