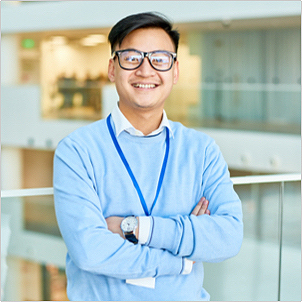 Personal Consultant
Steve H. | Server Expert
Support matters at IONOS
Expert support from the experts
You'll receive a Personal Consultant with every Server package. Available during regular business hours, the Personal Consultant, supported by our 24-7 standard support, will act as your single point of contact and Server Expert.
Great deals on powerful servers
Do you crave powerful hardware but have no need for the latest processors? Then you can benefit from our affordable dedicated servers.
Plus, receive an additional discount depending on which contract length you choose.
Server of the month
Get our server of the month at an unbeatable price
---
Select your server deal
Discounts on longer term contracts
See all details
Community

In our Community you can network and discuss all things server with other users and experts, as well as gather more information on the latest trends.

Close
Inclusive
Unlimited traffic
Inclusive
Bandwidth
External server connection with 1 Gbit/s (X8i, X10i) or 100 Mbit/s
External server connection with 1 Gbit/s (X8i, X10i) or 100 Mbit/s
Wildcard SSL Certificate

Encrypted data transfer of your customer data according to the latest security standards with a Wildcard SSL Certificate.

Close
Inclusive
High-performance data centers
Contract data processing

You have the option of concluding a separate contract with IONOS for order data processing pursuant to the Federal Data Protection Act (BDSG). You can find further information on this in your control panel.

Close
Inclusive
Firewall management

Network security system to control traffic according to configuration. In the IONOS Cloud Panel, you can define individual rules for the external firewall, which can be applied to single or multiple servers.

Close
Inclusive
Backup (optional)

Reliable backup solution from Acronis for the security of your data.

Close
From 6.5 cents per GB/month excl. VAT
From 6.5 cents per GB/month excl. VAT
Recovery tool

Special emergency system for access to your server for troubleshooting and repair.

Close
Inclusive
Serial console

Access your server without a network connection.

Close
Inclusive
Linux Standard
Ubuntu, CentOS, Debian, Open Suse
Ubuntu, CentOS, Debian, Open Suse
Windows optional
Windows Server® 2012 R2 – $25/month excl. VAT
Windows Server® 2016 – $25/month excl. VAT
Windows Server® 2012 R2 – $25/month excl. VAT
Windows Server® 2016 – $25/month excl. VAT
Full root access

Full control over your systems, services and network.

Close
Inclusive
Reset or reinitialization

Available anytime.

Close
Inclusive
Administration tool Plesk Onyx

Plesk Onyx is included on request (unlimited users, resalable, unlimited domains).

Close
Inclusive
Control panel

Access to your customer data as well as convenient configuration and contract management.

Close
Inclusive
Monitoring

In the Monitoring Center, keep up to date with the performance of your servers and set up warnings when self-defined threshold values are reached.

Close
Inclusive
Encrypted remote access

Encrypt server access. With SSH for Linux and RDP for Windows.

Close
Inclusive
Unlimited number of mailboxes

You can create an unlimited number of email addresses in the 1&1 IONOS mail system.

Close
Inclusive
2 GB storage capacity per inbox
Inclusive
Webmail 2.0

Comfortable access to your inbox from any browser.

Close
Inclusive
Anti-spam

Automatic spam protection at server level.

Close
Inclusive
Anti-phishing

Protection against fake websites.

Close
Inclusive
1x IPv4 address per server included
Inclusive
Additional IPv4 addresses (optional)

Add additional public IPv4 addresses to your servers.

Close
$5 excl. VAT per IPv4 address
$5 excl. VAT per IPv4 address
1x IPv6/64 network included
Inclusive
Unlimited external domains

Integration of external domains from other providers.

Close
Inclusive
DNS management

Individual setting of DNS entries (e.g., for external domains or own mail and DNS server services).

Close
Inclusive
Find a partner for your project
Set up by the pros
Want to get the best out of your dedicated hardware and optimize your online presence? Experienced specialists in our Partner Network can help with the development, administration and maintenance of your web project.
See Partner Network
Reliable server hardware with root access: Linux or Windows
Amazing hardware should go hand-in-hand with amazing software. Our value dedicated servers are available with either administrative access or in a managed version, and include your choice of Linux distributions and Windows versions.
Simply install your desired operating system in the control panel. For Linux users, we install Ubuntu 18.04 with Plesk Onyx as standard, Windows comes with Windows Server 2016.
Maximum security for your server
System monitoring
Traffic is filtered through an advanced IP firewall. This ensures that DDoS attacks are intercepted before they reach your server. Fully configurable from the control panel.
Firewall SIEM, IDS, IPS
Your servers are protected by the latest SIEM and IDS/IPS technologies, as well as our central firewall. Backups can be created at any time and saved forever, so you never lose data.
ISO 27001 certified
IONOS by 1&1 has data centers located in the US and around the world. Our data centers meet the highest safety and security standards, as confirmed by our ISO 27001 certification.
Hardware meets the cloud – the future of dedicated servers
The dedicated server reinvented. Get the latest hardware, per-minute billing, full API control, load balancing and a deployment time of only a few minutes.
Find out more
Your personal consultant
Helpful advice from a single point of contact. Exclusively for you. Experience customer service on a whole new plane. All this and more, free.
Learn more
Contact us
We are here – drop us a line if you have any questions or concerns.
1-484-254-5555
We're here whenever you need us, 24 hours a day, 7 days a week.
Live Chat
Chat with one of our IONOS experts.
Start chatting