How to create a Hair Salon Website
Hairdressers meet basic human needs, and therefore their services will always be in demand. But the competition is huge. Regardless of whether you run a large hairdressing salon or have just started as a mobile one-person company, to be economically successful, you need to be easy to find by prospective customers and maintain regular contact with your clients. The Internet plays an increasingly important role in this. Not many businesses do without an online presence these days.
In this post, you will learn how to create a hair salon website quickly, easily, and importantly at low cost. We'll show you which methods are available to you, how to set up your website, what content a hair salon website needs, how your site can be found more easily online, and how to proceed step by step.
$1 Domain Names
Register great TLDs for less than $1 for the first year.
Why wait? Grab your favorite domain name today!
Matching email
SSL certificate
24/7/365 support
The advantages of a professional hair stylist website
In times of social media, a website is not the only way to show a presence on the Internet, but it is certainly the most professional. Regardless of the size of a company, very few businesses and freelancers can get away without having a web presence these days. And there are good reasons why this also applies to hairdressers:
A website is an online point of contact for potential customers. It can act as a business card, an image brochure and information platform all in one.
A hair stylist website allows you to reach new clients within your immediate vicinity. If your business is hard to find online, you may be losing sales.
Make hairdressing appointments online. Customers can save time by booking appointments online rather than on the telephone.
Present your services and your business in a favorable light. In comparison to social media platforms, you get to design your website and decide on its content.
Use your website to share information and news, changes to business opening hours, and offer promotions. This provides an improved service for regular customers.
Use your hair salon website as a starting point for all social media activities. Add the latest content to your website and then share it on Facebook and co.
Hairdressers and coronavirus: more efficient time management
Though a website was an integral part of professional business appearance pre-corona, the Internet will continue to gain in importance even after the pandemic. A customer in need of a haircut or tint will usually research their options online first. Once lockdown restrictions lift, getting an appointment with a hair salon may be difficult. That's where newcomers and start-ups may have an opportunity to entice new clients. The prerequisite for this is having an online presence.
Your hair salon website is also an important tool to stay in touch with regular customers. During uncertain times, it is important for hairdressers to offer their clients reliable information and to inform them effectively about opening times or available appointments. You can use this time during lockdown to create a hair salon website or to expand your existing one and stay ahead of the competition once business resumes as normal.
How to create a hair salon website?
One of the most convenient ways to launch a professional website is to use the services of a good web design agency. But that is often also by far the most expensive option. Irrespective of the option you choose, you will need to decide on the design of your website, its structure, and functions. Ideas that are not very specific could take more time to realize, which increases the costs of the project.
Designing a professional company website yourself is no longer the daunting challenge it used to be. With the right tools, you can create a good-looking hair stylist website online in just a few hours, without any prior knowledge, and at minimal cost. Aside from hiring a web design agency, you have four options to get started with designing your own website:
Program and design your own website
Use a content management system like WordPress to create a website
Use a website building kit to create a hair salon website
Use the web design service of a good Internet provider
| | | | | |
| --- | --- | --- | --- | --- |
| | Create your own website | CMS | Website builder | Web design service |
| Advantages | Higher degree of design freedom and flexibility | High degree of flexibility depending on service provider; options for extension | Easy and comfortable solution, existing templates | Support from professionals; cheaper than traditional web design agencies |
| Disadvantages | Good programming and web design knowledge are prerequisites | Level of quality and design templates can vary widely, website security is in your own hands | Independent of service provider, fewer options for extensions, especially with smaller website builders | Not tied to a single service provider |
| Cost | Low | Low/mid | Mid | Mid/high |
| Level of difficulty | Very high | Mid | Low | Very low |
The website builder from IONOS
MyWebsite is the turnkey solution for your professional web presence, including a personal consultant!
SSL certificate
Domain
24/7 support
Creating your own website takes longer
Programming and designing your own hair salon website is perhaps the cheapest way to create a website. The big catch: to program and design a professional-looking, state-of-the-art website yourself, you will need extensive knowledge of markup and programming languages. Very few can acquire these overnight or "on the side".
WordPress and other CMS
With a content management system (CMS), hair salon websites can be designed without prior programming skills. A little knowledge of HTML and CSS is advantageous. The world's most popular CMS is WordPress, partially because it is very user-friendly. There are also several other content management systems. You can find a selection in our large CMS comparison. Because of its high popularity, WordPress offers a variety of free and paid design templates, so-called themes. These can be used to build your own website. In the article "Create your own WordPress page", we explain how to do this. A disadvantage of WordPress is that each theme works a little differently. In addition, when creating websites using CMS you are usually left to your own devices. A good internet provider can help you select the right domain and install the CMS.
Tip
WordPress Hosting from IONOS provides a pre-installed WordPress platform that lets you instantly design your WordPress website.
Website builder
Website builders are like content management systems, but they are considerably more comfortable to use and more beginner friendly. A good website builder should be intuitive to use and self-explanatory, so that you can start designing your hair salon website without prior knowledge and without much preparation. To begin, you select a suitable design template. Good website builders offer a wealth of different templates for every purpose, often all you have to do is replace the text and images before publishing your website. You can recognize a good website builder by the following features:
High number of beautiful and modern design templates that can be individually adapted
Easy and intuitive use
Various features that meet the demands of a hair salon website, for example a calendar and appointment manager, contact form, social media functions, etc.
Support for search engine optimization – for Google and other search engines to find your page more easily
Customer support through competent help service
Tip
The MyWebsite website builder from IONOS provides all you need for a professional web presence, including a range of beautiful design templates just for hairdressers.
Webdesign Service
Using the web design service of an Internet provider is a good alternative to traditional web design agencies or website builders. Most web design services provide a choice of design templates for you to choose from. Full personal support is given to help you design the page structure, design texts, and choose images. In many cases, your hair stylist website is designed using the website construction kit of the respective provider. However, professionals will advise you personally on the best options for your business.
If you can dream it, we can build it!
No time to create a website? Let us take care of it! With the MyWebsite design service, our expert website design team will build an agency-quality website for your business or project for a fraction of the price!
Lifetime domain
SSL certificate
Email account
Page structure: how to start building your hair salon website?
Regardless of whether you program your website yourself, use the services of a web design agency or create it using a website builder: before you begin, you should think about the type of content you plan to incorporate and how you want to structure your hair salon website. A simple website for hairdressers could contain the following pages or content elements:
Homepage – the most important page
Services – showcase your competencies
About me/us section or team page – personality is everything
Contact – appointments scheduled fast and easily
Feedback – your best argument
News – ready to share on Facebook and the like
Data privacy section – legal requirement
Homepage – the most important page
First impressions are everything and that makes your homepage the most important sub-page of your hair stylist website. From here, visitors can access the individual subpages. Generally, your website visitors want to know who they are dealing with, what services you offer, and how they can get in touch with you. This information should be easily accessible on your homepage and easy to understand, clearly laid out, and in no way overloaded. Don't just think of information in the form of written text. In creative professions, good pictures say more than words. Videos can be an eye-catching addition.
Many people launch a hair salon website because they want to make an appointment. This must be as easy as possible to do: your phone number, salon address, and the option to book an appointment online should be easy to find on your homepage. This also contributes to your website receiving a higher local search ranking on Google.
Besides the homepage, a simple hair salon website can include the following components:
Services – show your competencies
Showing which services you provide is so important that you should provide a brief and concise overview of them on your homepage. If your visitors want to know more about your services, they can click on this subpage. Obviously, most hairdressers offer services such as cutting hair, washing, styling, and blow-drying. To stand out from the competition, you could focus on your specialties and how you approach hair styling. It also makes sense to list services that other hairdressers in your area do not provide.
Many customers check the prices of services online. It's important to be transparent about your costs and publish your current price lists. In this way, clients know what to expect and can make an informed choice.
About me/us section or team page – personality is everything
This subpage puts you and your team at the center. As with all creative professions, customers also want to know who their hairdresser is going to be. Personality counts: quality photos showcasing a perfect hairstyle are an opportunity to make a lasting impression. You should also state which (special) training courses you have completed or what individual members of your team specialize in.
Contact – appointments scheduled fast and easily
As previously mentioned, contacting you should be as easy as possible. Although your phone number and address are already on the homepage, this sub-section of your website usually repeats the information and provides a bit more detail, for example, by including a route map. Above all, in the "Contact - Appointments" section, visitors should have the opportunity to reserve appointments online. Indicate this clearly or link to it from the homepage.
Feedback – your best arguments
Nothing speaks louder to a hairdresser's skills as the hairstyle does. Here, you can show reference images and highlight feedback from customers, for example, in the form of a photo gallery. Opinions by satisfied customers are a great addition.
News – ready to share on Facebook and the like
If you already post regularly on social media, or plan to do so in the future, consider setting up a "What's New" or "News" page on your website. Much like a blog, this lets you post new content online regularly, which you can then easily share to Facebook and other social media. The advantage is that social media posts can link more visitors to your website, and you may win new clients this way.
Data privacy section – legal requirement
Step-by-step: instructions to design your hair salon website
Ready to create your hair salon website? Let's take it step by step. So far, we have discussed the options to realize your website project and the content your website should provide. Now it's time to get started with your web project. The following four steps are important:
Step 1: Choose a domain name for your hair salon website
Every website needs an Internet address (domain) by which it can be accessed. But what is a good domain name for a hair stylist website? A good domain name has the same characteristics as a good brand name:
It is easy to remember and stays in your customers' minds.
A good domain name sums up what defines you and what you're offering. Think of it as a summary of your website.
If you are already known in public under a certain name, try to use it as your domain or integrate it into your domain.
Short and to the point: the shorter and easier your domain is to understand, the fewer typing errors visitors will make.
Avoid using special characters as these can lead to misunderstandings.
A domain name influences how well search engines like Google can find them. Consider what your clients are looking for. If you are the only hairdresser within a certain area, a domain name that includes the location (e.g., hairdresser.location.com) could be useful.
Choose a domain extension that suits your business. Businesses that choose the .com extension tend to get taken more seriously.
It is not easy to combine all these different points. Often, it is a matter of weighing up the options and finding the best compromise.
Tip
Check whether a domain is still available or has already been snapped up on IONOS. Registering a new domain is just as easy.
Step 2: Find the right design for your website
In a business that focuses on looks, taste and personal style, website design is no minor matter. How you present your business online should reflect your style as a hairdresser. Regardless of whether you employ a professional agency or use a website builder to design your website, you should set out some of the basic features of the design including color schemes and shapes. This guarantees that the result will meet your expectations more closely.
If you are unsure about the design of your hair salon website, you can get some inspiration from existing design templates, such as those provided by website builders. Using website builders, you can start designing your hair stylist website straight away.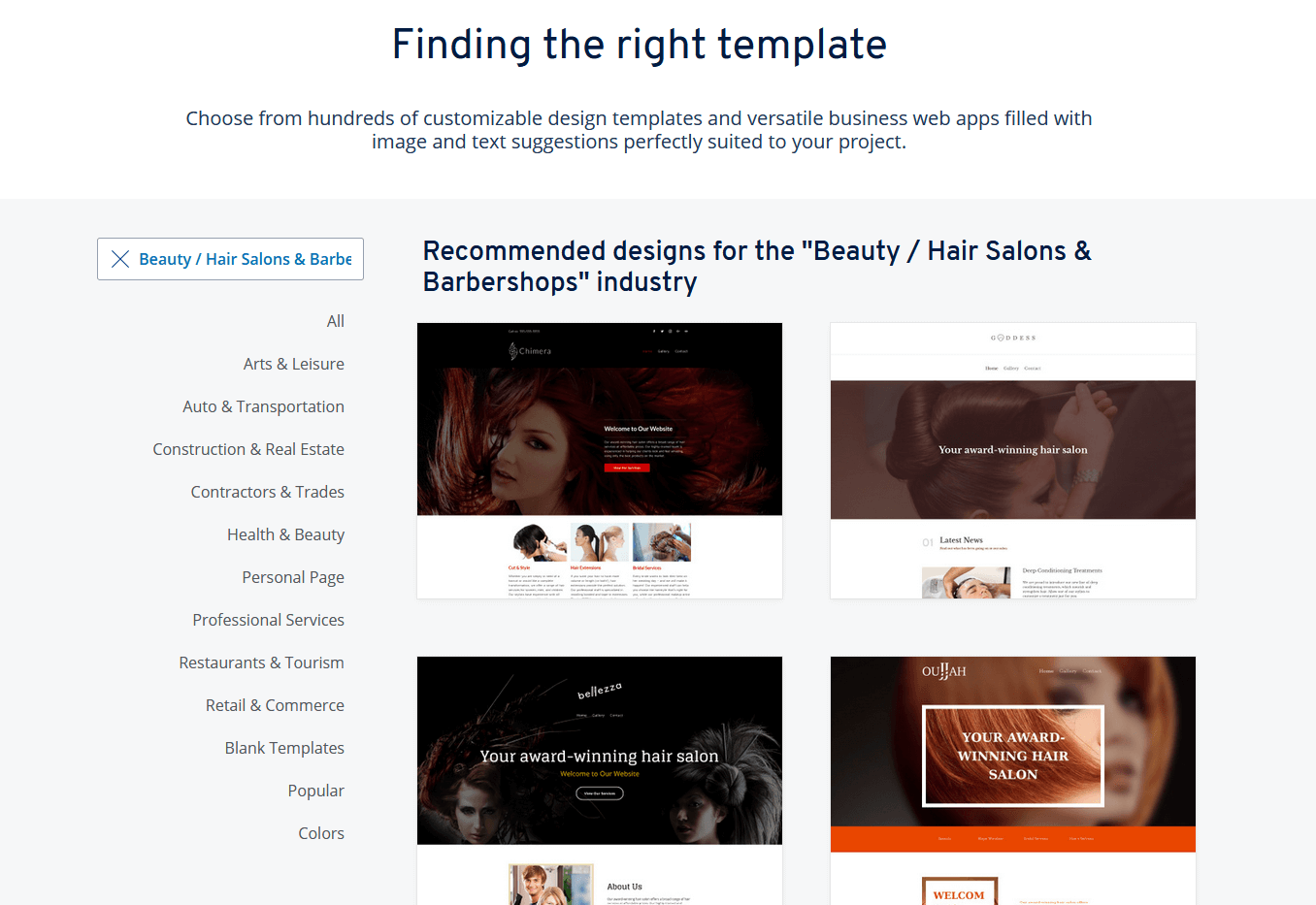 IONOS provides a range of design templates for "hair salons" to inspire you. Source: https://www.ionos.com/websites/templates
Tip
With the MyWebsite builder from IONOS, you can access a huge range of business-specific design templates. You can find different templates for "hair salons" and "hairdressers" here.
Step 3: Copy, photos, and videos – choose your content
Once you've established the structure of your page and the design of your website, you can begin to define its content. Though most websites call for well-written and concise copy, style and looks tend to be more important for hair salon websites. Here, quality photos can make all the difference. The support from a professional photographer is recommended. Alternatively, website construction kits and web design services offer inexpensive or free archive images. Agencies and design services will also support you in creating or correcting your web copy, with a view to making it easier to find your website on search engines.
Step 4: Publish your hair salon website and optimize it for Google and other search engines
Before you publish your hair salon websites, you should double check its content, functions, and links one more time for errors. Once you've published it, it's all about promoting your site. Search engines like Google are one of the main tools for visitors to access your website, aside from social media networks. A greater number of visitors usually translates to a higher number of customers. That's why your hair stylist website should be search-engine friendly and you should continue to optimize it. Generally, the following basics apply:
Ensure that your website works properly. The faster it loads, the higher its user-friendliness and the higher it will be ranked by search engines.
Most websites today are no longer accessed on a PC, but on smartphones and tablets. A website needs to work equally well across a wide range of devices. This is also important regarding Google and other search engines.
Search engine bots can mostly read text. Try to analyze which search terms your customers search for online and include these key terms in your headlines and web copy in a natural manner. Keyword tools can help you to find the right search terms.
Never copy a text from a different website! Google penalizes duplicated content by downranking your website.
Bots have a difficult time with photos. Find out how to adjust your image optimization to rank high on Google in our dedicated article on image SEO.
Websites are best structured logically and clearly. Ensure that internal links on your website are working correctly.
For hair salons, it is worth optimizing a website for local SEO. To do this, register your website with Google MyBusiness and local business directories.
Tip
The IONOS rankingCoach analyzes your website and provides recommendations to help you make your website more search engine-friendly. List Local by IONOS supports your local search engine optimization by entering your hair salon into relevant local business directories.
Search engine optimization (SEO) is now an established profession. If you're new to website design, you should spend some time on SEO measures and continue to optimize your hair salon website. In the long term, websites perform best when they're as user-friendly as possible and keep an eye on the principles set out above.
Tip
A hair salon website differs little from other small or mid-sized business pages in some respects. Find more inspiration and information in these dedicated articles: